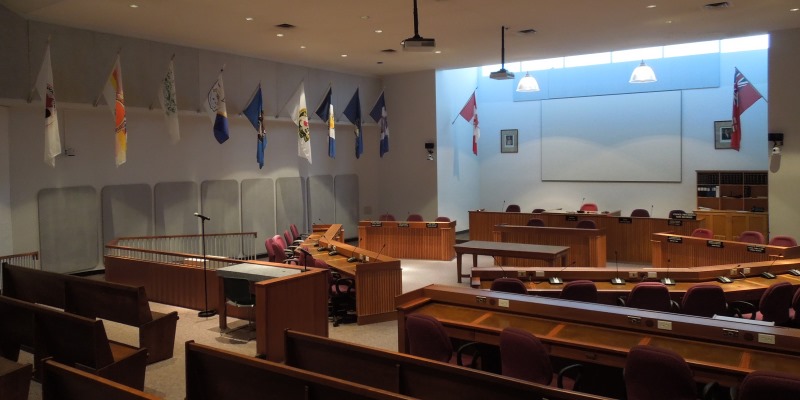 Wyoming, ON - Lambton County Council will be considering a net increase of 1.75% to the County property tax levy when it meets to discuss the County's 2021 budget early next month. This is the lowest County levy increase presented to Council in the last seven years.
The Draft 2021 County Budget was presented during a special joint meeting of Committee A.M. and Committee P.M. in Wyoming on Wednesday, February 17, 2021. The draft document calls for $82.3 million to be raised through local property taxes and total spending of $239.8 million, allocated as follows:
General Government/Council activities - $17.8 million
Office of the Chief Administrative Officer - $732,000
Corporate Services Division - $5.7 million
Cultural Services Division - $11.9 million
Finance, Facilities and Court Services Division - $18.4 million
Infrastructure & Development Services Division - $30.7 million
Long-Term Care Division - $38.6 million
Public Health Services Division - $31.5 million
Social Services Division - $84.5 million
The proposed 1.75% tax increase is comprised of a base budget increase of 1.09%, a 0.86% increase for investment in existing assets and a 0.62% increase for investment in new assets. This 2.57% increase is reduced to 1.75% because of an assessment growth increase of 0.82%.
"The impacts of the COVID-19 pandemic is certainly at top of mind heading into this year's budget deliberations," said Lambton County Warden Kevin Marriott. "It is vital that we continue to provide the core services that Lambton County residents expect while taking into account the anticipated COVID-related costs and preparing for future needs."
The Draft Budget calls for the allocation of $14.4 million to various reserves and reserve funds in 2021. The County uses these reserves to finance large, necessary projects that may arise in the future or to pay for unexpected opportunities and emergencies.
At its October 7, 2020 meeting, County Council agreed to suspend the County capital grant program for 2021. No new capital grant requests will be entertained in the 2021 Budget.
Budget deliberations are scheduled to begin at 9 a.m., Wednesday, March 3, 2021 and if required, will continue at 9 a.m., Thursday, March 11. Deliberations will be streamed live and made available for archival viewing through the meeting calendar on the County's website at calendar.lambtononline.ca/meetings.
Hard copies of the 2021 Draft County Budget can be requested by contacting the Finance, Facilities and Court Services Division at 519-845-0809 ext. 5321 or by visiting lambtononline.ca/budget.
-30-
Please contact:
Kevin Marriott
Warden
County of Lambton
519-381-6111
Email Warden Kevin Marriott
Larry Palarchio
General Manager, Finance, Facilities & Court Services
County of Lambton
519-845-5417
Email Larry Palarchio