The County of Lambton stands in solidarity with the Ukraine in advocating for peace and freedom. If you would like to learn more about how you can help Ukrainians arriving in Lambton County, view our resource document.
Who we are:
The Sarnia-Lambton Local Immigration Partnership (SL-LIP) is a community-wide, multi-sectoral partnership that works to increase collaboration between settlement agencies and smooth the settlement and integration experiences for newcomers.
While we do not provide direct service to immigrants, refugees and temporary foreign workers, we serve to support those that do by ensuring comprehensive programming is available and increasing their awareness of, and access to, community supports.
SL-LIP is passionate about our community. We want Lambton County to be a welcoming place that thrives economically, socially and culturally, now and for decades to come.
What we do:
Identify the needs of newcomers and immigrants and improve access to effective and equitable settlement services through research and collaboration
Create a coordinated approach to service provision in both settlement and non-settlement service organizations
Increase positive outcomes for immigrants and refugees seeking employment while gaining valuable Canadian experience through volunteerism and entrepreneurial opportunities
Work towards creating a more welcoming community for all through community initiatives, events and education.
How we do it:
Data from research conducted by the SL-LIP is categorized under four pillars of focus:
Employment
Community Engagement
Coordination of Services
Research Development and Facilitation
Each pillar aligns with a specific strategy and a designated working group, made up of stakeholders, who collaborate to implement innovative, meaningful and impactful activities to achieve our goals.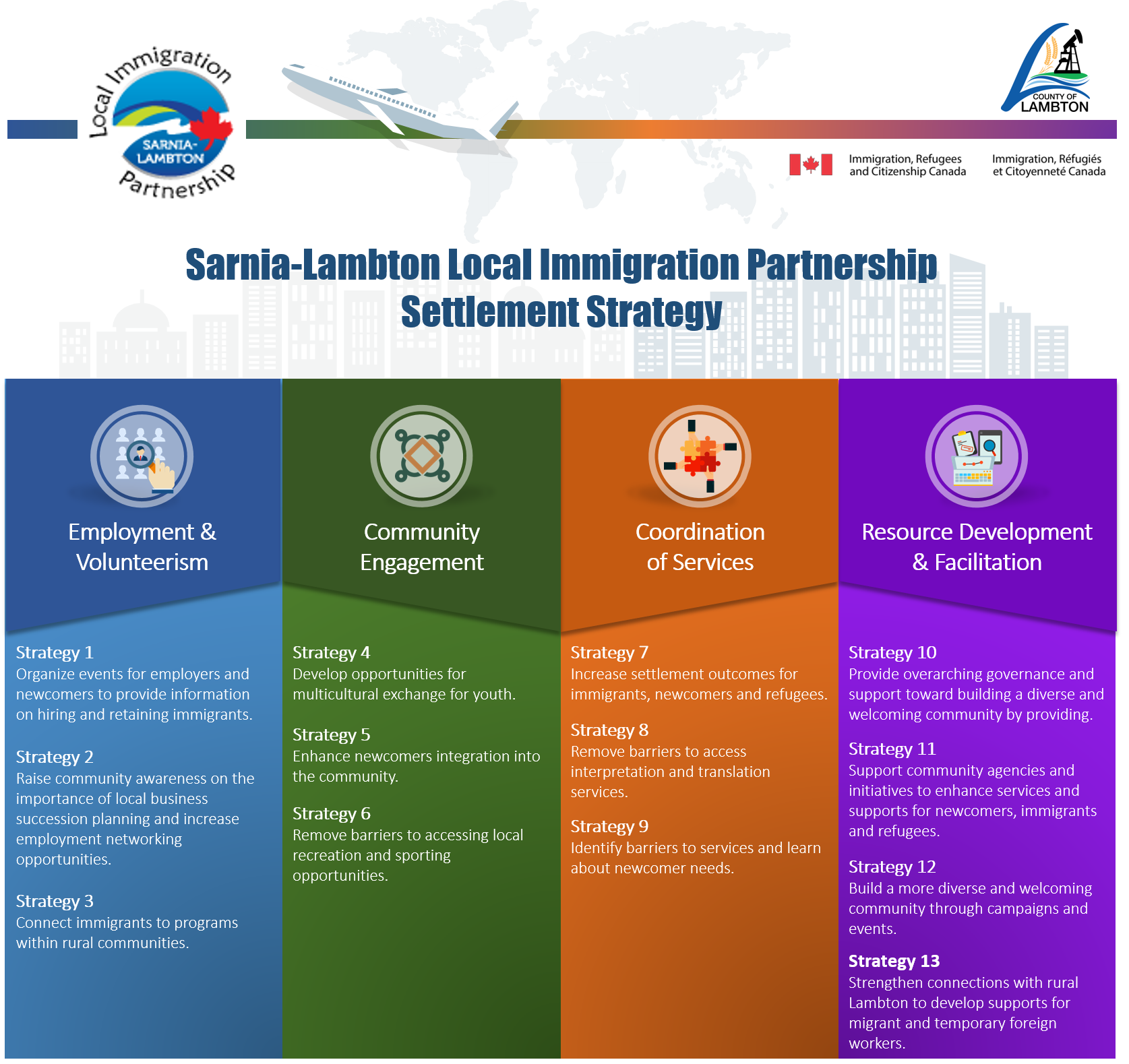 More information on the pillars and settlement strategies can be found here.