Circles® Lambton is a community collaborative poverty alleviation strategy, which helps people transition out of poverty by building intentional relationships across socio-economic classes, identifying barriers that keep people in poverty and implementing innovative solutions to reduce those barriers.
To date, Circles strategies have proven powerful and transformative by supporting people living in poverty with their goals of increased education and employment leading to full self-sufficiency. In addition, Circles helps break the cycle of persistent poverty while creating a deeper public awareness and understanding.
Circles® is…
Driven by people in poverty who are motivated to make the changes needed to reach self-sufficiency.
Effective at addressing the root causes of poverty with its emphasis on achieving meaningful individual, systemic and regulatory change.
Consistent with the goal of Ontario's Poverty Reduction Plan to remove barriers and empower low-income Ontarians to break out of the cycle of poverty through increased education and employment opportunities.
Circles® Values
Build relationships of mutual respect.
Base plans on accurate mental model of poverty.
Stabilize the environment.
Address all causes of poverty.
Base thinking on the premise that people in poverty are problem solvers.
Define poverty as the extent to which an individual does without resources.
Bring all classes to the decision-making table.
Build long-term support for transition.
Build a sustainable community in which everyone can thrive.
"Circles® isn't just an organization, we're a family!"
Background
In 2008, the County of Lambton's Child Poverty Task Force determined that Circles® was the most appropriate model to address and reduce poverty in the County of Lambton. In 2009, Circles® Lambton was launched as the first Canadian Circles® Chapter and since inception Circles® Lambton has supported hundreds of diverse families within the County of Lambton. We currently have four Circles in Lambton County, one in partnership with Lambton College for first generation students attending post-secondary education, another in partnership with North Lambton Community Health Centre supporting our First Nations and rural Lambton communities in Forest and two other sites within the City of Sarnia.
The success of the Circles model is based on collaboration between middle-class volunteers known as Allies who are matched with low-income families and individuals experiencing poverty called Leaders - empowering terminology as they are leading their way out of poverty. Experienced staff called Circles Coaches work together with a multitude of community partners to support the Leaders goals and plans of change to increased education, and employment leading to full time sustainable employment.
Circles focuses on these main strategies for people experiencing poverty: crisis management,
life stabilization, increased education, job placement and job retention; advancement and economic stability leading to full self-sufficiency.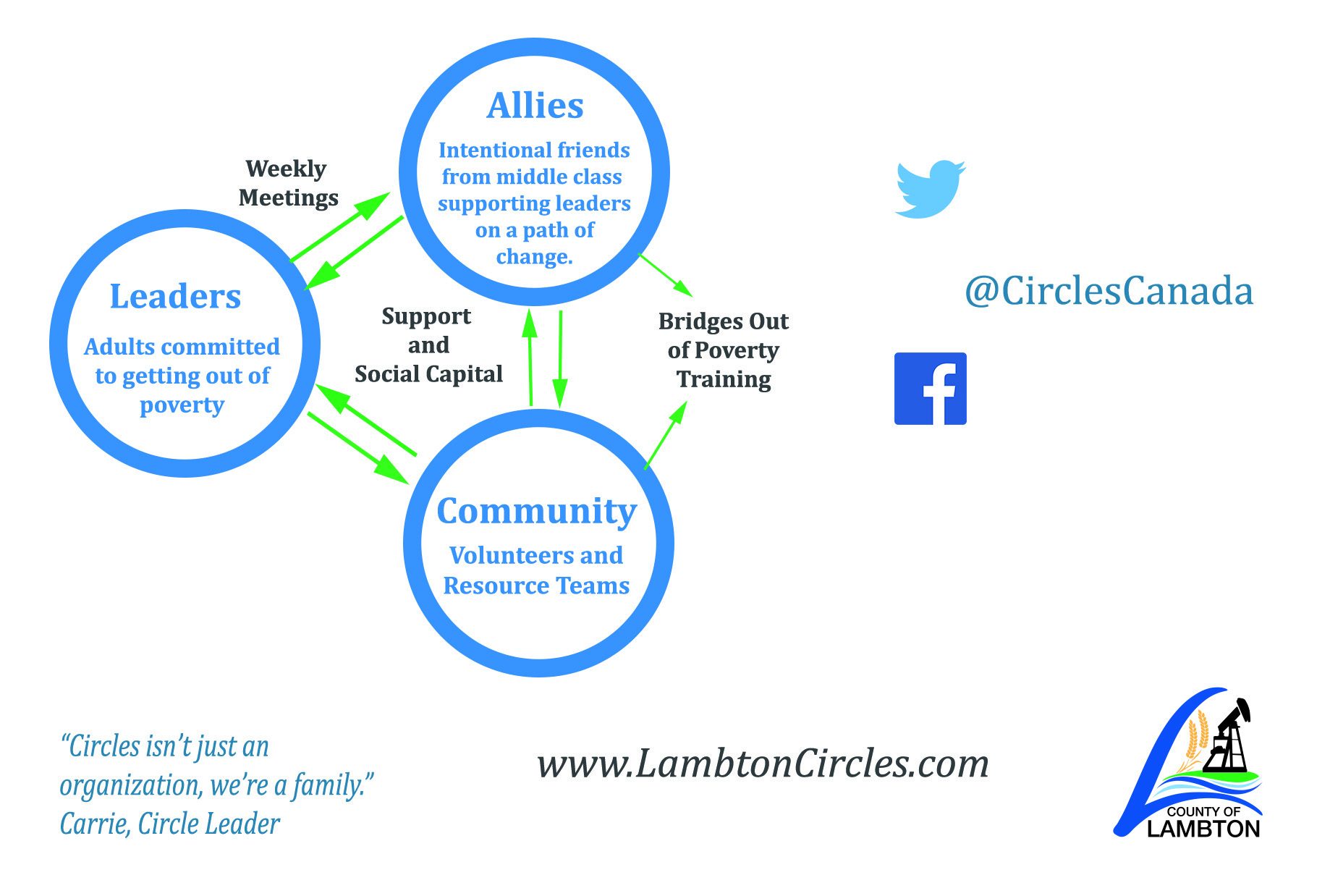 Circles® Canada
In 2017, the County of Lambton obtained full rights to the innovative Circles® Canada Initiative. The ownership agreement and transfer from Circles® USA built upon the County of Lambton's status as the National Recruitment and Training Site providing ongoing support services and data system for all Circles Canada Chapters.
Circles Canada continues to expand, in addition to the County of Lambton, chapters in Ontario include: County of Wellington, London, St. Thomas, County of Simcoe, Muskoka, Sudbury, Kingston, Oxford County and in 2018 the first Circles Canada Indigenous Chapter launched in Temiskaming Shores. The Temiskaming Chapter was developed through consultation with The Keepers of the Circle Aboriginal Learning Centre and First Nations Elders representing Metis of Algonquin and Ojibwa Traditional Territories. As a result the First Nation and Metis Circles was formed, honouring all recommendations of the Truth and Reconciliation Commission of Canada. To learn more please the Circles® Canada website.
Circles Lambton and the Circles Canada initiative aligns with the County of Lambton's mission as a community dedicated to an enhanced quality of life through the provision of responsive, efficient services and being an innovative community.