Our Winter Operations team works hard to keep our County roads clear and safe in all weather conditions. The fleet of plows, salters, briners, and other operations vehicles are working around the clock to prepare for, and clean up from, significant weather events.
If you need to travel during a winter weather event, remember to drive with caution, adapt to changing weather conditions, give yourself extra travel time and check current road conditions before departing.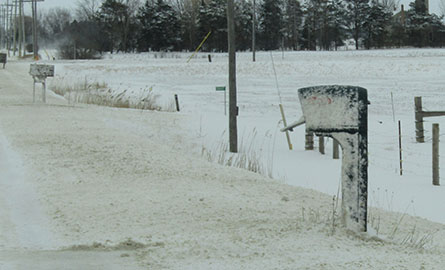 Mailbox Policy
Learn more about our Mailbox Policy and what to do if your mailbox is damaged.
County Road Network
View the County Road Network map to see what roads are maintained by the County.
Snowplow safety
You should always take extra caution when driving around working snowplows. Keep the following tips in mind when travelling on the roads this winter.
Keep your distance from working snowplows and other winter maintenance vehicles. These vehicles all have flashing blue lights, making them easy to identify.
Never pass a working snowplow. It can put both you and the plow operator in danger. It is hard to see around these large vehicles, and blowing snow can make it even hard. This reduced visibility can cause a serious collision.
Please be patient! Our crews are working hard to clear the roads after a snowfall. If you're driving behind a snowplow, wait for it to finish its job rather than speeding past the plow. Roads are plowed in sections, so you usually won't be stuck behind a plow for long.
Winter travel tips
Watch the videos below for some winter travel tips from the Province of Ontario.
Frequently Asked Questions
When are snowplows deployed?
All roads within the County of Lambton's control are patrolled on a regular basis, and maintained as per minimum maintenance standards, depending on their maintenance classification. Plows are deployed when conditions warrant action, through physical observation or weather forecasts.
When are salt, sand and brine used?
Salt is typically used when the air temperature is above -8°C and winds are less than 20km/h.
Sand is used when the air temperature is below -8°C, and is used to provide traction when roads have or may become icy.
Salt brine is added when applying salt. Salt brine activates salt quicker and allows salt to be used at lower temperatures, usually between -8°C and -15°C. Brine is also applied (sprayed on) directly to areas prone to frost and earlier freezing (bridge decks and areas not exposed to sunlight) to help prevent the formation of black ice.
How does the County maintain roads during significant weather events?
There are many activities that take place before, during and after a significant weather event, in addition to the preparations that take place before the weather event arrives.
Before a weather event
Prepare required equipment and ensure the appropriate materials are readily available.
Apply salt, sand and/or brine pro-actively in areas of concern, as needed, before the weather event arrives.
Deploy required equipment once the weather event begins.
Monitor current and expected conditions.
During a weather event
Continue to monitor current and expected conditions.
Adjust activities and routes as the weather conditions change.
After a weather event
Continue clean up efforts and perform maintenance and repairs as required.
What roads does the County maintain? Who is responsible for the other roads?
The County maintains all County roads in the County Road Network. Other roads within the County are maintained by local municipalities, or the Province.
Provincial Highways (Highway 402, Highway 21) are maintained by the province. Learn more about Provincial Highway maintenance from the Ministry of Transportation.
Why can't I shovel or plow snow onto roadways or sidewalks?
Please do not deposit any snow onto roadways, shoulders or sidewalks. This can create a safety hazard for pedestrians and motorists, especially when visibility is poor. It can also delay snow removal efforts because our vehicles will have to re-visit areas that have already been cleared.
Pushing snow across roads and streets is not only a safety hazard, it is also against the law. The Ontario Highway Traffic Act states: No person shall deposit snow or ice on a roadway without permission in writing to do so from the Ministry or the road authority responsible for the maintenance of the road. R.S.O. 1990, c. H.8, s. 181