Getting Ahead Training
If you could write the story of your future, how would it begin and end? "Getting Ahead in a Just-Gettin'-By World", written by Philip E. DeVol will take you step by step through self-discovery and help build the life you want.
Participants experiencing poverty will investigate:
The realities of community conditions and how they impact you
"Hidden rules" for getting ahead
Skills that give you confidence
How to build resources and make connections
Ways to deal with change and create stability in your life
Getting Ahead sessions are a facilitated adult learning experience with groups of 5 to 15 participants a few hours a week over 15 week sessions. Members will analyze the impact that poverty at the individual and community level, complete self-assessments of their resources, and develop a support team with plans to stabilize their environment and move forward with their future dreams.
We are told time and again by participants and facilitators that Getting Ahead has changed many lives in a big way.
Bridges out of Poverty Training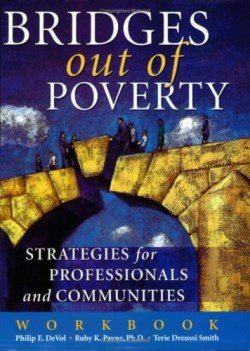 Gain a deeper understanding of the challenges - and strengths - of people living in poverty. This one day workshop is based on the work of Dr. Ruby Payne, PhD, and will help you partner with individuals to create opportunities for success. You will:
Examine the impact of poverty on families
Explore the hidden rules of economic class
Identify ways to improve relationships
Develop new tools to better address individuals' needs
Book a training session
Please contact us to book a training session or to learn how to refer people to the "Getting Ahead in a Just-Gettin'-By World" workbooks or Bridges Out of Poverty training.
"This is truly transforming information and I've had many members of my staff tell me it was the best PD day that they've had." - Secondary School Principal
"I have been to many workshops and have never come away from a day with as much information and desire to make changes in our system as I do now. In those few hours that you spent with us today, you've made a huge impact on how I plan to help my clients and I am grateful." - Social Worker