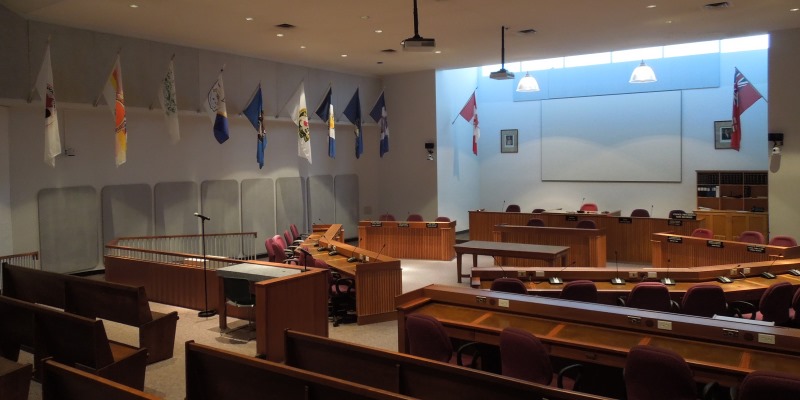 Wyoming, ON – Lambton County Council held their regular meeting via videoconference on Wednesday, July 8. At this meeting, Lambton County Council:
Authorized the approval of a long-term, 20-year lease with Seasons Retirement Communities (Sarnia) GP Inc. for space located in part of the current Bayside Centre. The lease includes an option to purchase the renovated building at a later date.
Received an update from Lambton County Medical Officer of Health, Dr. Sudit Ranade, regarding the current COVID-19 situation in Lambton County.
Declared its support and encouragement, for those who are capable to do so, to wear masks that cover their mouth, nose and chin in public indoor settings where physical distancing cannot be achieved.
Supported a resolution as passed by the Western Ontario Wardens Caucus regarding the expansion of Southwestern Integrated Fibre Technology (SWIFT) to increase broadband access across Southwestern Ontario.
Endorsed a resolution from the City of Sarnia to request that the Province of Ontario consider Lambton County for their planned guaranteed annual income pilot project.
Heard that the County, with assistance from the SCRCA and ABCA, will be jointly pursuing retaining a consultant with the Municipality of Lambton Shores and Township of Plympton-Wyoming to assess and project Gypsy Moth infestation areas for 2021 and develop control options, where necessary, that fit into land management goals and outcomes.
Directed staff to consider options to utilize energy from waste alternatives as part of its overall strategy when updating the County of Lambton Waste Management Master Plan.
Supported a recommendation to advocate for language to be included in the proposed Provincial regulation regarding Blue Box transition to producer responsibility ensuring municipalities under 5,000 continue to receive Blue Box servicing and that current collection and materials service levels will be held as a minimum for future Blue Box servicing.
Requested staff to prepare a report on costing and building a reserve into the budget for review of the Waste Management Master Plan.
Approved the additional hours for Registered Staff (one full time equivalent) effective immediately to the Marshall Gowland Manor staff complement.
Council will next meet in Open Session at 9:30 a.m. on Wednesday, September 2, 2020.
-30-
Please contact:
Lisa Brown
Communications & Marketing Coordinator
County of Lambton
519-845-0809 ext. 5214
Email Lisa Brown