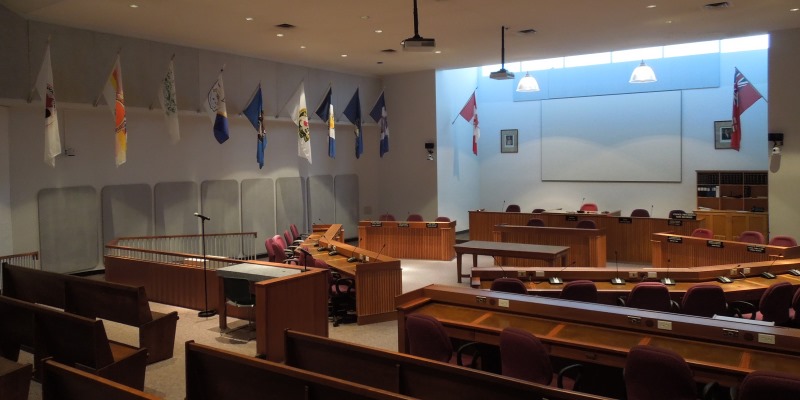 Wyoming, ON – Lambton County Council held their regular meeting via videoconference on Wednesday, June 2, 2021. At this meeting, Lambton County Council:
Received an update from Lambton County Medical Officer of Health, Dr. Sudit Ranade, regarding the current COVID-19 situation in Lambton County.
Heard presentations from:

Judith Morris, Mehdi Sheikhzadeh, and Rob Kardas of Lambton College, regarding Lambton College's Post-COVID Strategy: Project Momentum.
Sarah Duplisea, Administrative Assistant, Treasurer, Peacekeeper Park, seeking land to relocate the Memorial/Outdoor Training Centre. Council instructed staff to consult with local municipalities, private property owners, and the local Conservation Authorities regarding potential lands in the County for the relocation of Peacekeeper Park and report back within 90 days.
Stephen Thompson, Chief Executive Officer, Sarnia-Lambton Economic Partnership (SLEP) and Katherine Walker, Chair, SLEP, regarding the operations and governance of SLEP.
Valerie Colasanti, General Manager, Social Services, regarding an update on homelessness prevention in the community. Council instructed staff to thank the Province for the Social Services Relief Funding received during the COVID-19 pandemic and ask the Province to extend this funding to the end of 2022 to assist the increased homeless population to find safe, affordable housing.

Instructed staff to bring a report regarding better protection for County woodlands.
Authorized entering into a standing Memorandum of Understanding with Lambton College to open up additional research and development resources to the County and foster collaboration and partnerships, on a project-by-project basis.
Instructed staff to contact the Ministry of Transportation (MTO) to establish options on how to proceed with illumination at the intersection of Highway 40 and Bentpath Line.
Adopted an Acknowledgement of Ancestral Lands Statement, and the associated Land Acknowledgement Policy. The intent of this statement is to recognize the traditional and treaty territories of Indigenous peoples. Such acknowledgement demonstrates respect for neighbouring First Nations communities, which is essential in strengthening relationships and moving towards meaningful reconciliation.
Council will next meet in Open Session at 9:30 a.m. on Wednesday, July 7, 2021.
-30-
Please contact:
Lisa Brown
Communications & Marketing Coordinator
County of Lambton
519-845-0809 ext. 5214
Email Lisa Brown