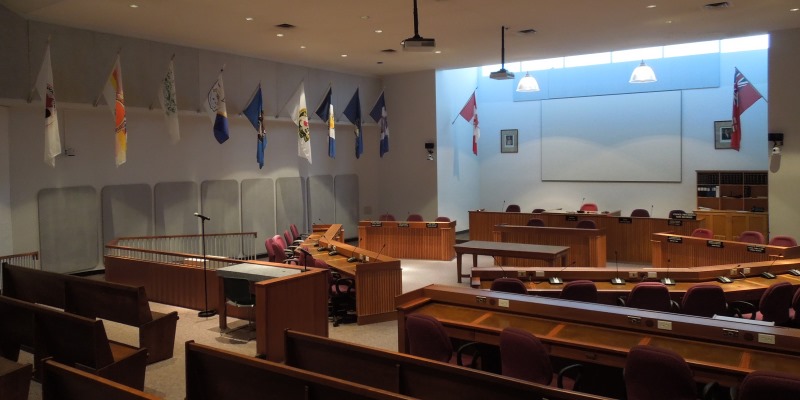 Wyoming, ON – At its regular meeting on Wednesday, November 2, Lambton County Council:
Acknowledged students attending Council as a part of Take Our Kids to Work Day. These students joined hosts within the County to learn about the working world and the many ways municipal staff provide services to the residents of Lambton County.
Received an update from Acting Lambton County Medical Officer of Health, Dr. Sudit Ranade, regarding the current COVID-19 situation in Lambton County.
Recognized donors who have made generous contributions to County programs, services and facilities over the past year, including Noelle's Gift to Children, The Lodge Auxiliary, The Villa Auxiliary, The Manor Auxiliary, The Seaway Kiwanis Club, Henry Tiedje, Jane Roberts, Thomas Tiedje, Ron Van Horne, Andreas Rutkaukas, Ian McLean, Jaime Angelopoulos, John Warrener, Steve Pustil, and Imperial Sarnia Site. Links to the individual video presentations can be found at lambtononline.ca/donations.
Heard presentations from:

Chantal Butterfield, Sexual Assault Survivors' Centre Sarnia-Lambton, providing an overview of Sexual Violence in the County of Lambton.
Stephanie Ferrera, Lambton Immigration Partnership and Jack Adair, TMRRW Inc., providing an overview of the Welcome to Lambton App, created for newcomers to the County of Lambton.

Requested increased and sustainable funding from the Provincial Government and its agencies for the Sexual Assault Survivors' Centre Sarnia-Lambton and other sexual assault centres.
Tabled a motion regarding continuing the moratorium on any new capital grants for the 2023 County budget to the February 2023 Council meeting.
Recognized outgoing Councillors for their years of commitment and service as Lambton County Councillors.
Requested staff organize a summit on homelessness in Lambton County early in 2023, including local organizations and local Provincial and Federal government representatives.
Council will next meet in Open Session at 9:00 a.m. on Wednesday, December 7, 2022.
This meeting will include the election of the Warden and Deputy Warden for the 2023-2024 term and is the inaugural meeting for the 2023-2026 Lambton County Council.
-30-
Please contact:
Lisa Leggate
Communications & Marketing Coordinator
County of Lambton
519-845-0809 ext. 5214
Email Lisa Leggate