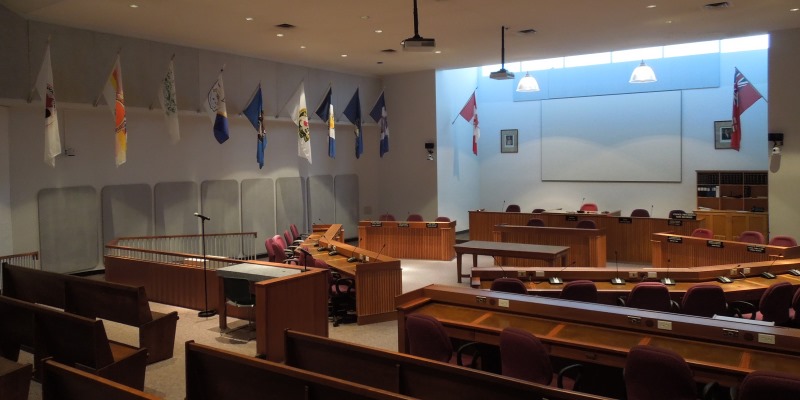 Wyoming, ON – Lambton County Council held their regular meeting via videoconference on Wednesday, November 3, 2021. At this meeting, Lambton County Council:
Received an update from Lambton County Medical Officer of Health, Dr. Sudit Ranade, regarding the current COVID-19 situation in Lambton County.
Recognized donors who have made generous contributions to County programs, services and facilities over the past year, including Roger Hay, Mark Moran, Ron Van Horne and Scott Ferguson, Lambton BASES, Hydro One, Bluewater Power, Enbridge, Seaway Kiwanis Club, Sarnia Community Foundation, Imperial Sarnia Site, Noelle's Gift, the Villa Auxiliary, the Lodge Auxiliary, and the Manor Auxiliary. Links to the individual video presentations can be found at lambtononline.ca/donations.
Supported the request from Enbridge Gas to provide a letter of support for the 2023 Dawn Corunna Project, to be included in the Ontario Energy Board application from Enbridge.
Set up an economic development reserve fund for any proceeds from the sale of equities that are held by Bio-industrial Innovation Canada on behalf of the County.
Received and filed a report regarding the authorization of an exception for the Dawn Landfill Site to accept construction, demolition, industrial, commercial and institutional waste from a commercial site located in the Municipality of Chatham-Kent.
Adopted the County of Lambton Strategic Asset Management Policy to establish a coordinated approach and guidelines for the management of the County of Lambton's assets.
Suspended the County capital grant program for 2022. No new capital grant requests will be entertained in the 2022 County Budget as a response to controlling and containing costs resulting from the COVID-19 pandemic.
Council will next meet in Open Session at 9:30 a.m. on Wednesday, November 24, 2021.
-30-
Please contact:
Lisa Leggate
Communications & Marketing Coordinator
County of Lambton
519-845-0809 ext. 5214
Email Lisa Leggate