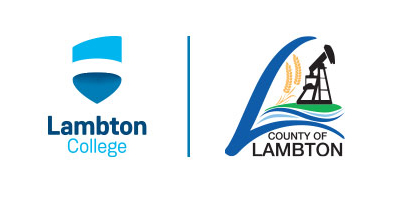 Wyoming, ON - The County of Lambton is collaborating with Lambton College on future research and development services through the Sarnia-Lambton Civic Lab Partnership.
The two organizations have officially entered into a Memorandum of Understanding for future collaboration on research and development services, similar to the Sarnia Civic Lab Partnership finalized between Lambton College and the City of Sarnia last month.
"Lambton College and Lambton County have enjoyed a strong and productive partnership, one that has culminated in successful initiatives such as the NOVA Chemicals Health & Research Centre," said Judith Morris, President & CEO, Lambton College. "This formalized partnership will allow us to work together on projects that improve quality of life across Sarnia-Lambton."
The Sarnia-Lambton Civic Lab Partnership sets a clear path forward for collaboration between Lambton College and the County of Lambton, leading to:
development of, and access to, local community research expertise;
development of, and access to, research capacity and know-how;
local coordination of research and development projects; and
further coordination amongst the County of Lambton, Lambton College and other local organizations on issues of common interest.
"This Sarnia-Lambton Civic Lab Partnership opens the doors for Lambton County and Lambton College to easily share ideas, generate initiatives, define community problems, and ultimately find solutions," said Kevin Marriott, Lambton County Warden. "The Partnership will help develop short- and long-term strategies, goals, policies, products, and recommendations on how to best meet the needs of our community, our government and other civic organizations."
The Partnership does not commit the County or College to any one particular project. Rather, it sets out the broad terms and conditions governing future research projects and collaboration. The terms and conditions of any specific project assignment will be negotiated on a case-by-case basis.
The Partnership will work to provide collaborative information and solutions covering social, environmental, cultural, economic, and health-related issues. The execution of the Memorandum of Understanding was authorized by Lambton County Council at its June 2, 2021 meeting and the Partnership officially commenced on June 15, 2021.
-30-
Please contact:
Stephane Thiffeault
General Manager, Corporate Services
County of Lambton
519-845-0801 ext. 5402
Email Stephane Thiffeault
Jami Kloet
Corporate Communications Coordinator
Lambton College
519-328-2081
jami.kloet@lambtoncollege.ca