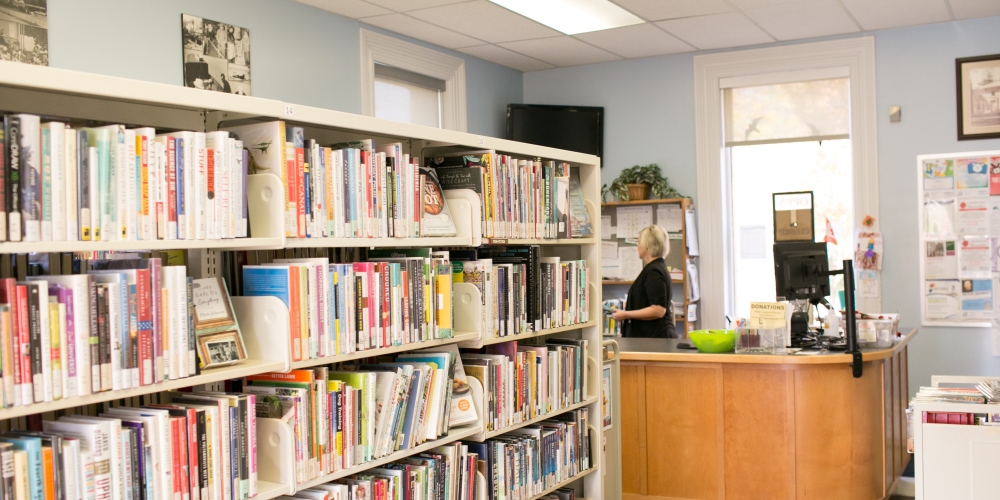 Wyoming, ON - Lambton County Library is calling on cardholders to suit up for the 2021 Summer Reading Program, a six week long initiative that promotes reading and the maintenance of literacy skills for children who are on summer break from school, and to encourage reading as a hobby amongst adults.
"This summer's program theme is Every Hero Has A Story, and the Library encourages heroes of all ages from around Lambton County to read stories, participate in activities and discover online programs," said Greer Macdonell, Community Library Supervisor. "The more registrants read and participate, the more chances they will have to win amazing prizes."
The Summer Reading Program is free and available for Lambton County Library cardholders, who can register now by visiting a curbside pickup location during opening hours. Kids ages 0 -12 will receive an age-specific registration package (0-4 years, 5-8 years or 9-12 years) in French or English which will include a passport, program instructions, stickers, supplies for three DIY activities, activity sheets and recommended reading list. For every five books read, kids will earn one free book prize to a maximum of three book prizes.
Through July and August participants can take part in online activities, games, challenges and set reading goals for themselves. Books can be borrowed through the library's curbside pickup service, and eBooks are available through digital platforms found at www.lclibrary.ca.
Online activities, games and challenges will open on July 5, 2021 at www.lclibrary.ca/srp. They include:
Herovision
Use your herovision and be on the lookout for heroes in the community completing good deeds. Whether it's a family member, friend, acquaintance or someone you admire in your community, when you spot a hero performing a good deed, submit their name and good deed at www.lclibrary.ca/srp for a chance to win a prize at the end of the Summer Reading Program. You will earn one ballot for each submission and heroes will also earn one ballot for each good deed submitted on their behalf.
There will be one prize for each age group:
Kids - one bike and one helmet
Teens – a subscription box
Adults – a subscription box
Secret Code Word Scavenger Hunt
Be a super sleuth and find the secret code word hidden in your community. Use the weekly clues to search for six letters hidden in plain sight. Weekly clues will be posted at each of the 25 Lambton County Library locations as well as online at www.lclibrary.ca/srp. Collect all six letters to spell out your secret code word and submit your guess at www.lclibrary.ca/srp. If you have the correct secret code word you will be entered in a draw for a chance to win one of five $50 Amazon gift cards.
Superhero Weekly Online Photo Challenge
Kids are invited to show their creativity each week by participating in the Superhero Weekly Online Photo Challenge. Submit a photo of your creation based on each week's theme. Earn one ballot per week for a chance to win a movie night prize package. Photos submitted will be posted to Lambton County Library's Facebook page on the Monday of the following week.
StoryWalk
Get outside this summer and visit the permanent and temporary StoryWalks across Lambton County. At each StoryWalk location there is a secret word on the last page of the book. Participants can submit the secret word at www.lclibrary.ca/srp to earn one ballot for every StoryWalk visited for a chance to win a $50.00 Discover Sarnia-Lambton gift card. StoryWalks are located at:
Ausable River Cut Conservation Area, Port Franks
Port Franks Community Centre, Port Franks
Twin Creeks Nature Trail, Watford
Bridgeview Park, Petrolia (July 5, 2021 until July 26, 2021)
Wildwood Park, Bright's Grove (July 27, 2021 until August 17, 2021)
Canatara Park, Sarnia
Tecumseh Park, Sarnia
Mooretown Sports Complex, Mooretown
Greenhill Gardens, Wilkesport (July 5, 2021 until July 26, 2021)
Brander Park, Port Lambton (July 27, 2021 until August 17, 2021)
Teens across Lambton County can also get involved by registering and reporting their reading for the Summer Reading Program reading challenge. Teens will earn one free food prize for every five books read to a maximum of three prizes. Teens are also invited to participate in the 12th Annual Take Your Shot photography contest with Lambton County Library by capturing a photo that represents good versus evil. Winners will be selected by a panel of judges the week of August 19, 2021.
Adults across Lambton County can get involved by registering and reporting their reading for the Summer Reading Program reading challenge. Adults will earn one ballot for every book read for a chance to win one of five $100.00 Discover Sarnia-Lambton gift cards. There is also an opportunity for adults to win a puzzle prize package by participating in weekly Brain Games. Each week between July 5 and August 13 new puzzles and riddles will be posted for adults to complete. One ballot will be earned for each week and a winner will be drawn the week of August 16.
In addition to online activities, Lambton County Library will be hosting two online series through Zoom featuring local heroes. Cardholders can register for Hero Storytimes and Heroes of Lambton virtual talks using the online calendar at www.lclibrary.ca.
Hero Storytimes will take place every Thursday morning from 10:00 a.m. - 10:30 a.m. Heroes from across Lambton County will read their favourite children's stories and talk about their work that makes a difference to the residents of Lambton County. Heroes featured include: Jay Arms, Town of Petrolia Fire Chief, Christy Bressette, University of Western Ontario's Vice-Provost & Associate Vice-President (Indigenous Initiatives), Dr. Ranade, Medical Officer of Health for Lambton County, Courtney Mellow, Principal for the St. Clair Catholic District School Board, Sarah van Kessel, Registered Nurse with Lambton Public Health and Constable Jen Nantais with the Sarnia Police.
The second series, Heroes of Lambton, will feature an in depth look at how local heroes overcome challenges every day. Upcoming sessions include:
Tyler McGregor
Friday July 9, 2021
10:00 – 11:00 a.m.
At 16, after an injury led to the discovery of cancer and the amputation of his leg, Tyler realized quickly that if he wanted to get back into hockey he would have to take a different route. In 2011 he started playing para ice hockey and his determination led him to be assistant captain for the Canadian Para Ice Hockey team and the 2018 Paralympic Games.
Dan Edwards
Tuesday, July 15
11:00 – 12:00 p.m.
Friday, July 23
2:00 – 3:00 p.m.
Dan was left paralyzed after suffering a spinal cord injury. Dan now dedicates his life to advocating for mental health and motivating others to persevere during difficult times.
OPP K9 Team
Wednesday, July 21
2:00 – 3:00 p.m.
Local OPP K9 team Blitz and Calaena along with office Kris Black put themselves in the face of danger daily in order to help keep our community safe. Meet the team and learn what a typical day looks like for this duo.
Canadian Border Services Agency K9 Team
Tuesday, July 27
2:00 – 3:00 p.m.
The K9 team with the Canadian Border Services Agency (CBSA) at the Bluewater Bridge works diligently to ensure our borders are safe. Meet CBSA officer Amy Draker and Bones, and learn how they work together every day.
For more information about Lambton County Library's Summer Reading Program visit www.lclibrary.ca/srp and follow @LCLibraryca on Facebook and Twitter.
For more information on how to become a Lambton County Library cardholder visit www.lclibrary.ca/apply.
-30-
Please contact:
Greer Macdonell
Community Library Supervisor, Lambton County Library
County of Lambton
519-845-3324 ext. 5243
Email Greer Macdonell