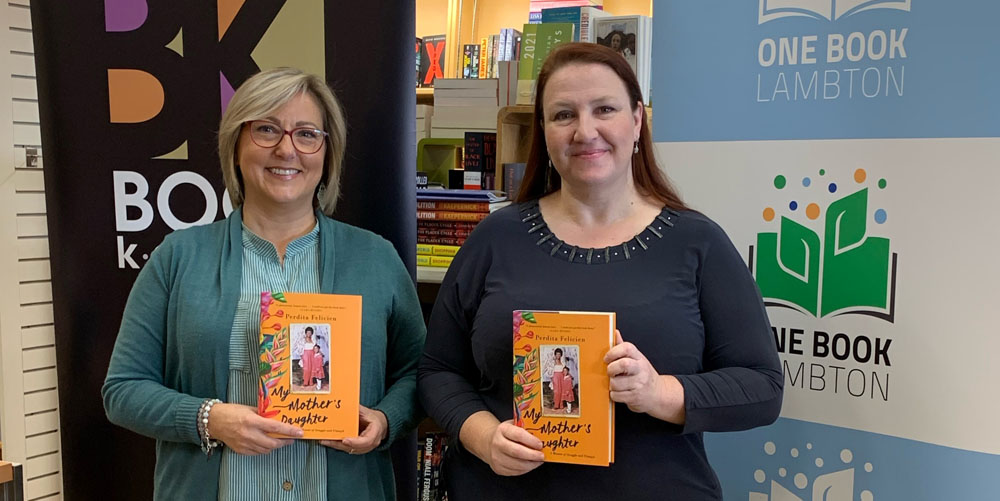 Wyoming, ON - One Book Lambton, an initiative aimed to unite people around Lambton County by reading the same book, is returning for another year with a raw and affecting memoir.
In partnership with The Book Keeper, Lambton County Library is excited to announce the selection for One Book Lambton 2021-2022 is My Mother's Daughter by Perdita Felicien.
Felicien, a Toronto native, is best known for her 2003 World Championship gold in the 100m hurdles and more recently, as the host of CBC's Tokyo Today coverage of the 2020 Olympic Games. But before she carried a nation's hopes to the 2004 Olympic Games, she carried her mother Catherine's dreams.
My Mother's Daughter is a memoir about the power of a parent's love to transform their child's life. Before the fame and success, Perdita and her mother Catherine would experience racism, domestic abuse, and even homelessness, but Catherine's will would always pull them through. My Mother's Daughter is available to borrow by using the online catalogue at lclibrary.ca or through the Iguana Library app, or by calling or visiting a Lambton County Library location to reserve a copy. eBooks and eAudiobooks are also available to borrow through cloudLibrary, Libby or Overdrive using your Lambton County Library card.
One Book Lambton encourages residents of Lambton County to read the book this fall. Starting in January, One Book Lambton will be hosting various programs and events that explore themes of the book, culminating in an Author Talk on April 22, 2022 at 7:00 p.m. where Felicien will discuss the book and being an author.
Visit onebooklambton.ca and follow @LCLibraryca on Facebook and Twitter to stay up to date on upcoming programs and events.
-30-
Please contact:
Andrea Basra
Public Services Coordinator - Adult Programs & Outreach, Lambton County Library
County of Lambton
519-845-0809 ext. 5217
Email Andrea Basra