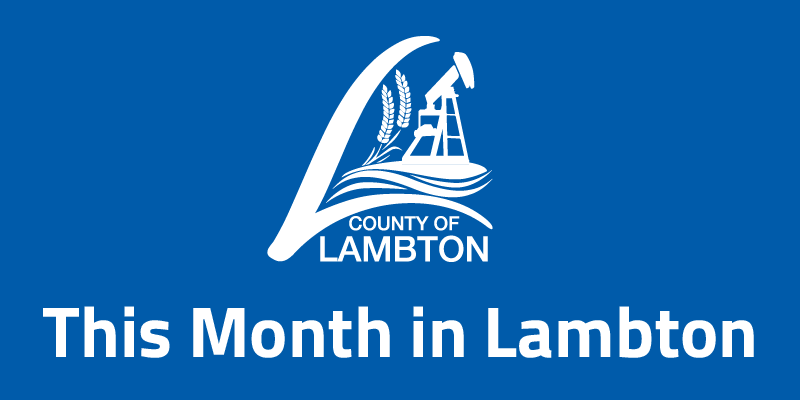 The August 2022 edition of This Month in Lambton includes the following news, service updates, programs and events:
Paint Ontario returns to Lambton Heritage Museum
In partnership with the Grand Bend Art Centre, Lambton Heritage Museum is proud to present the 26th annual Paint Ontario Art Show & Sale, returning to the Museum September 2 through 25, 2022.
Original paintings will fill the exhibition hall at the Museum, bringing to life the beauty, character, and diversity of Ontario. The show will include artist demonstrations on Thursday evenings, Saturdays, and Sundays.
For more information and updates, visit the Paint Ontario website.
2021 Consolidated Financial Statements
The Corporation of the County of Lambton's Consolidated Financial Statements for the year ended December 31, 2021 have been completed and audited.
Copies of the Financial Statements are available from the Finance, Facilities and Court Services Division by calling 519-845-0801, toll free 1-866-324-6912 or online at lambtononline.ca/budget.
Canada Learning Bond
Kids have big dreams - help them achieve their goals with the Canada Learning Bond!
The Canada Learning Bond is free money from the Government of Canada for your child's education after high school that is deposited into an RESP. This can include college, university, trade schools and apprenticeships! You do not need to deposit any of your own money to get the Canada Learning Bond.
Is your child eligible for the Canada Learning Bond? Depending on family income, your child is eligible if they are:
Born on or after January 1, 2004
A Canadian resident with a valid Social Insurance Number
Named a beneficiary in an RESP
There's over 12,000 children in Lambton County who are eligible for this government grant who have not applied!
Learn more about the Canada Learning Bond, check if you're eligible, and apply quickly and easily online at www.lambtonlearns.ca.
Roundabout construction at Nauvoo and Egremont Road intersection
The intersection of Nauvoo Road (County Road #79) and Egremont Road (County Road #22) in Warwick Township is fully closed for construction of a roundabout at the intersection. The work is expected to last until mid-October, weather permitting.
Detours are in place and posted. No through traffic will be permitted for the duration of the project. Motorists are advised to follow all traffic control signage and to drive in a manner that respects the health and safety of road crews. Cyclists are also expected to follow the posted detour and avoid the construction zone. Detailed routes can be viewed online at lambtononline.ca/roadclosures.
Please visit Municipal511.ca and lambtononline.ca/construction for additional road closure information and project updates.
HHW Collection Events
Bring your household derived hazardous waste to one of the upcoming Household Hazardous Waste Day events and it will be disposed of by experts, at no cost to you!
Household Hazardous Waste Day events will be held at Clean Harbours Canada, 4090 Telfer Road, St. Clair Township from 9:00 a.m. until 2:00 p.m. on the following remaining dates for the 2022 season:
Saturday, September 24
Saturday, October 29
There is also an upcoming mobile HHW event on Saturday, October 15 at the County's Forest Public Works Depot, 6958 Townsend Line, Lambton Shores from 9:30 a.m. until 2 p.m.
Corrosive, toxic, reactive and flammable materials will be collected. These items should never be placed in a regular landfill because they have the potential to injure sanitation workers and damage our environment.
Examples of these types of materials include:
Corrosive - Batteries, Drain Cleaners, Oven Cleaners
Toxic - Pesticides, Rat Poison, Cleaning Fluids, Pharmaceuticals
Reactive - Pool Chemicals, Ammonia, Bleach, Aerosols
Flammable - Gasoline, Paints, BBQ Starter, Oils, Solvents, Propane Cylinders
Items NOT accepted include: PCBs, commercial, industrial or radioactive wastes, electronics and explosives (flares and ammunition).
Event attendees are asked to follow physical distancing protocols, including:
Packaging materials in disposable containers (i.e. cardboard boxes) as the containers will not be returned;
Placing materials in the trunk or back of your vehicle to maximize distancing for event staff when collecting items; and
Remaining in your vehicle at all times, as event staff will be removing materials from your vehicle.
For more information visit lambtononline.ca/hhw or call 519-845-0801.
North Lambton Lodge hosts annual barbeque
The Lodge hosted its annual summer BBQ on August 11, with family and friends invited to join in the fun!
After 2 years of COVID-19 restrictions and impacts, the Lodge was once again able to host the event and everyone had a great time.
Elvis had left the building, but not to worry – he came outside to sing! The kitchen prepared a delicious meal and although it was a bit windy and cool, the sun was shining.
Special thanks to everyone in attendance for your patience with screening and testing and for doing your part to help keep people safe during the event. To all the staff and volunteers who worked so hard to ensure this event was a success - THANK YOU, THANK YOU VERY MUCH!
Virtual Talks with the Oil Museum of Canada
Did you miss our last Virtual Talk: Drake Well Museum and Park? A recording is available on our YouTube channel. Visit our YouTube channel to browse interesting virtual talks, educational videos, and more!
Museum membership BOGO
The deadline is fast approaching! Don't forget to purchase a membership with the Oil Museum of Canada before August 31, 2022 to receive an additional year, FREE!
Membership benefits include:
Unlimited general admission to the Oil Museum of Canada, National Historic Site
Unlimited general admission to partnered Heritage Sarnia-Lambton locations when you present your membership card
Access to Lambton Musings newsletter, published quarterly with museum news, local history stories, and heritage events
10% discount at the Oil Museum of Canada gift shop
Invitation to special events
A wallet sized membership card
Oil Museum of Canada hosts Book Launch Event
Join the Oil Museum of Canada as they celebrate the release of Gary May's latest book Crude Genius.
Crude Genius explores the making of international oil baron, William H. McGarvey. McGarvey was crowned the "Petroleum King of Austria," dubbed "Europe's Rockefeller," and advised the British government in the great debate over converting its naval fleet to oil fuel in preparation for World War I. His story is one that links Canada, the US, Austro-Hungary, Russia, and Romania.
Stop by the Oil Museum of Canada Sunday, August 28 from 1:00 - 3:00 p.m. for a meet and greet with author Gary May. Be sure to take this opportunity to purchase your very own signed copy.
Reducing the impact of COVID-19 subvariants in our communities
The BA.5 COVID-19 Omicron Subvariant is circulating in Ontario. As Lambton Residents we have the tools and are well practiced in the basic actions needed to mitigate the risks in our communities.
Staying up-to-date with the recommend COVID-19 vaccine dose is the best way to reduce the burden of disease in our community. All adults over the age of 18 are now eligible to receive their second booster dose. Those most at risk are strongly recommended to receive their second booster, including:
Older adults (60+)
Immunocompromised individuals
Those at elevated risk due to other conditions, communal living settings, high-risk work settings.
Children aged 6 months to under 5 years of age are now eligible for their first dose of the pediatric Moderna COVID-19 vaccine as well.
In all populations, the COVID-19 vaccine is shown to reduce the severity of COVID-19, alleviating the pressures on our already strained healthcare system.
Residents are encouraged to ask their health care provider if vaccination is right for their children or if receiving their next vaccine dose is right for them at this time.
Booking and additional information can be found at GetTheVaccine.ca
Additionally, as we approach the fall and head back to school and to the office, vaccination as well as our well-practiced basic actions will help mitigate further spread as we head indoors.
These practices include:
Staying up-to-date with recommended vaccine doses
Physical distancing
Masking when you can't maintain physical distance or are in high-risk settings
Staying home when you are sick
These basic actions worked well in the past and will continue to work well as we head into the fall season. Stay safe and visit LambtonPublicHealth for more details.
Monkeypox
Lambton Public Health (LPH) reported the first laboratory-confirmed case of monkeypox in Lambton County earlier in August.
Monkeypox is a viral disease that enters the body through broken skin, the respiratory tract, or mucous membranes. Infections are typically mild with most people recovering on their own in two to four weeks.
Now that it is confirmed locally, here are some key facts to remember about monkeypox and how to prevent the spread.
How is monkeypox spread?
Monkeypox is spread through close contact with an infected person's skin or sores, bodily fluids, respiratory droplets, or by sharing personal items such as clothing, bedding, and linens.
Who can get it?
Anyone can get monkeypox after having close contact with someone who has the infection. This includes sexual partners and household contacts.
What should I look for?
Monkeypox might start with flu-like symptoms (fever, low energy, swollen, lymph nodes, general body aches) but generally appears as a rash or sores.
How do I protect myself and others?
Have you been confirmed to have monkeypox? If so, isolate! Are you a close contact of someone who does have it? Monitor for symptoms. Otherwise, you can implement basic actions like staying home if you are sick, practicing proper respiratory etiquette, and practicing proper hand hygiene.
Want more information?
Visit us at LambtonPublicHealth.ca, call us at 519-383-8331, or talk to your primary care provider.
Connect with us
Like us on Facebook, follow us on Twitter, and be sure to subscribe to news alerts and our events calendar.