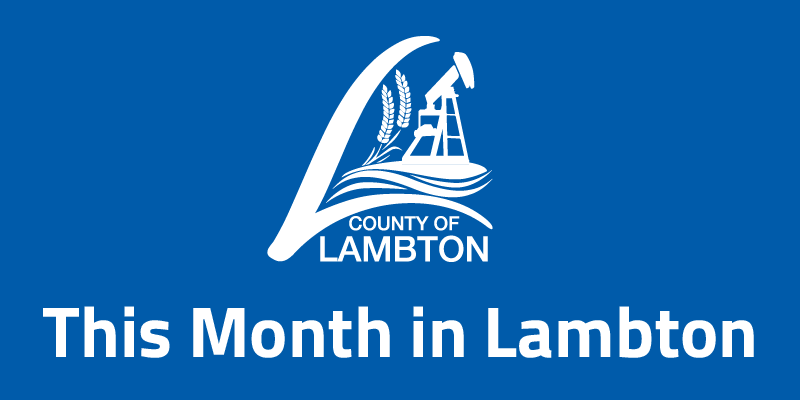 The December edition of This Month in Lambton includes the following news, service updates, programs and events:
Creative County Committee Awards 2022 Funding
Lambton's Creative County Grant Program has approved 21 projects for the 2022 program year, representing an investment of $101,965 in funding. Eight of the approved projects are Indigenous-led or in partnership with neighbouring Indigenous communities.
The Creative County Committee adjusted its application criteria for the 2022 grant period to consider applications for minor capital purchases, due to ongoing public health restrictions preventing many cultural events and programs from taking place. The Committee also encouraged projects led by or in partnership with Indigenous communities that foster Indigenous heritage and culture, or support local organizations with the implementation of the Calls to Action outlined in the Truth and Reconciliation Commission's report.
At a recent meeting, the Creative County Committee approved the following grant applications:
$1,000 to Kevin Vansteenkiste towards the Whereabouts educational video series.
$4,000 to the Lambton Fairs Association for their Barn Quilt Project.
$2,800 to the Lambton County Plowmen's Association for their Telling Our History project.
$2,500 to Hillside School and KSPFN Education Services in support of two murals to be installed in their community centre.
$5,000 to the Chippewas of Kettle and Stony Point First Nation towards the creation of the Golden Eagles Seniors Healing Garden and Teaching Circle.
$12,125 in support of the Anishinaabe Thunderbird Sundance.
$8,845 to the Aamjiwnaang Early Learning Centre for their Anishinaabe Indigenous Food Sovereignty Initiative.
$5,000 to Monica Virtue towards the Ipperwash Archive project.
$2,500 to Anika Altiman in support of Reflections: Art in Bkejwanong Territory program and exhibition.
$1,050 to Sam Shuqair towards the production of Quick and Easy Cookbook: A Recipe and a Poem.
$5,000 to the Sarnia Kinsmen Club for their Spring into Summer Arts & Craft Show.
$5,000 to the City of Sarnia and its UNDRIP Committee towards the installation of a commemorative reconciliation crosswalk.
$2,995 to Taryn Henry, Anne Stoesser and the Lawrence House for the interactive art experience A Day at a Time.
$6,500 to the Town of Plympton-Wyoming for the development and installation of a historic plaque honouring the site of the former Maundaumin Library.
$1,400 to the Kiwanis Club of Forest in support of the Learning and Healing Together event.
$750 to the Bluewater Lambton Ukulele Ensemble towards sound equipment to support ukulele group performances.
$5,000 to the Grand Bend Art Centre for the interactive mural event May We Come Together.
$2,500 to the Lambton Young Theatre Players, in support of the LYTP Collective Creation program.
$15,000 to Sherri DeWolf towards the Mermaids & Mariners on the St. Clair event.
$10,000 to the Corunna Volunteer Firefighters Association for the 1925 LaFrance Fire Truck Restoration Project.
$3,000 to Liana Russwurm towards the Alvinston, Stories from the Church weekly publication.
It is estimated that this funding will leverage a total of $515,820 in local cultural investment by applicant organizations and their respective partners in 2022, based on the total estimated project costs submitted by applicants.
The next application intake is scheduled for the fall of 2022, and will support initiatives taking place during the year 2023. For more information about Lambton's Creative County Grant Program, visit lambtononline.ca/creativecounty.
Winter Travel
Winter travel season has arrived and motorists are again being reminded to adjust their travel plans when severe weather is forecast.
511 Ontario provides travellers with information on road conditions, weather, radar imagery, and plow routes.
Always dress for the weather: bring along suitable clothing in case you have to walk or remain in your vehicle for a long period of time.
If you encounter bad weather or road conditions while driving, slow down and allow plenty of space between yourself and other vehicles. Make sure you can be seen by ensuring that your headlights and tail lights are on.
If you become stranded, it is often best to stay with your vehicle and wait for help. Make sure you have an emergency supplies kit for these situations. For details on what to include, visit EmergenciesLambton.ca.
Discrimination Experienced by Immigrants, Visible Minorities, and Indigenous Peoples in Sarnia‐Lambton
In the spring of 2020, the Sarnia Lambton Local Immigration Partnership (SL-LIP) collaborated with 10 other Local Immigration Partnerships across Southwestern Ontario to identify opportunities to seek quantitative data on racism, discrimination and oppression experienced by residents within corresponding municipalities. Through these joint efforts, a survey was developed and Forum Research Inc. was retained by the Sarnia-Lambton Local Immigration Partnership to recruit participants, administer the survey, and collect data.
The survey was administered within participating communities to examine the extent and context of discrimination experienced by immigrants, visible minorities, and Indigenous Peoples, in comparison to people who are not members of these groups. The survey examined who is experiencing discrimination, in what contexts, on what basis, who is perpetrating these acts of discrimination, and whether specific forms of discrimination are taking place. The survey also examined how immigrants, visible minorities and Indigenous Peoples respond to these experiences of discrimination, and associated feelings of being accepted and welcomed in the community.
The detailed report compiling the data collected in this survey, Discrimination Experienced by Immigrants, Visible Minorities, and Indigenous Peoples in Sarnia‐Lambton, provides insight into the discrimination experiences of immigrants, visible minorities and Indigenous Peoples in Sarnia‐Lambton, and will support the development of evidence based anti‐discrimination initiatives at the local level. Further, an infographic highlighting key findings of the survey data and report has been developed by the Sarnia-Lambton Local Immigration Partnership.
Happy Holidays from Lambton Heritage Museum
Lambton Heritage Museum wishes everyone a safe and happy holiday season. The Museum is open throughout the holidays so be sure to book your visit at www.lambtonmuseums.ca/en/lambton-heritage-museum/visiting-lhm.aspx
Holiday Hours:
Wednesday, December 22: 11 a.m. – 4 p.m.
Thursday, December 23: 11 a.m. – 8:30 p.m.
Friday, December 24: Closed
Saturday, December 25: Closed
Wednesday, December 29: 11 a.m. – 4 p.m.
Thursday, December 30: 11 a.m. – 8:30 p.m.
Friday, December 31: Closed
Saturday, January 1: Closed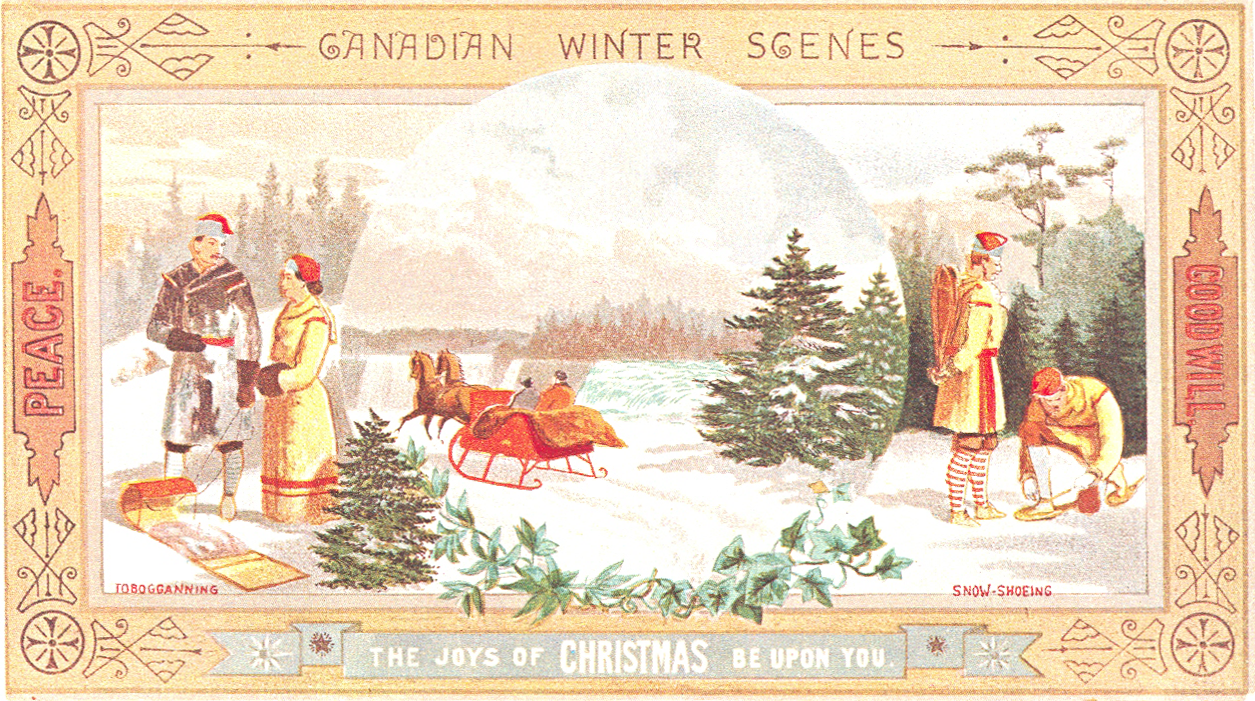 Oil Museum of Canada receives Award of Excellence
The Oil Museum of Canada is pleased to share that the Ontario Museums Association has awarded Christina Sydorko, Educational Program Coordinator with an Award of Excellence in Programs! Christina has been working tirelessly to improve the Oil Museum's educational programming and take available content to new heights by introducing new virtual program offerings. We're so proud to see her achieve this great acknowledgement and commend her for her efforts. Way to go, Christina. Congratulations!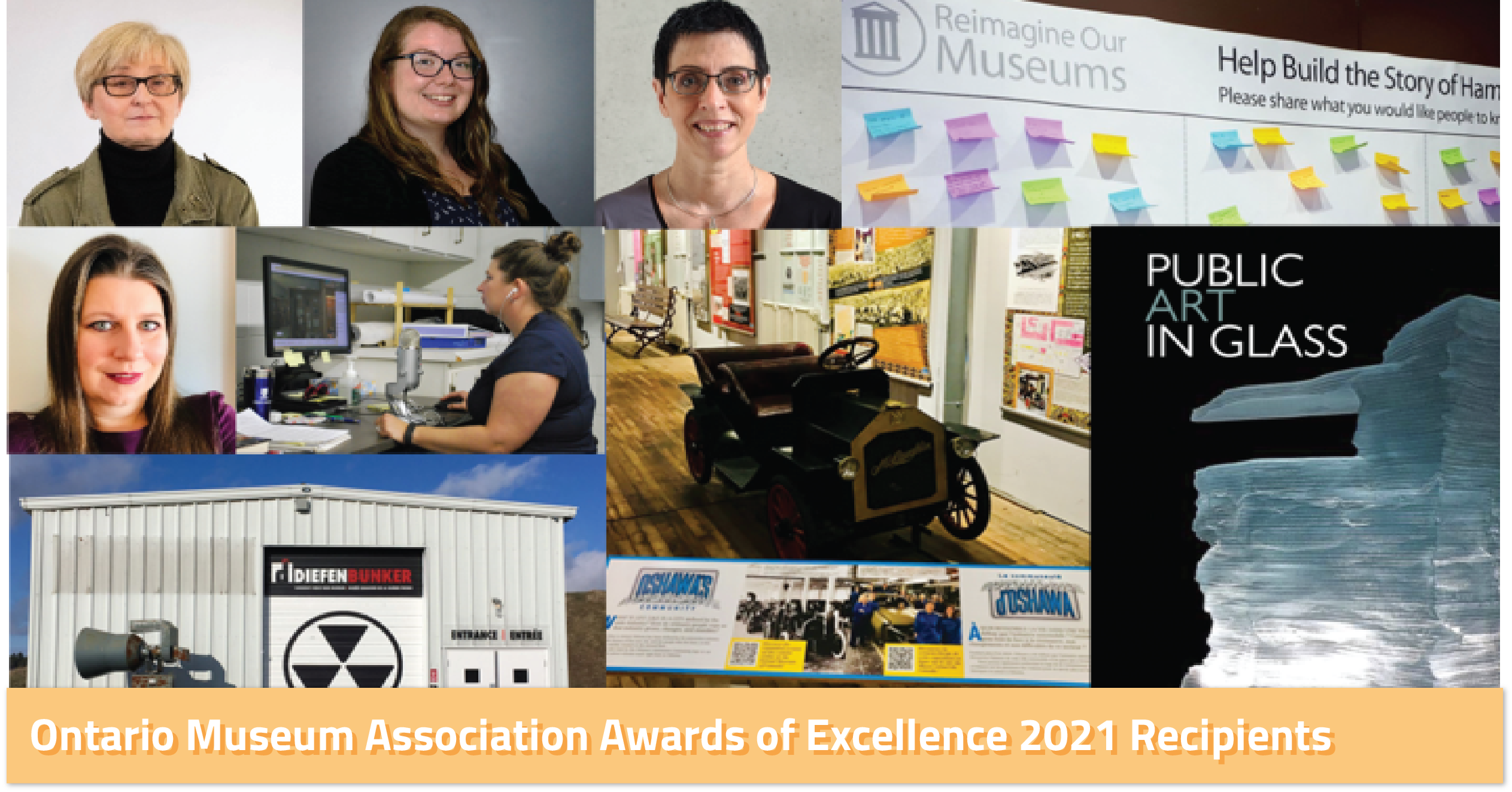 Noelle's Gift makes huggable donation to Lambton EMS
A special thank you to Noelle's Gift who generously donated huggable bears to Lambton EMS for paramedics to give to children who experience trauma or are in crisis. These bears go a long way to provide comfort in a difficult situation. Each bear has a shirt that says "I'm a Smash Hit" – a special phrase that Noelle used when talking about her students and holds special meaning to Noelle's Gift.
Thank you for your kindness and generous donation!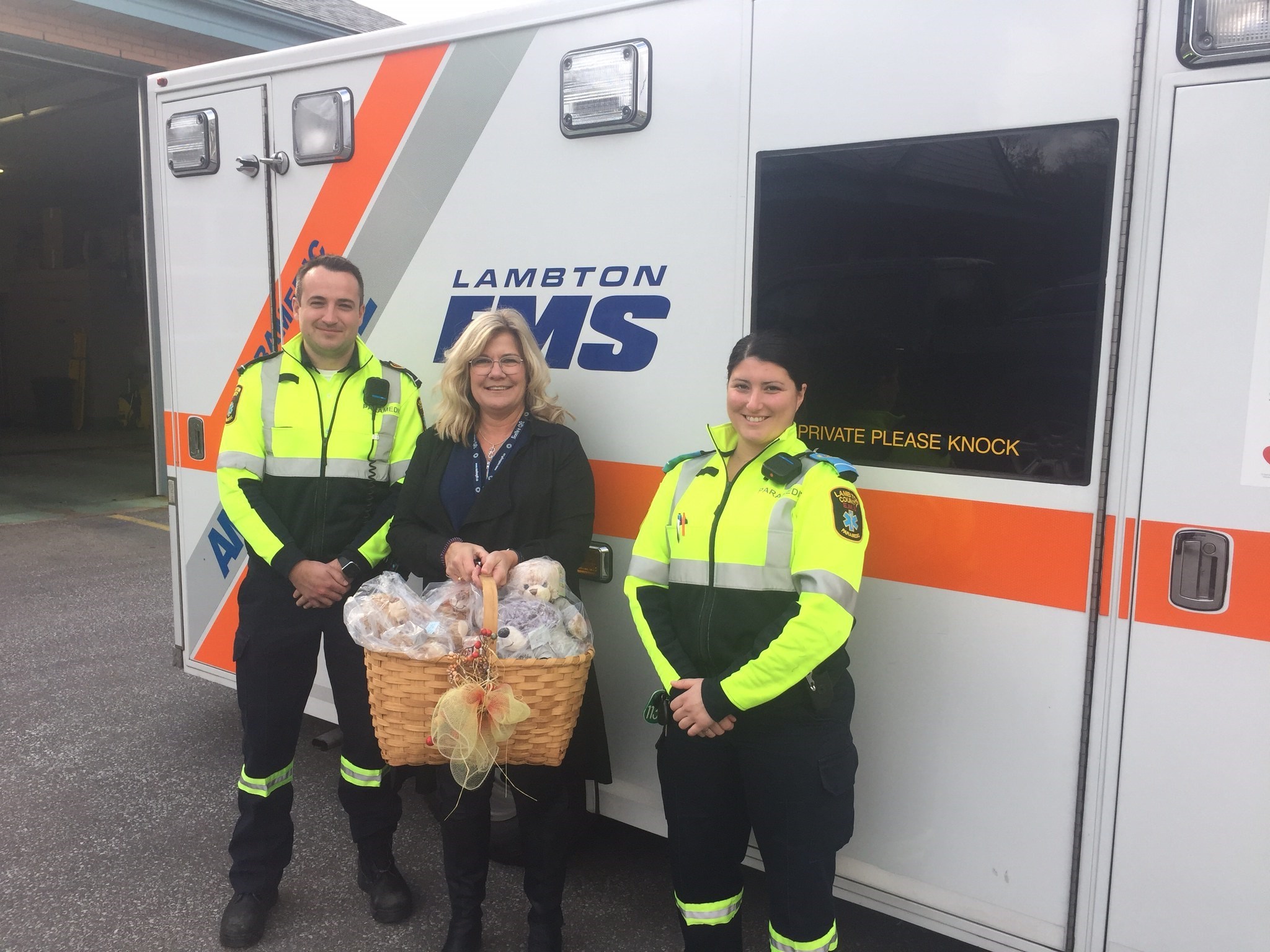 Photo: Lambton EMS Paramedics Jayden Moore and Amanda Fawns are presented bears by Cathy Robertson from Noelle's Gift.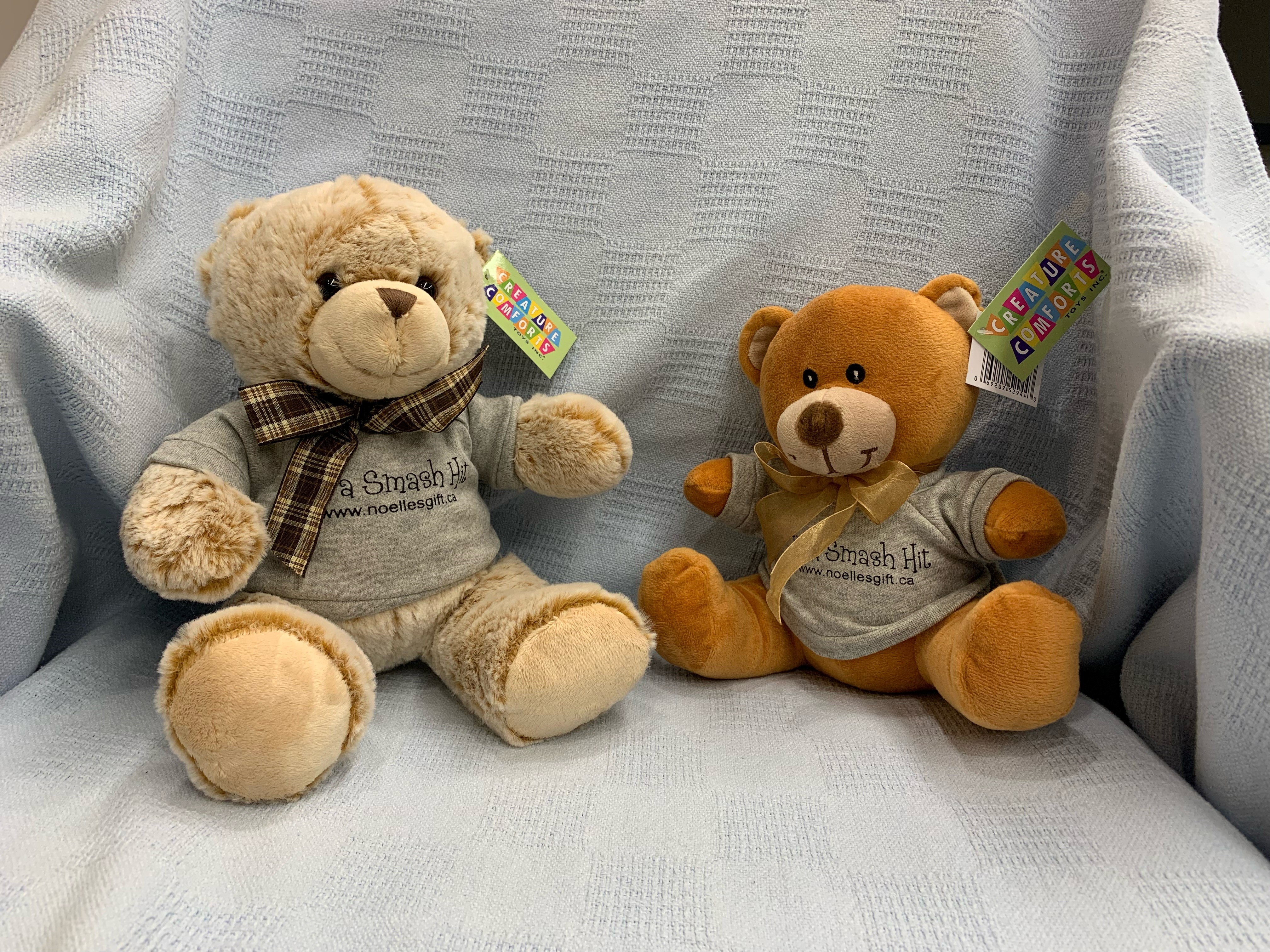 Lambton Circles extends thanks to the Seaway Kiwanis Club
The Seaway Kiwanis club has supported Lambton Circles for many years, and their support has been especially appreciated during these past two difficult pandemic years. The Lambton Circles team would like to extend our sincere thanks and gratitude for the additional donation from the Seaway Kiwanis Club this year, which will go directly toward holiday gift packages for Circles families.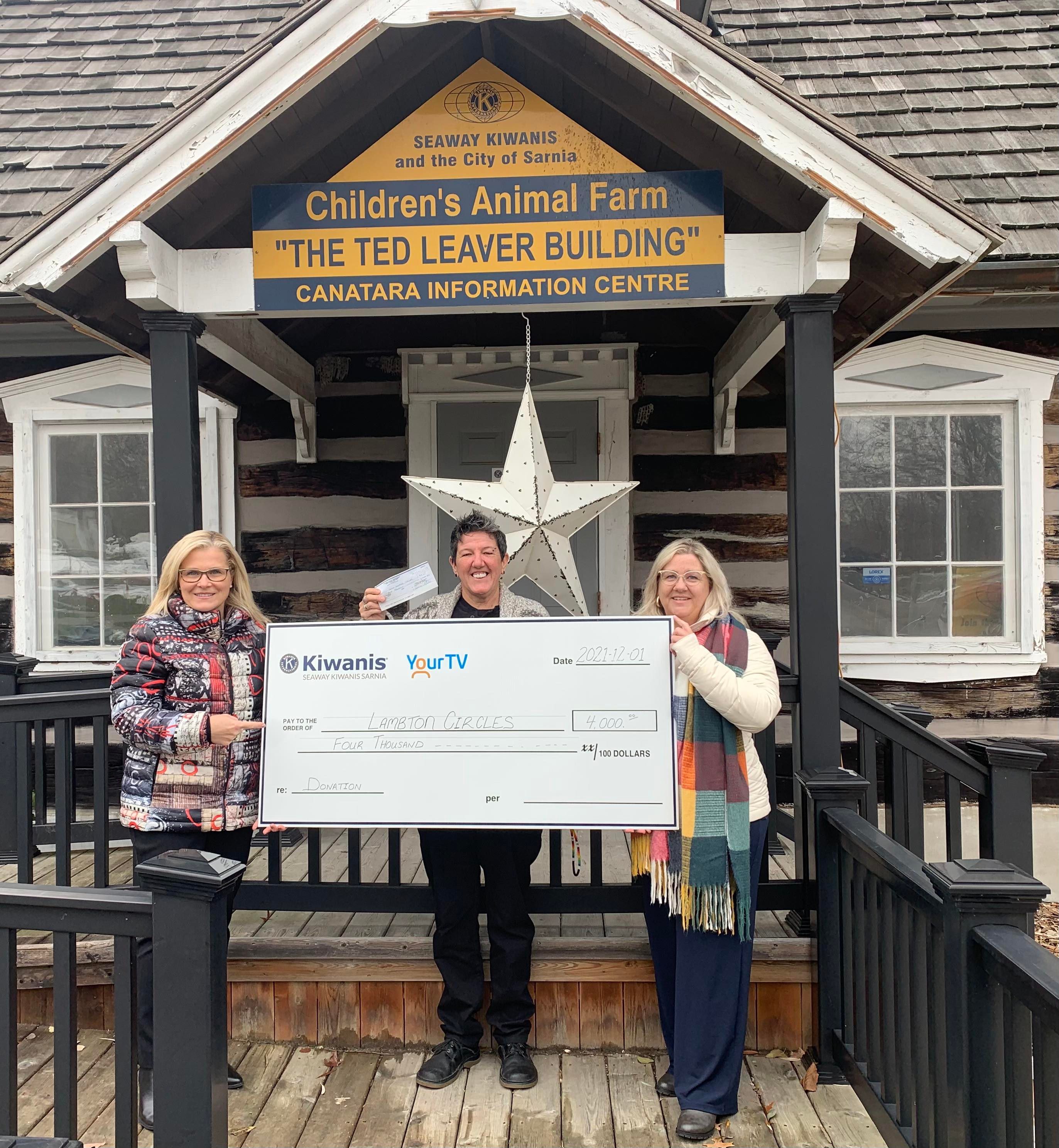 Photo (left to right): Kim Godin, Lambton Circles Coordinator, Martine Creasor, Lambton Circles Coach and Cheri Roberts, Seaway Kiwanis Club member.
Check It Out!
Stay up to date with Lambton County Library and pick up your copy of Check It Out!, your guide to Lambton County Library news and programs. Discover upcoming programs taking place in January and February including author talks, tech help workshops and learning sign language. The bi-monthly program guide will also explore your right to intellectual freedom and recommend titles that have been banned throughout history. Visit your local library and pick up a free copy or subscribe for a digital copy today at subscribe.lclibrary.ca.
Lambton County Library Holiday Hours
Lambton County Library will be adjusting its hours during the holiday season.
The following dates will have adjusted hours:
Date

Locations Open

Friday, December 24, 2021

9 AM – 12PM

Alvinston, Brigden, Bright's Grove, Corunna, Forest, Grand Bend, Mallroad, Petrolia, Point Edward, Port Franks, Sarnia, Shetland, Sombra, Thedford, Wyoming

Saturday, December 25, 2021

All locations closed

Sunday, December 26, 2021

All locations closed

Monday, December 27, 2021

All locations closed

Friday, December 31, 2021

9 AM – 12PM

Alvinston, Brigden, Bright's Grove, Corunna, Forest, Grand Bend, Mallroad, Petrolia, Point Edward, Port Franks, Sarnia, Shetland, Sombra, Thedford, Wyoming

Saturday, January 1, 2022

All locations closed

Sunday, January 2, 2022

All locations closed
In addition, Lambton County Library will be closing its material return boxes from Friday, December 24, 2021 to Sunday, January 2, 2022. Please plan your visit to drop off returns in advance and do not return your items during this time of closure. Late fines will not accrue during this nine-day time period.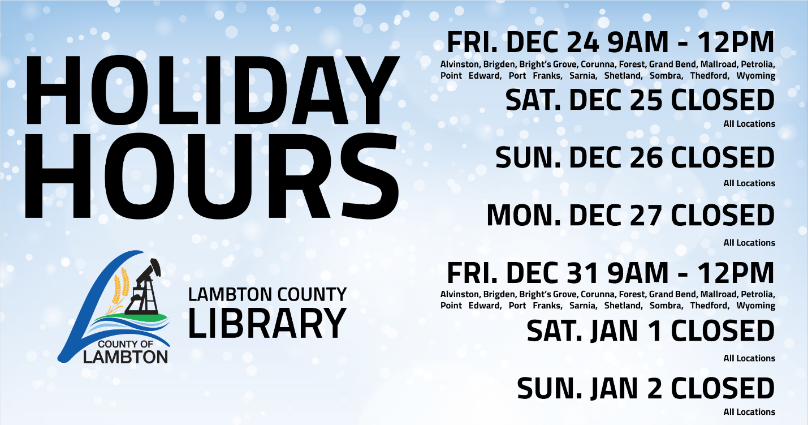 Set Your New Year's Resolutions with a Vision Board
Are you interested in setting goals for the New Year but don't know where to start? Register for Lambton County Library's Adult DIY – Vision Boards on Saturday, January 8 from 2:00 – 2:45 p.m. This in-person program at the Sarnia Library will guide you through how to use vision boards, a collage of images, pictures and affirmations, to help you set you up for success. COVID-19 protocols including mandatory facial coverings and capacity limits will be in effect. Register at lclibrary.ca.
Borrow snowshoes from Lambton County Library
Are you looking for activities to do outdoors this winter? Snowshoes are a great way to enjoy the outdoors this winter. Borrow snowshoes and an Ontario Parks Day Pass and explore the beauty of Ontario's provincial parks.
You can place holds on snowshoes and Ontario Parks Day Passes through the Lambton County Library's online catalogue, the Iguana Library app, or by calling your local library. Snowshoes are available in both adult and children's sizes for a 7-day loan period. Please note that only two pairs of snowshoes can be borrowed per library card.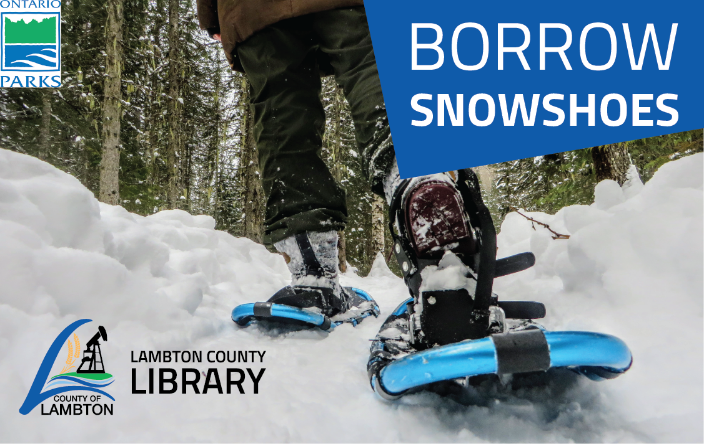 Connect with us
Like us on Facebook, follow us on Twitter, and be sure to subscribe to news alerts and our events calendar.