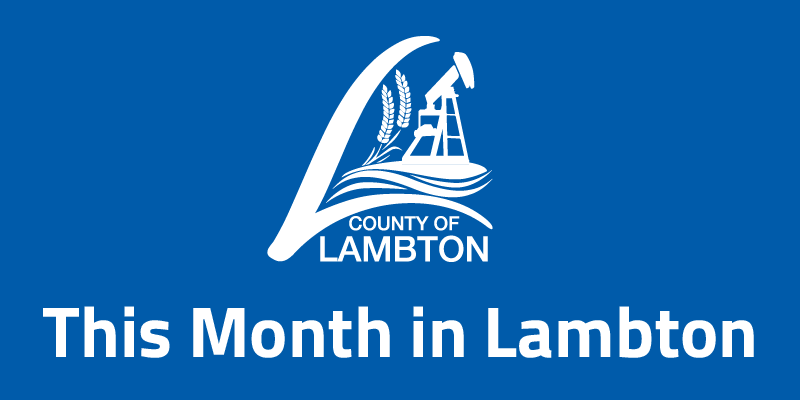 2019 Consolidated Financial Statements
The Corporation of the County of Lambton's Consolidated Financial Statements for the year ended December 31, 2019 have been completed and audited. Copies of the Financial Statements are available from the Finance, Facilities and Court Services Division by calling 519-845-0801, toll free 1-866-324-6912 or online at lambtononline.ca/budget.
Lambton Renovates
The County of Lambton is now accepting 2020 applications for funding through the Lambton Renovates Program. For further information and to download an application, please visit lambtononline.ca/lambtonrenovates.

Take Your Shot Teen Photo Contest
Budding teen photographers are invited to participate in the 11th Annual Take Your Shot photography contest with Lambton County Library. This year's theme is "Capturing Your County" and we want to see Lambton County through your eyes.
Photo submissions will be accepted until August 10, 2020. Public voting will take place the week after, and the top three winners will have their photos printed and framed as well as receive a gift card to Lambton Mall.
1st Prize: $100
2nd Prize: $50
3rd Prize: $25
Visit lclibrary.ca/summer-reading-program for full contest details.

Summer Reading Program
Join the summer fun with Lambton County Library's Summer Reading Program. During the months of July and August, the Library will be hosting online programs for kids, teens and adults to help you set reading goals, battle your friends at trivia, participate in scavenger hunts and more. Track your summer reads and report how many books you've read each week for your chance to win prizes.
Books can be borrowed through the library's curbside service or eLibrary platforms. Learn how to register, participate and borrow at lclibrary.ca.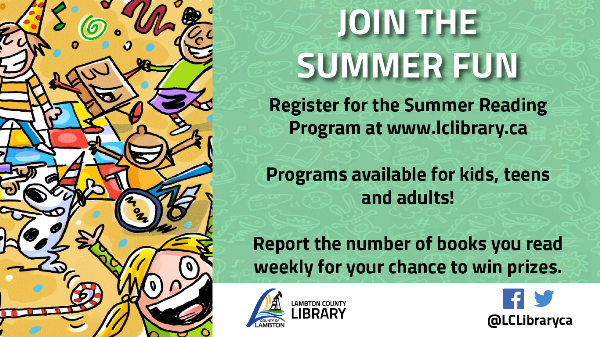 Power Outages
Long, hot summer days can increase demand on Ontario's power grid.
But wide-scale power outages can occur at any time of the year for reasons that also include wind damage, equipment failure, or ice storms.
Be prepared and make sure you and your household are self-sufficient for at least 72 hours following a power outage, or any emergency.
Consider:
Storing flashlights and batteries throughout your home;
Purchasing an external battery or portable charger for your cell phone or device;
Notifying your electricity supplier if you use special healthcare equipment (i.e. oxygen generators or dialysis machines); and
Installing and learning to safely operate backup heating systems or power generators.
For more information on preparing for power outages and what to do when they occur, please visit EmergenciesLambton.ca.
Lakeshore Road Closure
Lakeshore Road (County Road #7) between Modeland Road and Blackwell Sideroad in the City of Sarnia is closed for reconstruction and widening. The work is expected to last into October, weather permitting. The project also includes the installation of a new watermain for the City of Sarnia along Lakeshore Road.
Detours are in place using Modeland Road, Blackwell Road and Telfer Road to access Lakeshore Road east and west.
No through traffic will be permitted for the duration of the project. Access for local residents will be maintained, but may be restricted or completely closed at times while work is progressing adjacent to their property.
Temporary traffic lights have been positioned to alleviate some traffic congestion during the closure. Motorists are advised to follow all traffic control signage and to drive in a manner that respects the health and safety of road crews.
Cyclists are also asked to use the posted detour route to avoid conflicts with the construction work taking place.
Please visit Municipal511.ca for additional road closure information.
Judith & Norman Alix Art Gallery Online Programs
While the Judith & Norman Alix Art Gallery remains closed to the public, we wanted to make you aware of what we are doing to keep our art community connected.
JNAAG is delighted to bring you at-home art-making activities! Inspired by what you may have around your home, these instructional videos have been designed to help guide you down a path of creativity.
Visit jnaag.ca/onlineprograms to learn more.
Weed It and Reap!
Staff at Lambton Heritage Museum are excited to be back at the museum for the first time in months! It seems that even though the normal hustle and bustle of the museum has remained dormant, the weeds in the gardens haven't failed to miss a day.
We are pulling together to "pull some weeds" so we can have the gardens back in shape for when the museum reopens to the public.
At this time we do not have a confirmed reopening date, but we will be sharing more details soon and we look forward to welcoming the public back to the museum when it is safe to do so. Until then, stay connected with our Social Media channels for updates on the status of closure, and check out www.lambtonmuseums.ca for more information and resources.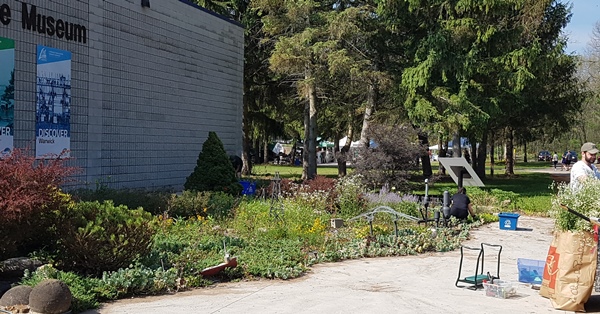 Looking Ahead
9 a.m. & 11 a.m., August 19, 2020 - Committee A.M. & Committee P.M.
9:30 a.m., September 2, 2020 - Lambton County Council
Agendas and minutes for Committee and Council meetings are available on the online Meeting Calendar.
Open Sessions of Lambton County Council and Committee meetings are streamed live and are available for archival viewing for a period of one year by clicking on the Live Stream link below.Council & Committee Agendas, Reports & Minutes Meeting Livestreams
Connect with us
Like us on Facebook, follow us on Twitter, and be sure to subscribe to news alerts and our events calendar.