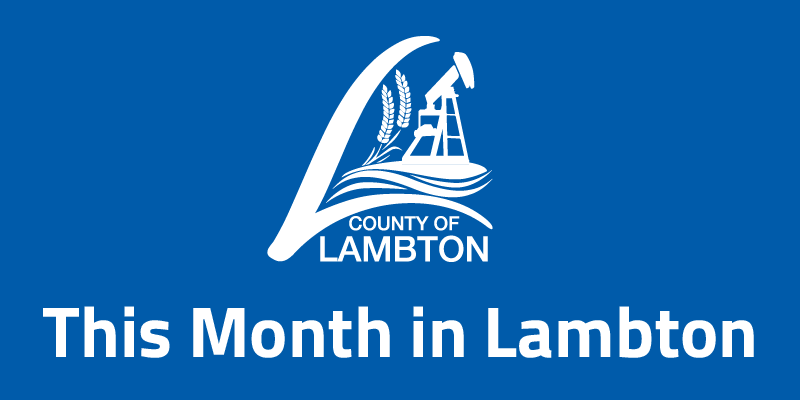 The June edition of This Month in Lambton includes the following news, service updates, programs and events:
County and College Announce Sarnia-Lambton Civic Lab Partnership
The County of Lambton is collaborating with Lambton College on future research and development services through the Sarnia-Lambton Civic Lab Partnership.
The two organizations have officially entered into a Memorandum of Understanding for future collaboration on research and development services, similar to the Sarnia Civic Lab Partnership finalized between Lambton College and the City of Sarnia last month.
"Lambton College and Lambton County have enjoyed a strong and productive partnership, one that has culminated in successful initiatives such as the NOVA Chemicals Health & Research Centre," said Judith Morris, President & CEO, Lambton College. "This formalized partnership will allow us to work together on projects that improve quality of life across Sarnia-Lambton."
The Sarnia-Lambton Civic Lab Partnership sets a clear path forward for collaboration between Lambton College and the County of Lambton, leading to:
development of, and access to, local community research expertise;
development of, and access to, research capacity and know-how;
local coordination of research and development projects; and
further coordination amongst the County of Lambton, Lambton College and other local organizations on issues of common interest.
"This Sarnia-Lambton Civic Lab Partnership opens the doors for Lambton County and Lambton College to easily share ideas, generate initiatives, define community problems, and ultimately find solutions," said Kevin Marriott, Lambton County Warden. "The Partnership will help develop short- and long-term strategies, goals, policies, products, and recommendations on how to best meet the needs of our community, our government and other civic organizations."
The Partnership does not commit the County or College to any one particular project. Rather, it sets out the broad terms and conditions governing future research projects and collaboration. The terms and conditions of any specific project assignment will be negotiated on a case-by-case basis.
The Partnership will work to provide collaborative information and solutions covering social, environmental, cultural, economic, and health-related issues. The execution of the Memorandum of Understanding was authorized by Lambton County Council at its June 2, 2021 meeting and the Partnership officially commenced on June 15, 2021.
Lambton Circles thanks Seaway Kiwanis
Lambton Circles is incredibly grateful for the generous additional support received from the Seaway Kiwanis Club. These funds will go directly towards supporting Lambton Circles families.
The Circles team and all of our Circles families would like to extend a heartfelt thank you to the Seaway Kiwanis Club for their ongoing support!
Left to Right: Kelly Chappell, Mary Lou Robb, Kim Godin (Lambton Circles), Katherine Sullivan (Seaway Kiwanis)
Heroes of Lambton
Suit up for Lambton County Library's Summer Reading Program! Every hero has a story and we encourage heroes of all ages from around Lambton County to read stories, participate in activities and discover online programs this summer. The more you read and participate the more chances you'll have to win amazing prizes!
Register for our Heroes of Lambton series to hear local Lambton County heroes discuss how they overcome challenges everyday. Visit lclibrary.ca/srp to register for upcoming dates.
Tyler McGregor
Friday July 9, 2021
10:00 – 11:00 a.m.
At 16, after an injury led to the discovery of cancer and the amputation of his leg, Tyler realized quickly that if he wanted to get back into hockey he would have to take a different route. In 2011 he started playing para ice hockey and his determination led him to become assistant captain for the Canadian Para Ice Hockey team at the 2018 Paralympic Games.
Dan Edwards
Tuesday, July 15
11:00 – 12:00 p.m.
Friday, July 23
2:00 – 3:00 p.m.
Dan was left paralyzed after suffering a spinal cord injury. Dan now dedicates his life to advocating for mental health and motivating others to persevere during difficult times.
OPP K9 Team
Wednesday, July 21
2:00 – 3:00 p.m.
Local OPP K9 team Blitz and Calaena, along with officer Kris Black, put themselves in the face of danger daily in order to help keep our community safe. Meet the team and learn what a typical day looks like for this dynamic duo.
Canadian Border Services Agency K9 Team
Tuesday, July 27
2:00 – 3:00 p.m.
The K9 team with the Canadian Border Services Agency (CBSA) at the Bluewater Bridge works diligently to ensure our borders are safe. Meet CBSA officer Amy Draker and Bones and learn how they work together every day.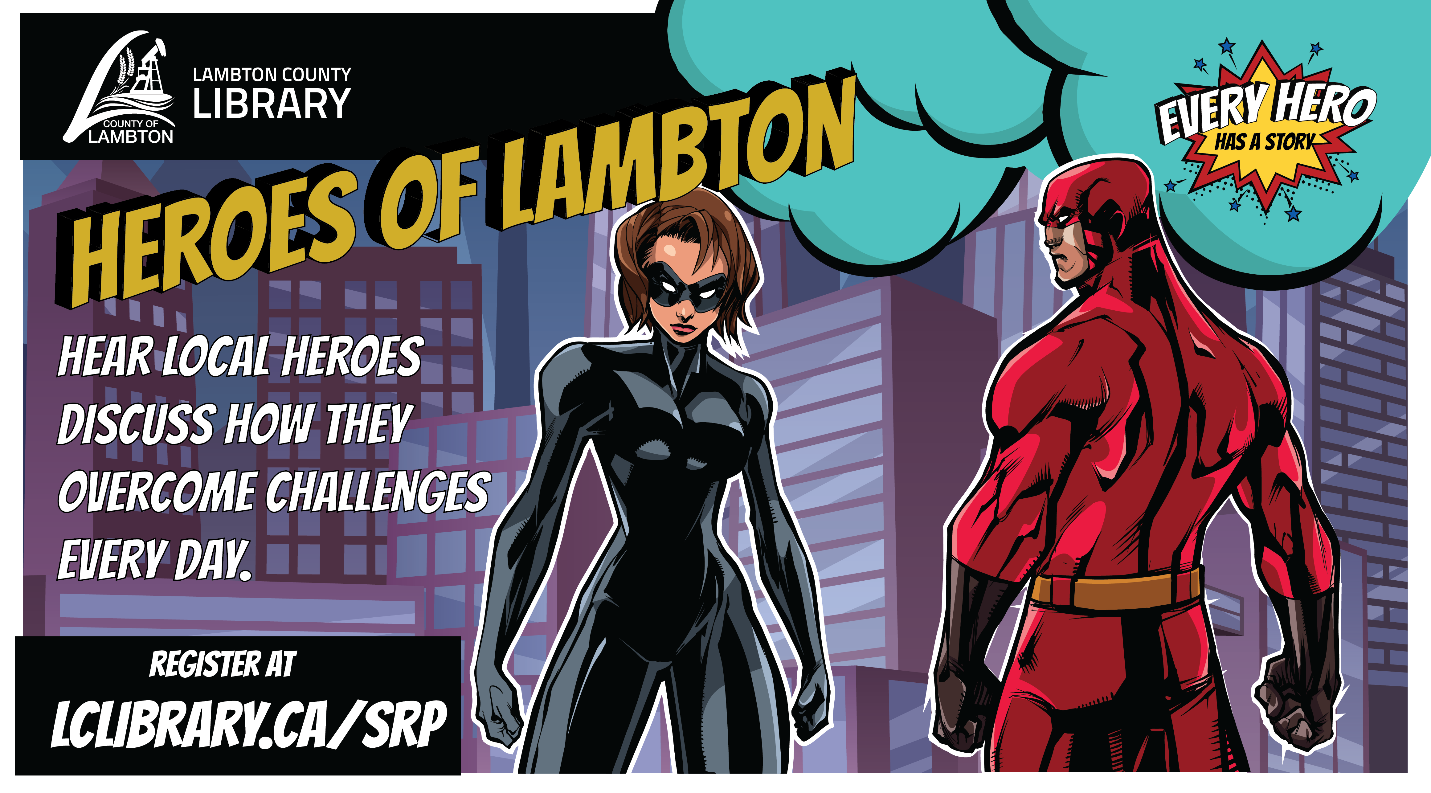 Garden Using Leftover Produce
Do you every wonder how you can use your kitchen waste to create a bountiful garden? Register for Learning for Life – Garden Using Leftover Produce to learn about how to grow vegetables in your garden using leftover produce from your fridge. Library staff will demonstrate how to take potatoes, garlic, onions, leeks, lettuce, celery and green onions bought from the grocery store and grow them in your garden.
Learning for Life – Garden with Produce from your Fridge will take place on Thursday, July 15 from 7:00 – 8:00 p.m. To participate, register using the online calendar at lclibrary.ca. A Zoom link will be emailed to you upon registration.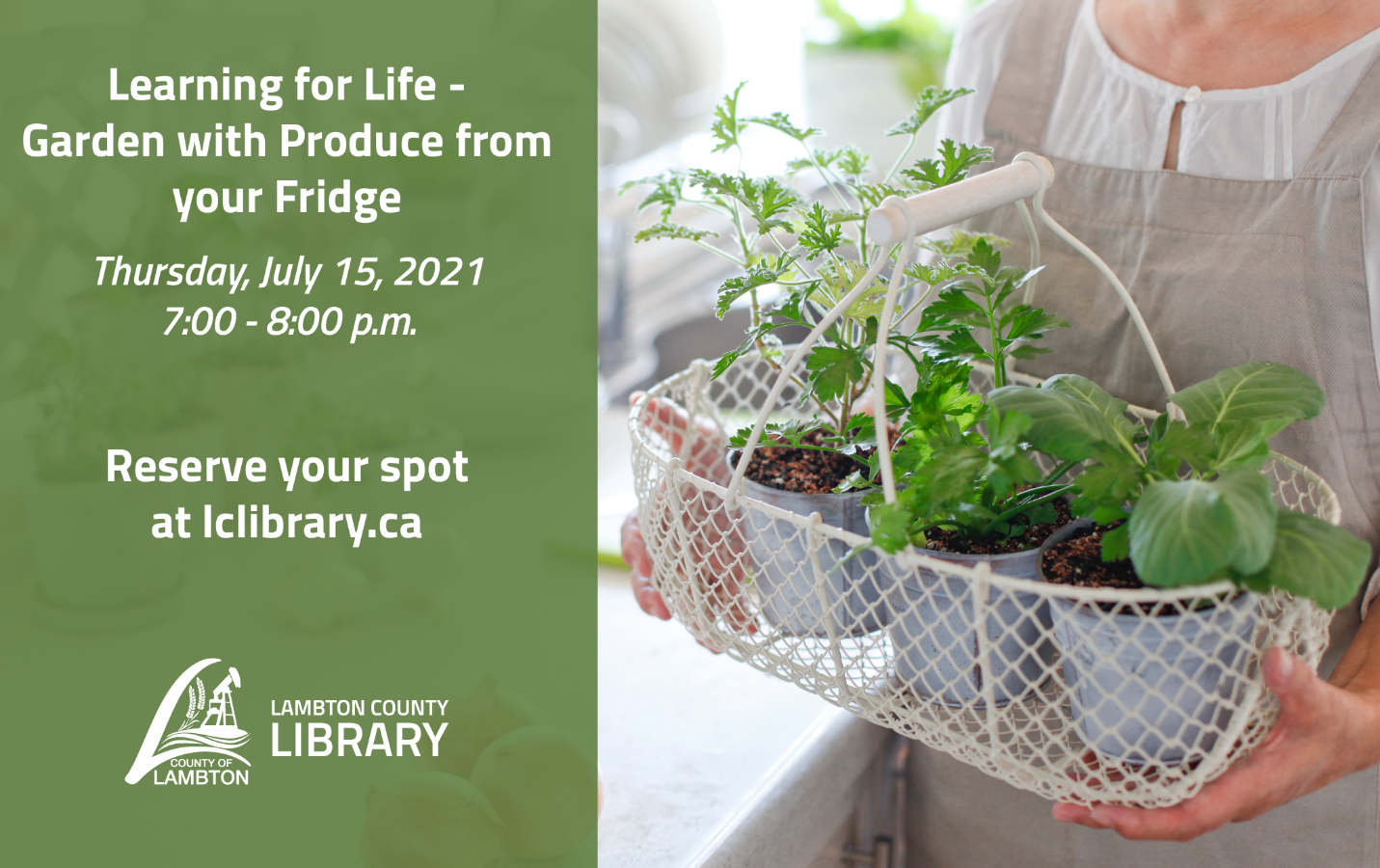 Skip Wait Lists and Listen to Popular Books Right Away
Avoid wait lists for the latest and most popular eBooks and eAudiobooks by checking out the selection at cloudLibrary. Hundreds of titles can be accessed from your mobile device or tablet using cloudLibrary. Now is the perfect time to dive into the book you've been waiting to read.
Visit lclibrary.ca to learn more about cloudLibrary.
Power Failures
A heavy reliance on equipment such as air conditioners can put a significant demand on Ontario's power grid during prolonged heat waves.
Be prepared for summer power outages:
Store flashlights with fresh batteries in several places throughout your home and check them regularly.
Consider purchasing an external battery pack for your cell phone or tablet in order to extend its use and use your device sparingly. Note that wireless service may also be lost during an extended power outage.
Try to keep your car's gas tank at least one quarter to half-full. Many gas stations may not be in operation during a power outage.
During an outage:
Listen to a battery-powered or "crank" radio tuned to a local station to find out what is happening.
Do not call 9-1-1 to report power outages. If you need to report an outage, contact your local electricity provider.
Cell phone towers may be tied up with calls. You may however be able to text friends or family because texting requires less data.
Do not open your fridge or freezer unless absolutely necessary. Discard any thawed food that has been at room temperature for more than two hours.
Check on elderly or disabled neighbours.
For more tips, visit EmergenciesLambton.ca.
Lambton Renovates and Homeownership Program
The County of Lambton is accepting applications for the Lambton Renovates and Homeownership Down-Payment Assistance Programs.
The Lambton Renovates program provides one-time financial assistance for home repairs. The Homeownership Down-Payment program offers one-time financial assistance in the form of a 20-year forgivable loan for a 10% down payment to be used towards the purchase of a new or resale home.
Applications can be downloaded at lambtononline.ca/lambtonrenovates and lambtononline.ca/homeownership. Interested applicants can also call the Housing Services Department at 519-344-2062 to request a paper application via mail.
The Lambton Renovates program offers financial assistance to eligible households in one of two ways:
One-time assistance in the form of a 10-year forgivable loan, secured by registration on title, for home repairs to a maximum of $20,000 per household.
One-time assistance in the form of a grant, which does not require repayment, for accessibility improvements to a maximum of $5,000 per household.
Eligible repairs under the Lambton Renovates program may include major repairs and rehabilitation required to make your home safe while improving energy efficiency, or modifications to increase accessibility.
The Homeownership Down Payment Assistance program offers financial assistance to eligible households living in rental accommodations. The program offers one-time assistance in the form of a 20-year forgivable loan, secured by registration on title, for a 10% down payment to be used towards the purchase of a new or resale affordable home.
Applicants for these programs must meet a number of qualifications related to residency, income, asset level and home value, which can be found online at lambtononline.ca/lambtonrenovates and lambtononline.ca/homeownership.
Applicants are asked to review the Lambton Renovates Information Sheet and the Homeownership Down Payment Assistance Information Sheet prior to completing an application.
#EveryoneCountsLambton
The County of Lambton will be conducting an enumeration of the local homeless population this month. This is a legislated requirement under the Provincial Ministry of Municipal Affairs and Housing as well as the Federal Reaching Home program.
The County of Lambton Homelessness Prevention team will lead the Homelessness Enumeration project during the week of June 21-25, 2021 with support from staff within the Social Services Division, the Sarnia Lambton Native Friendship Center, the Inn of the Good Shepherd and the North Lambton Community Health Centre. Participation in the enumeration will be voluntary and an honorarium will be offered to those who complete the questionnaire.
Additionally, individuals will be asked to voluntarily complete a Vulnerability Index – Service Prioritization Decision Assistance Tool (VI-SPDAT), a tool used to determine a person's acuity / level of need. The information collected using this tool will be used to further develop our local By-Name list – an important tool in delivering coordinated and prioritized homelessness services.
The community has been consulted to determine the best methods to approach the enumeration, with an enhanced focus on the indigenous and youth serving agencies. Enumeration results will be shared with the community and used to make progress on ending homelessness by increasing awareness and enhancing system planning and program development that will meet the needs of those experiencing homelessness.
Conducting the enumeration during a pandemic will provide important information on how homelessness has changed due to COVID-19.
Connect with us
Like us on Facebook, follow us on Twitter, and be sure to subscribe to news alerts and our events calendar.