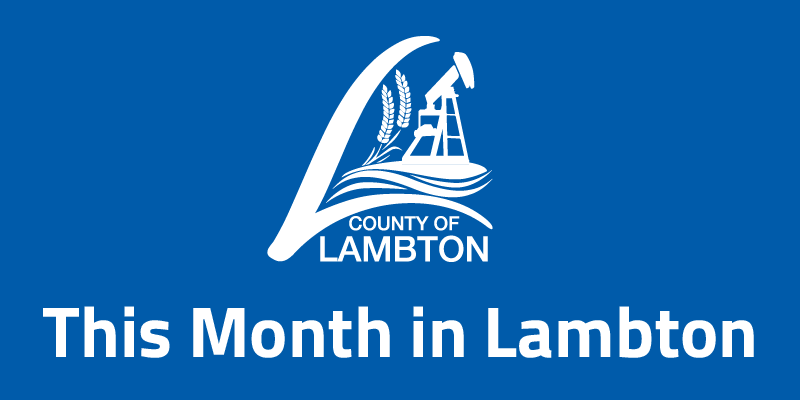 The June 2022 edition of This Month in Lambton includes the following news, service updates, programs and events:
Summer Reading Program
Blast off into new galaxies with Lambton County Library's Summer Reading Program. This year, the theme is A Universe of Stories and we encourage participants of all ages from around Lambton County to read stories, participate in activities, and discover programs at your local library. The more you read and participate the more chances you'll have to win amazing prizes!
Register by visiting your local library starting July 4, 2022 and visit www.lclibrary.ca for full details.
Lambton EMS donates ambulances to GlobalMedic in Nicaragua
Lambton EMS has donated two decommissioned ambulances to GlobalMedic in Nicaragua. The ambulances were taken to Buffalo by Preferred Towing, where the US Air Force loaded them onto a transport aircraft to move them to Nicaragua, free of charge.
The ambulances arrived in Nicaragua in late May and the first responders there were thrilled to receive them.
Photo Gallery: EMS Ambulance Donation 2022 will appear here on the public site.
Take Your Shot teen photo contest
Are you between the ages of 13 and 18 with a passion for photography? Enter Take Your Shot, Lambton County Library's teen photo contest!
Lambton County Library, in partnership with the Judith and Norman Alix Art Gallery, is asking teens across Lambton County to submit photos that encapsulate the feeling of home. Whether this be your actual home, objects or people that remind you of home, or your hometown.
Photos can be submitted into three categories: People / Pets, Places, and Things at www.lclibrary.ca/teenphotocontest. A winner will be chosen from each category plus one grand prize winner. Winners will have their work professionally mounted and displayed at the Judith and Norman Alix Art Gallery in August as part of a photography exhibit. Winners will also receive their professionally mounted photo and their choice of $100 to Mainframe in Sarnia, $100 to Carmen's Foto Source or a virtual one hour one-on-one session with award winning photographer, Peter Power.
The contest is on now and will run until July 10.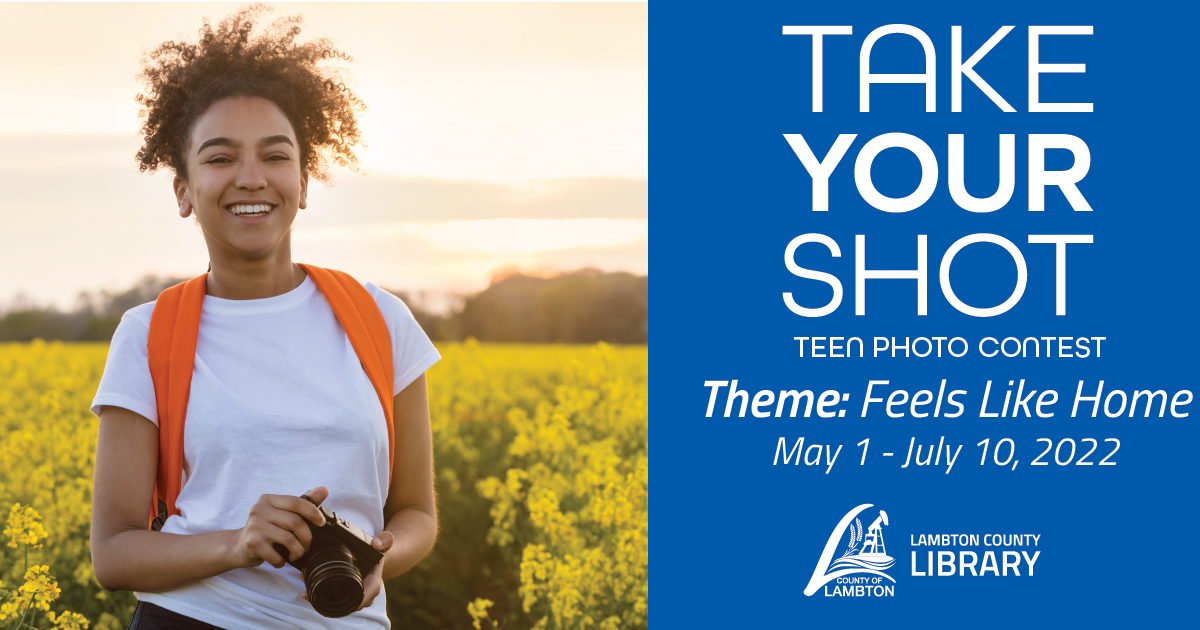 Used Book Sale
It's back! After a three-year hiatus due to the COVID-19 pandemic, Lambton County Library is bringing its annual used book sale back.
There will be a large selection of books, DVDs and audiobooks for children and adults. They are available at a low cost of 50 cents for children's items and one dollar for adult items, or bring your own bag to fill for five dollars. All proceeds benefit the Lambton County Library System.
The sale will take place on Wednesday, July 27 from 1:00 p.m. to 8:00 p.m. at the Wyoming Fair Building. Don't miss out!
Travel light and read more
Do you have a long list of summer must reads but not enough bag space to bring them with you on vacation? It's time to download the Libby app!
With Libby you can access thousands of eBook and eAudiobook titles right from your device using your Lambton County Library card. So leave more room in your bags for clothes and snacks and visit your app store and download the Libby app today. Learn more at lclibrary.ca.
Free summer youth programming at JNAAG
This summer, the Judith & Norman Alix Art Gallery is offering several free youth programs.
Summer RAAW (Ages 14-18)
Random Acts of Art Workshop (RAAW) is a multi-day intensive workshop designed for teens interested in exploring art making. Led by practicing professional artists, RAAW is the perfect balance of instruction and experimentation. No experience necessary. Dates and topics include:
Photography with Sierra Rei Hart - July 6-8 from 11:00 a.m. - 4:00 p.m.
Poetry with Shelly Grace - July 20-22, time TBA
Photo Gallery: JNAAG Summer RAAW 2022 will appear here on the public site.
TNT Summer Splash (Ages 9-13)
TNT stands for Try New Things! Develop your creative skills, make new friends, and explore your community. This program, led by local artists, is filled with a variety of exciting new experiences that will allow youth to discover new passions. Dates and topics include:
Zine Machine with Lauren Davidson - August 2 from 9:00 a.m. – 4:00 p.m.
Fiber Selfies with Patricia Cook - August 3 from 9:00 a.m. – 4:00 p.m.
Part of the Big Picture with Daisy Fresh - August 4 from 9:00 a.m. – 4:00 p.m.
Photography Fun with Sierra Rei Hart - August 5 from 9:00 a.m. – 4:00 p.m.
Photo Gallery: JNAAG TNT 2022 will appear here on the public site.
Holiday hours at Lambton County museums
Lambton County Museums will be open on Canada Day weekend. Rediscover our local history and plan a visit to the Oil Museum of Canada and Lambton Heritage Museum! Holiday weekend hours are:
Friday, July 1, 2022 - 11:00 a.m. to 4:00 p.m.
Saturday, July 2, 2022 - 11:00 a.m. to 4:00 p.m.
Sunday, July 3, 2022 - 11:00 a.m. to 4:00 p.m.

Renovations at Lambton Heritage Museum
The main gallery at Lambton Heritage Museum is currently undergoing a significant renovation and exhibit renewal. Once complete, the renewed exhibit will have a whole new look with modernized components that share the history of Lambton. The project is expected to be completed in late 2022.
Follow Lambton Heritage Museum on Facebook for regular construction updates.
Black Gold Fest at the Oil Museum of Canada
Join the Oil Museum of Canada, National Historic Site on Saturday, July 9 from 11:00 a.m. to 4:00 p.m. for Black Gold Fest!
This family-friendly community event celebrates the first commercial oil well in North America. Come and rediscover our local oil heritage with fun activities, tours, and entertainment.
Bring a chair or blanket and come back at 9:00 p.m. for a Family Movie Night with the Village of Oil Springs, featuring Spider-Man: No Way Home.
Visit the Oil Museum of Canada website to learn more.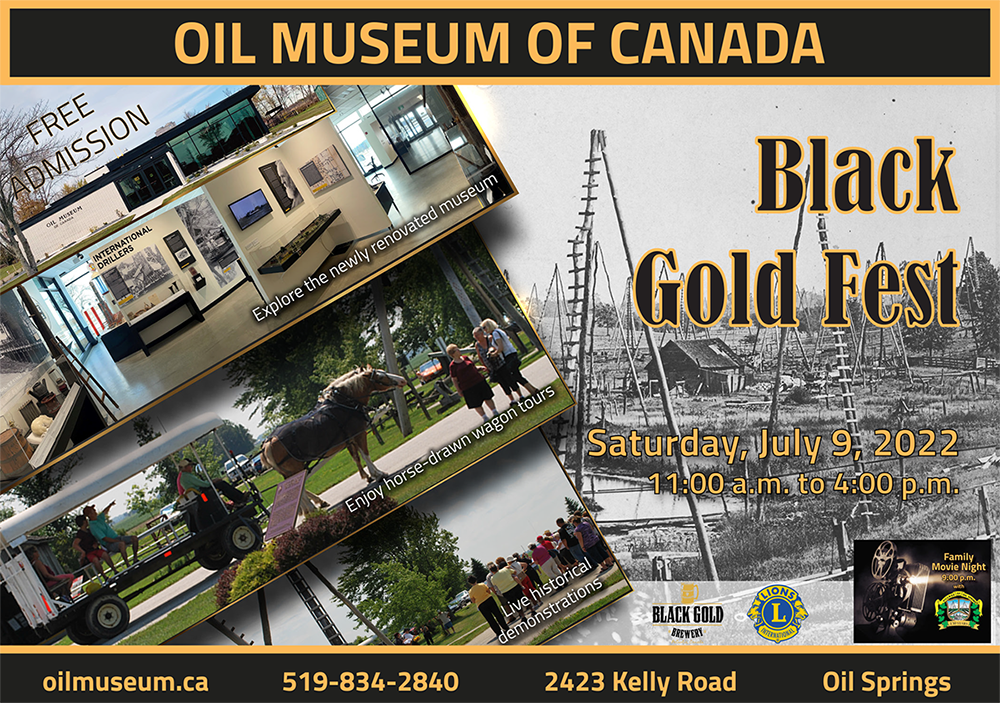 Seaway Kiwanis Club makes donation to Circles in honor of the late Gayle Montgomery
The Seaway Kiwanis Club presented Lambton Circles with a donation to Circles children's programming in honor of the late Gayle Montgomery, past Circles Coordinator. Circles families and staff are incredibly grateful for the years of donations and support from the Seaway Kiwanis Club.
Photo Caption (L to R): Donna Kelso, Kiwanis Club member, Diane Alexander, Kiwanis Club President, Martine Creasor, Circles Coordinator, and Kim Godin, County of Lambton Children's Services Supervisor.
Returning home after a disaster
After disaster strikes, it's important to know how and when you can return home.
If it is safe to do so, carefully walk around the outside of your home and check for loose power lines, gas leaks and structural damage. In addition, check the roof, foundation, and chimney for failure. If it appears the building is unstable, or if you have any doubts, do not go inside. An inspection may be required by municipal building officials before re-entry is permitted.
If you are satisfied that it is safe to enter your home, listen for shifting or unusual noises that signal that the structure may fail. Leave immediately if you hear strange noises, smell gas or suspect a leak. If you smell gas, do not turn on the lights, light matches, smoke or do anything that could cause a spark. Use a battery-powered flashlight to inspect a damaged home but turn it on outside before entering – the battery may produce a spark that could ignite leaking gas, if gas is present.
Once you've assessed your situation, call your insurance agent if your property has sustained noteworthy damage. Take pictures of damages. Keep good records of repair and cleaning costs.
For more information on assessing your home for natural gas leaks, electrical problems, water and sewer leaks, flooding, mould, and other matters, visit EmergenciesLambton.ca.
While you're there, learn how to construct a home 72-hour kit so that you can be ready to care for your loved ones in the early hours following a disaster.
Connect with us
Like us on Facebook, follow us on Twitter, and be sure to subscribe to news alerts and our events calendar.