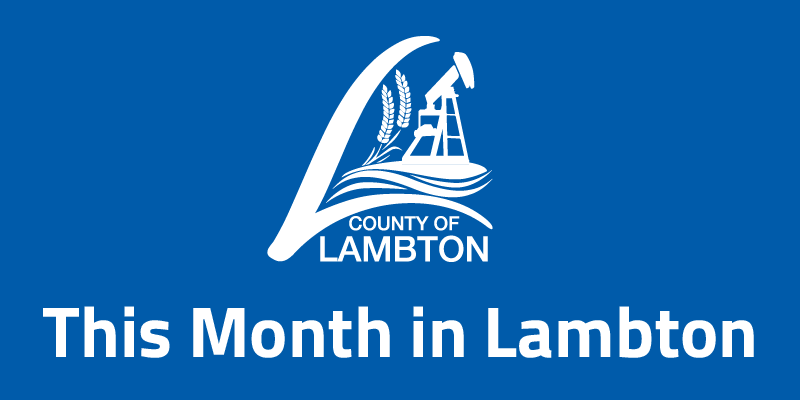 The May edition of This Month in Lambton includes the following news, service updates, programs and events:
Calling all Heroes!
Suit up for Lambton County Library's Summer Reading Program. This summer, every hero has a story and we encourage heroes of all ages from around Lambton County to read stories, participate in activities and discover our online programs. The more you read and participate the more chances you'll have to win amazing prizes!
Starting June 21, 2021, register by visiting a Lambton County Library location offering contactless curbside pickup. Visit lclibrary.ca/srp for full details.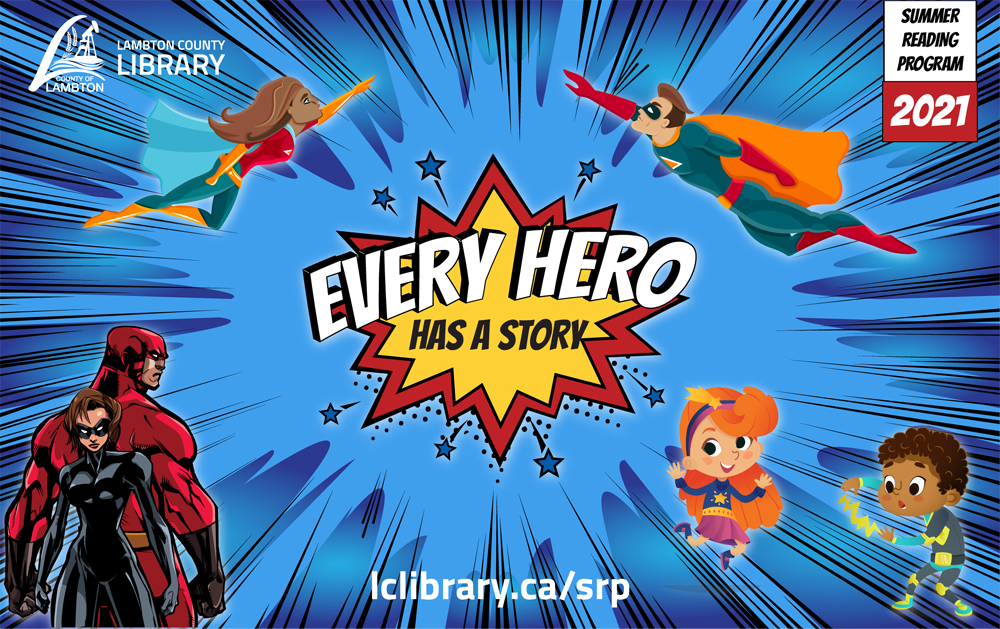 Lambton Public Health launches dedicated Vaccine Call Centre
Lambton Public Health (LPH) has launched a dedicated Vaccine Call Centre which runs from Monday to Friday, 9:00 a.m. to 4:00 p.m. The Vaccine Call Centre can be reached at 226-254-8222.
Individuals with COVID-19 vaccine inquiries are asked to call this new phone number to speak with an agent directly. The purpose of implementing the new line is to increase call capacity and provide improved access to vaccine information and support. The phone line features a waiting room for callers when agents are busy, and also provides pre-recorded messages to notify callers of important information while waiting. Residents are still encouraged to book their COVID-19 vaccine appointment online at getthevaccine.ca.
Lambton Public Health's main phone number (519-383-8331) is still in operation from Monday to Friday (8:30 a.m. to 4:30 p.m.) for those looking to speak to someone regarding case and contact management (contract tracing), queries related to the health unit's regular services/programs, and all other COVID-19 related questions.
Please visit GetTheVaccine.ca for the latest updates on the vaccine roll-out plan in Lambton County.
Access Changes to Lambton Shared Services Centre
Phase 1 of demolition of the former Bayside Mall began on Monday, May 17, 2021. As a result, public access to the Lambton Shared Services Centre has been limited to select access points.
The Shared Services Center will continue to be open with restricted access to the public. Those who need to access the Shared Services Center can do so through the Christina Street entrance. Underground parking will remain open to the public, with the only access to the Center at the North End of the parking garage.
The remainder of the mall entrances will be closed both above ground and underground.
As demolition progresses, access to the facility will be amended in order to ensure the safety of visitors and staff. The demolition will involve a total of four phases and will last into the month of August.
Do you know the warning signs of a tornado?
Tornado season typically occurs between May and September with tornadoes forming unexpectedly, leaving forecasters little-to-no time to issue a warning. Watch out for:
Thunderstorms that grow steadily worse with heavy rain, extreme thunder, and lightning.
Large hail
An extremely dark sky, sometimes highlighted by rotating green or yellow clouds.
An eerie calm at the end of a severe storm.
A rumbling sound, like a freight train, or a whistling sound like a jet.
A "wall of white" coming toward you.
If a tornado threatens, take shelter immediately, preferably in the lowest level of a sturdy building, and stay away from windows and exterior walls and doors.
Tornadoes can last minutes or hours with wind speeds ranging from 64 to over 500 km/h.
For more information on preparing for severe weather this summer, visit EmergenciesLambton.ca.
Work from home with Lambton County Library
Working from home can bring unique challenges, but Lambton County Library has the tools to help you succeed. Lambton County Library provides access to free resources that can help you manage working from home and deal with excess stress including two online learning programs and thousands courses through LinkedIn Learning and Gale Courses. Both platforms provide web-based, instructor-led courses that can help you succeed when working from home. Courses from these platforms include topics focusing on how to manage stress, managing your mental health during stressful times, introduction to personal computer security, remote work foundations, virtual communication / video collaboration and more.
To start learning, grab your library card and PIN number, visit lclibrary.ca, click "Learn" then "Online Courses", choose your platform and follow the prompts to sign in.
To become a Lambton County Library cardholder call 519-845-3324 ext. 5266 or 1-866-324-6912 ext. 5266 or email librarytechhelp@county-lambton.on.ca. For more information on locations, services and hours of operation visit lclibrary.ca.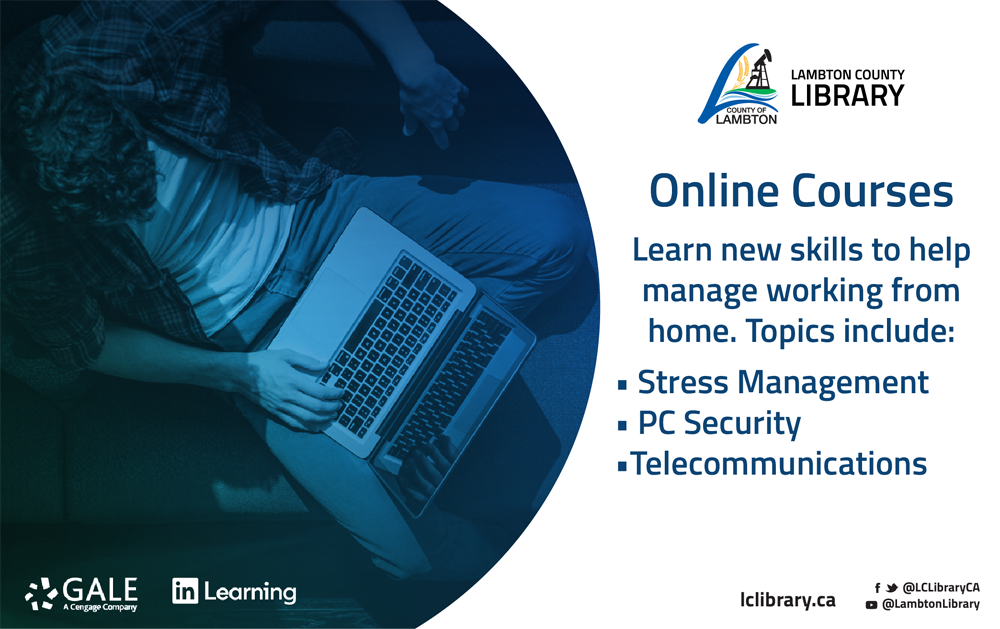 Experience the illustration of music
Have you ever heard a song with such descriptive language that you could see the song in your mind?
On Friday, June 4, 2021 explore descriptive language in song. Learn how to transform your favorite song into a work of art. Please bring tools to illustrate with: your favourite song, paper, pencil, fine-tip marker, pencil crayons, or whatever you have available.
Register online at lclibrary.ca by June 3, 2021 at 2:00 p.m. to reserve your spot.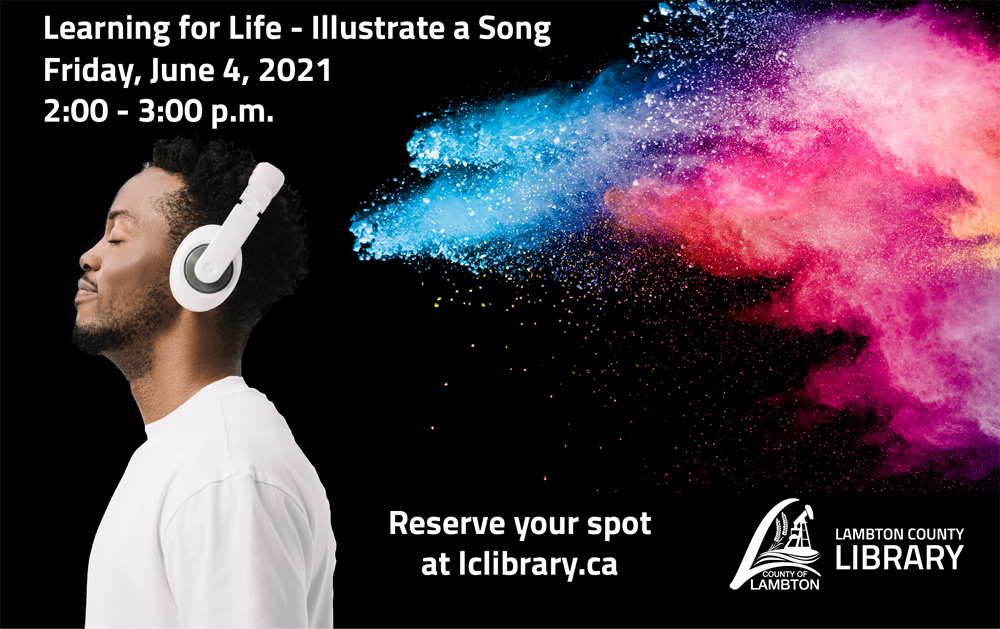 Heritage Hour: On the Lam in Lambton
The museums of Lambton County that make up Heritage Sarnia-Lambton will be hosting a virtual Heritage Hour on Thursday, June 17 at 7 p.m. This panel presentation, titled On the Lam in Lambton, will explore criminal accounts that have befallen Lambton's communities. Museum professionals will discuss scofflaws to the downright illegal that have sensationalized Lambton's dark underbelly over the past 150 years.
Please be advised that due to the subject matter there will be potentially disturbing content presented that might include graphic references to violence and sexual assault.
Heritage Hour is free and pre-registration is required. You can register for this virtual event through the Lambton Museums website.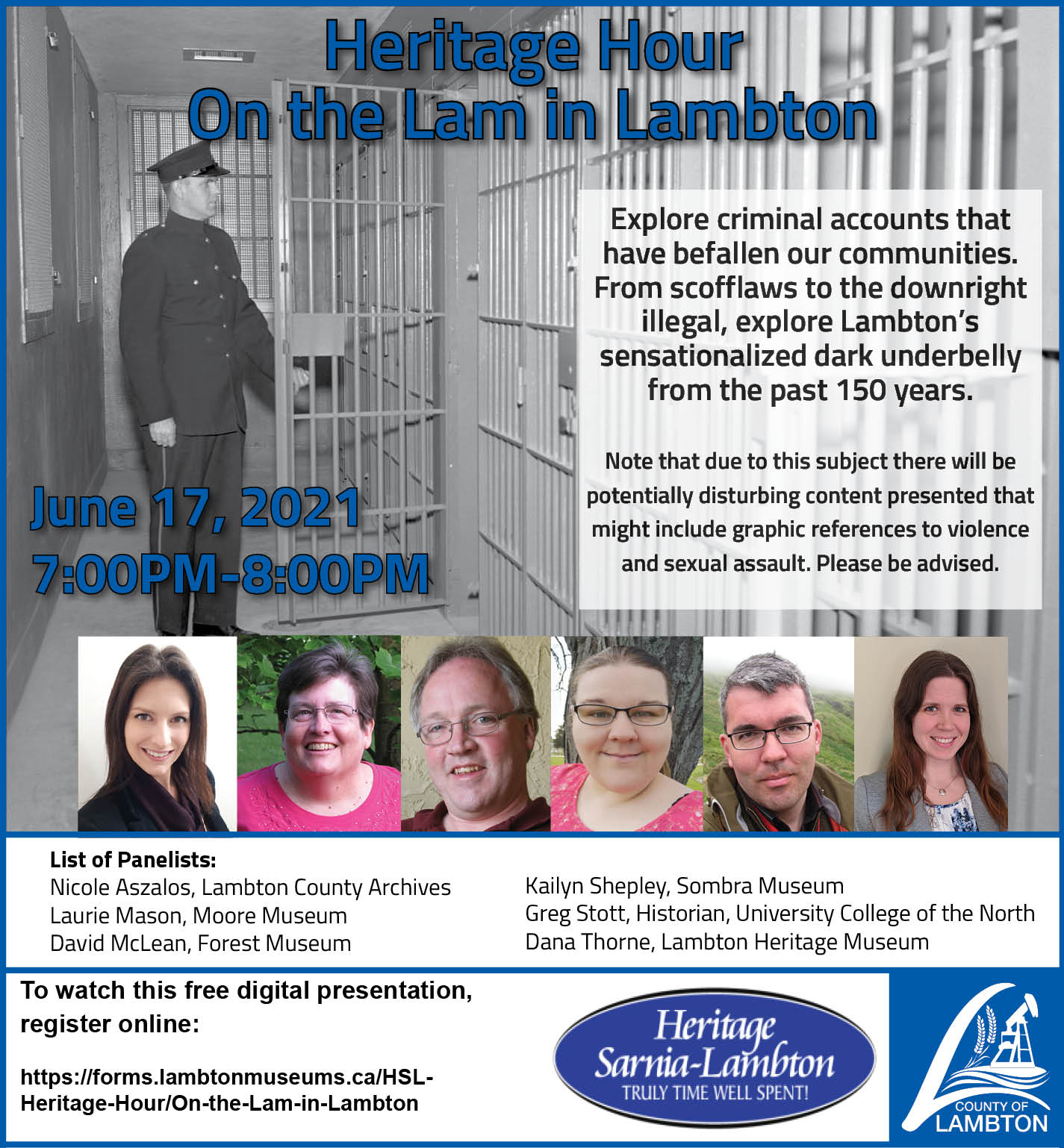 Virtual Appointments with Lambton County Archives
Lambton County Archives has implemented a new virtual service for the public – Virtual Appointments! In the past, visitors were required to visit the Archives in person to conduct research. This virtual service allows the public to interact with staff and access archival resources in a remote manner.
Virtual appointments are booked in advance with the Archivist and will include two 15-minute video or telephone meetings and one hour of research time. As part of the appointment, the Archivist will assist by reviewing research and answering questions to help facilitate the process. If requested, this service can also include an introduction to the various genealogical and local history resources available online including AncestryLibrary, Onland, and much more.
Appointments are $20 for members and $30 for non-members for a total of 1.5 hours of research support. Additional research time can be purchased as needed.
Learn more about this exciting new virtual service and reserve an appointment on the Lambton County Archives website.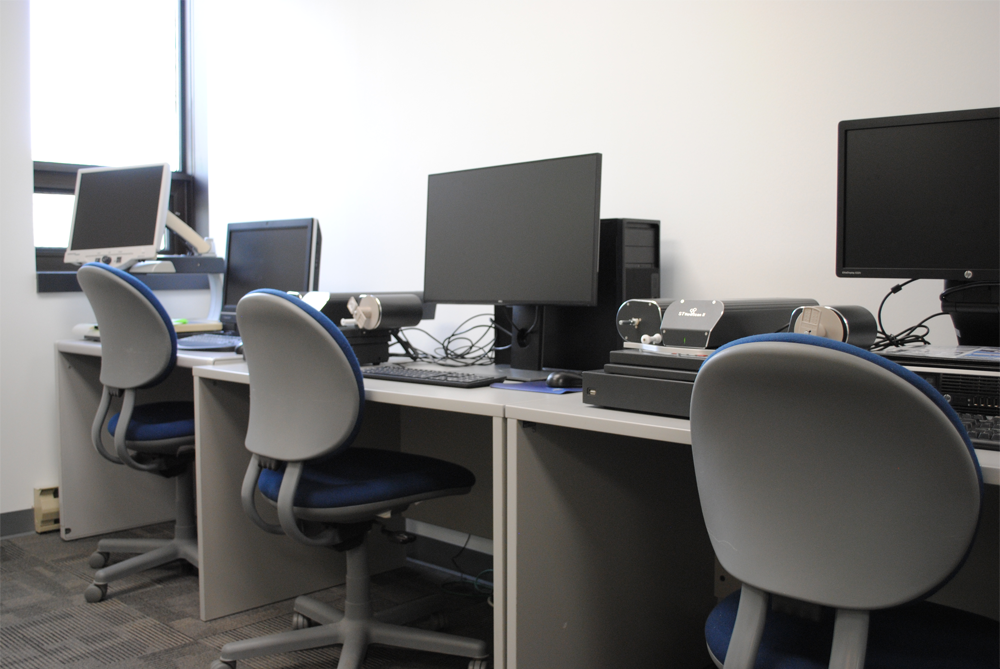 Local Immigration Partnership Launching #AllAreWelcomeHere Campaign
The Sarnia-Lambton Local Immigration Partnership (SLLIP) is officially launching the #AllAreWelcomeHere campaign in Lambton County on Wednesday, May 26, 2021.
"Lambton County has served as a safe and welcoming home to new residents and visitors alike for over a hundred years. It is our vision to create an environment where people from all over the world feel as safe and welcome here as generations before them," says SLLIP Project Coordinator Stephanie Ferrera.
SLLIP, along with over 30 community partner organizations, expects the #AllAreWelcomeHere campaign will promote respectful co‐existence, inclusion, and change the conversation around racial, religious and ethnic prejudice and discrimination in our community. The #AllAreWelcomeHere signs are the first phase of a larger 1000 Acts of Welcome Campaign to be launched on social media in the fall of 2021.
All residents and local business owners are encouraged to participate in the campaign. Order your free lawn sign by contacting one of the following organizations:
Sarnia Lambton Chamber of Commerce
519-336-2400
556 Christina St N, Sarnia, ON
Centre Communautaire Francophone de Sarnia
519-541-0207
3-901 the Rapids Parkway, Sarnia ON
Tourism Sarnia-Lambton
519-336-3232
1455 Venetian Blvd, Point Edward, ON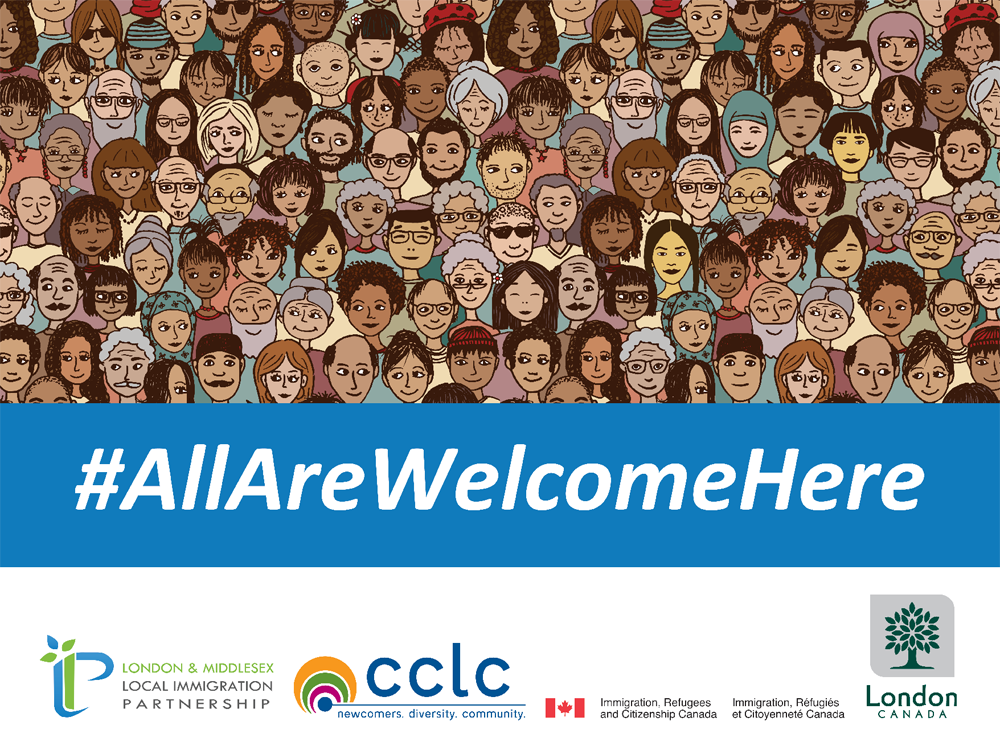 #EveryoneCountsLambton
Building upon an earlier iteration in 2018, the County of Lambton will be conducting another round of homelessness enumeration in June 2021.
The County of Lambton Homelessness Prevention team will lead the Homelessness Enumeration during the week of June 21, 2021 with support from staff within the Social Services division and the Sarnia Lambton Native Friendship Center. Participation in the enumeration will be voluntary and an honorarium will be offered to those who complete the questionnaire.
Additionally, individuals will be asked to voluntarily complete a Vulnerability Index – Service Prioritization Decision Assistance Tool (VI-SPDAT), a tool used to determine a person's acuity / level of need. The information collected using this tool will be used to further develop our local By-Name list – an important tool in delivering coordinated and prioritized homelessness services.
The community will be consulted to determine the best methods to approach the enumeration, with an enhanced focus on the indigenous and youth serving agencies. Enumeration results will be shared with the community and used to make progress on ending homelessness by increasing awareness and enhancing system planning and program development that will meet the needs of our community.
Conducting the enumeration during the pandemic will also provide important information on how homelessness has changed due to COVID-19.
Lambton Circles featured in Sarnia Observer
Last month, the Lambton Circles program was featured in the Sarnia Observer, providing an inside look at how they have continued their work throughout the COVID-19 pandemic. Read the article online, and learn more about the Circles program at lambtoncircles.com.
Paint Ontario Art Show and Sale Postponed
Due to the current COVID-19 pandemic public health restrictions and the ongoing closure of Lambton Heritage Museum, the Paint Ontario Art Show & Sale is being postponed until September 3 - 26, 2021. The 25th anniversary show will be a live, in-person show - not a virtual show - operating with similar COVID protocols to the successful show that took place in September 2020.
Paint Ontario is the largest show and sale of representational art in Ontario, typically featuring over 200 original paintings by some 100 artists, selected from almost 700 submissions. The show provides a unique opportunity for emerging artists to showcase their work and an unmatched opportunity for buyers to view and acquire it. This year, for the first time, sculpture will be featured and add a new dimension to the visitor art experience.
For more information please visit www.paintontario.com.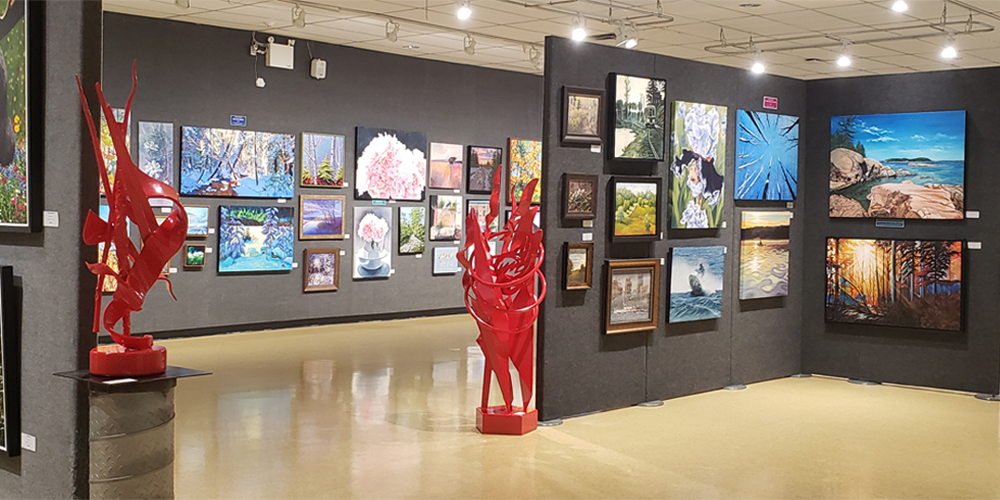 Connect with us
Like us on Facebook, follow us on Twitter, and be sure to subscribe to news alerts and our events calendar.