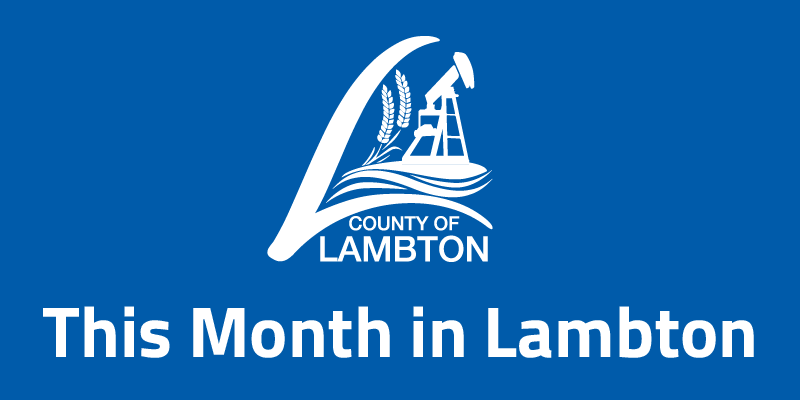 The November 2021 edition of This Month in Lambton includes the following news, service updates, programs and events:
Donor recognition
Approximately 1,500 donors give annually to enhance a wide array of County programs and services, making the County of Lambton a better place for residents and visitors alike. Once again this year, in lieu of an in-person recognition ceremony, the Warden sent individual thank you messages to some of our very generous donors. To learn more about these donations and to see the messages, visit lambtononline.ca/donors.
Noelle's Gift supports OSNP – Lambton
Earlier this month, Noelle's Gift donated $23,511 to the Ontario Student Nutrition Program-Lambton (OSNP-Lambton). This funding will be shared amongst 39 Student Nutrition Programs in the County of Lambton to support the cost of healthy food for students in need. The program serves approximately 8,100 students each day.
Nutrition programs support healthy nutritional environments in schools, and increase the consumption of fruits and vegetables by children and youth to better prepare kids for a full day of learning.
The Student Nutrition Program receives provincially based funding from the Ontario Student Nutrition Program of 12 cents per student per day. On average it costs $1 per student per day to provide a healthy snack, making it necessary for schools to fundraise for the remaining money to cover the existing funding gap. Since 2013, Noelle's Gift has provided over $188,000 to the Student Nutrition Program for the purchase of healthy food, reducing the funding gap and fundraising burden on schools with each donation.
Thank you Noelle's Gift for your ongoing support of the Ontario Student Nutrition Program – Lambton!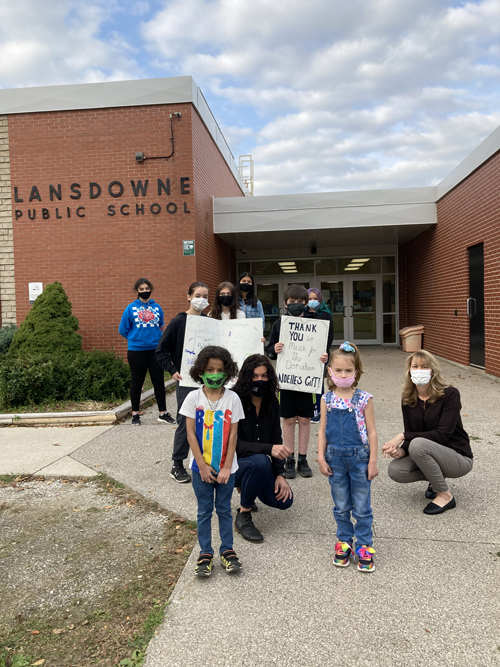 TSL extending the Discover Sarnia-Lambton, Support Local gift card program for 2022
Tourism Sarnia-Lambton is extending the Discover Sarnia-Lambton Gift Card Program for 2022, as consumers and businesses purchased nearly $250,000 dollars in tourism gift cards to support local businesses across Lambton County this year.
The gift cards are available in $10, $25 and $50 values and can be redeemed at over 300 local businesses in Lambton County. Tourism Sarnia-Lambton is encouraging all companies and individuals who would typically purchase gift cards this holiday season, to purchase the Discover Sarnia-Lambton Gift Cards, where 100% of the purchase directly supports our local businesses in the restaurant, retail, attraction and accommodation tourism sectors throughout Lambton County.
All 2021 "red" gift cards continue to remain valid throughout 2022, as Tourism Sarnia-Lambton reminds and encourages anyone with a gift card from this year to make a purchase with it and support our local businesses whenever possible. Full program details and a list of redemption locations can be found at DiscoverSarniaLambton.com.
Gift Cards can be purchased in person at Tourism Sarnia-Lambton (1455 Venetian Blvd in Point Edward) or online at DiscoverSarniaLambton.com. For additional questions, or if you are a business looking to join the program, please contact Tourism Sarnia-Lambton at 519-336-3232, or email info@TourismSarniaLambton.com.
LPH recognized with Sarnia Sting ceremonial puck drop
Lambton Public Health was recognized for their ongoing efforts towards the fight against COVID-19 at the Sarnia Sting game on Friday, October 8th. Crystal Palleschi (Supervisor of Health Protection and COVID-19 Vaccine Team Lead) and Kelly Buckingham (Public Health Nurse and COVID-19 Immunization Clinic Lead) represented LPH during the ceremonial puck drop at Progressive Auto Sales Arena.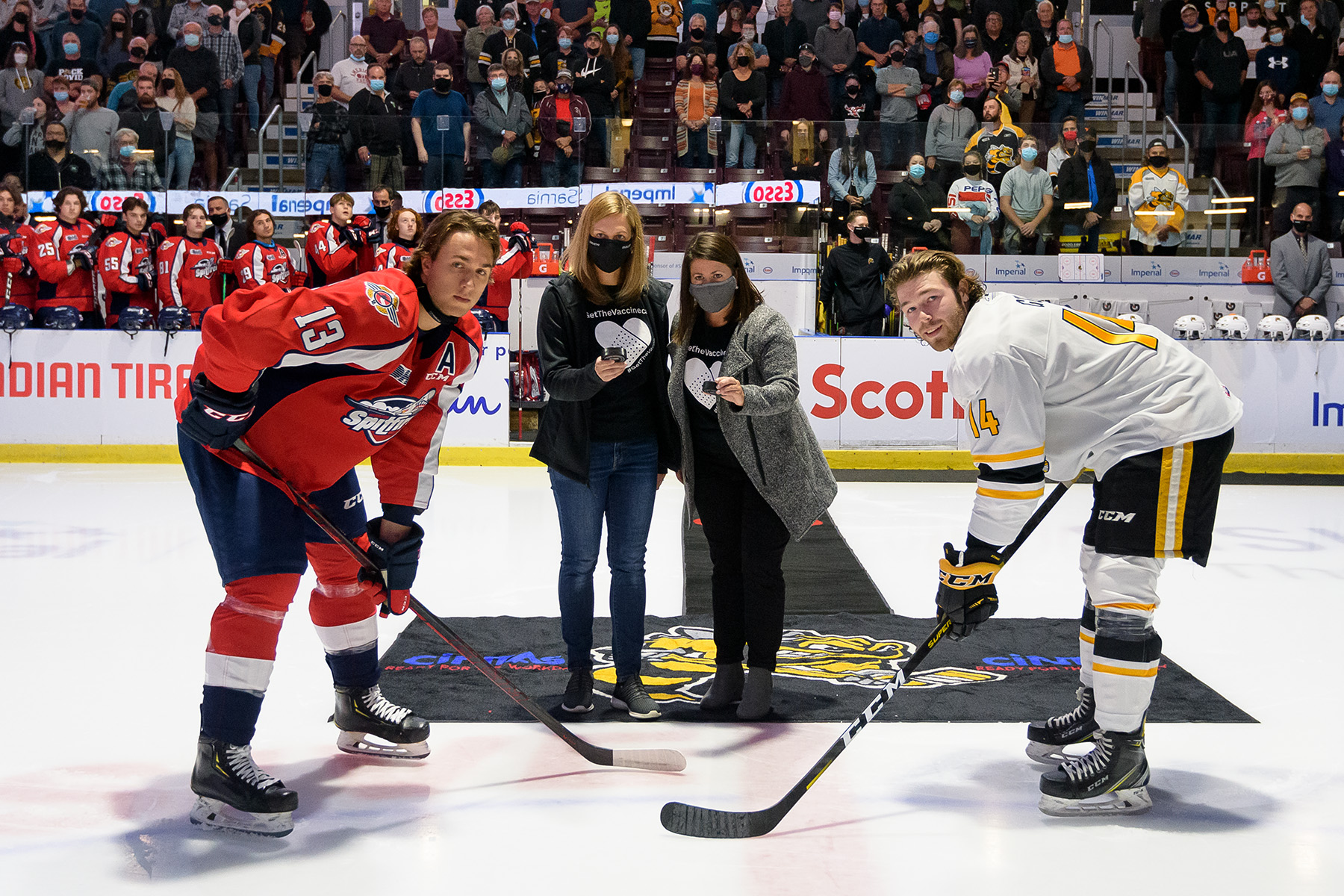 Photo Credit: Metcalfe Photography
Holiday baking with Lambton County Library
Be the star of your cookie swap this holiday season with help from Lambton County Library. Your library card provides you free access to this year's most popular holiday baking books for every level of baker. "Baking for the Holidays" by Sarah Kieffer, "Out of the Box: Holiday Baking" by Hayley Parker and "Holiday Cookies" by Elisabet der Nederlanden are all available to borrow for free with your Lambton County Library card. Visit lclibrary.ca, use the Iguana Library mobile app, or call your local library to reserve your copy now. From ginger bread to intricate sugar cookie wreaths these books will give you all the tips and tricks on how to make this holiday season the sweetest yet!
Festive napkin folding with Lambton County Library
Impress your friends and family this holiday season by elevating your table with seasonally-themed folded napkins. During this online program on Wednesday, December 15 from 6:00 – 6:35 p.m., learn how to use a standard fabric napkin to fold shapes like a Christmas tree, elf hat or classic French pleat. A Zoom link will be sent upon registration. Register using the online calendar at lclibrary.ca or by calling your local library.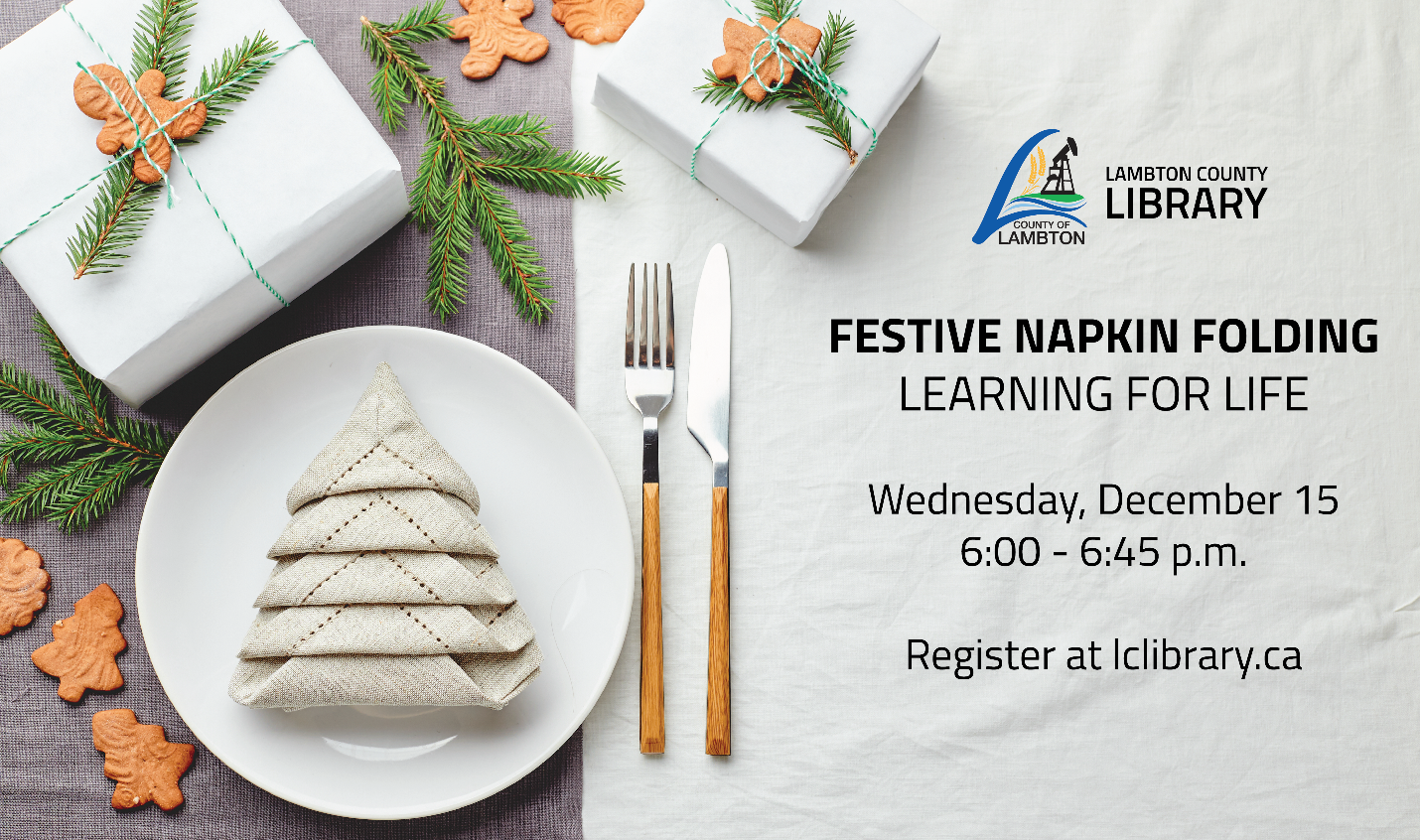 The Benefits of Shopping Local
Did you know that shopping local can benefit the community and provide an easy way to finish your holiday shopping? Learn about these benefits and more in a panel presentation with representatives from the Sarnia-Lambton Business Association, Lambton Federation of Agriculture and Tourism Sarnia-Lambton. This online presentation will take place on Monday, November 29 from 7:00 – 7:30 p.m. and will include a question and answer period and help get you prepared for local holiday shopping. A Zoom link will be sent upon registration. Register by calling your local library or visiting the online calendar at lclibrary.ca.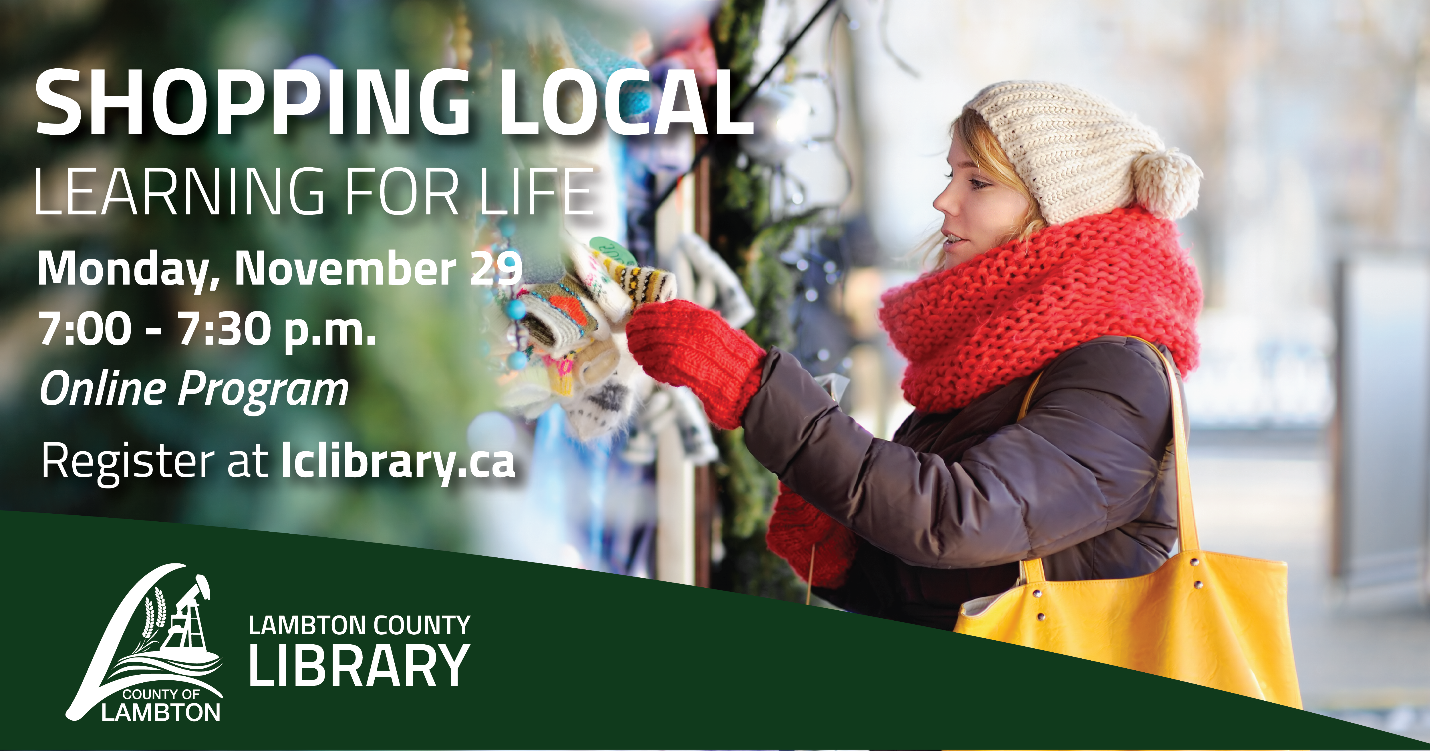 Access popular magazines with Lambton County Library
Don't want to renew your magazine subscription for another year, but still want access to popular magazines? Use the Libby app to access magazines for free with a Lambton County Library card. With Libby you can digitally browse over 3,000 titles including Canadian Living, Vogue, Esquire and more! All you need is your library card number, PIN number and the Libby mobile app. Call or visit your local library to get set up today.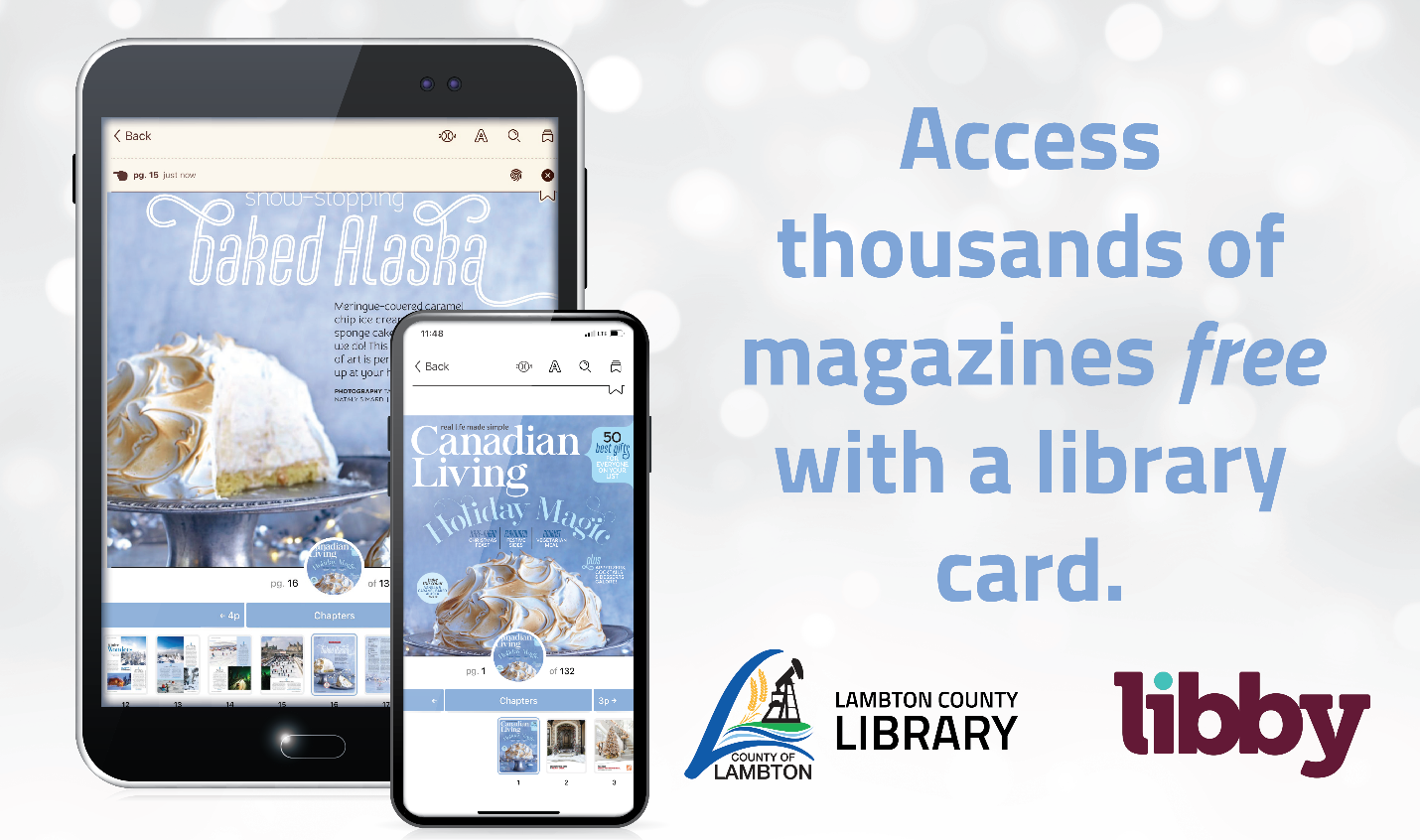 Canatara Cabin Fundraising – Matching Fund Campaign
We are pleased to announce that an anonymous donor has generously contributed $3,000 to the Canatara Cabin Restoration Project. The donation was conditional on receiving matching funds. We are thrilled to share that Ron van Horne and Scott Ferguson have committed to exceeding that donation with $5,000.
We are now looking for another community champion to meet or exceed these generous donations.
To learn more about this project and participate in the Matching Fund Campaign, visit the Canatara Cabin page of the Lambton Heritage Museum website.
Oil Museum of Canada Live Sessions
This autumn the Oil Museum of Canada is proud to present two virtual programs for group bookings.
Adult and Senior Live Sessions
Age does not limit the thirst for knowledge, new experiences, or lively conversations!
The Oil Museum of Canada, National Historic Sites has created virtual programs that offer presentations to different segments of society including adults and seniors. These Live Sessions invite a museum expert into your virtual group to present a program and provoke discussion with participants.
A Driller's Holiday Live Session
Looking for a virtual program about how the winter holidays were celebrated in the 1800s of central Lambton? The Oil Museum of Canada is proud to present "A Driller's Holiday".
We explore different holiday traditions celebrated by early settlers of the region, such as putting up a tree in the home, making candles, gift giving, and festive drinks. We also take a close look at how relatives in countries overseas working on oil fields communicated back home about the holiday traditions they encountered around the world. Extension activities and videos are available as an asynchronous program to teachers and educators to extend learning opportunities.
For more information on these programs and to complete the Live Sessions booking form, visit oilmuseum.ca.
Virtual Holiday Programs at Lambton Heritage Museum
Lambton Heritage Museum is offering a new virtual Live Session school program just in time for the holidays.
Based on our beloved in-person program, Virtual Holidays @ Heritage will explore festive traditions of gift-giving, food and drink, decorations, and more. Students will learn how people celebrated the holidays in Lambton long ago and make comparisons between then and now.
This program is free and is recommended for grades 1-4. It will be offered on Mondays and Tuesdays from November 15 to December 14. Book your Live Session today or email Colleen Inglis at colleen.inglis@county-lambton.on.ca for more information.
Additional virtual Live Session programs are available for booking on Mondays and Tuesdays through January 2022.
Connect with us
Like us on Facebook, follow us on Twitter, and be sure to subscribe to news alerts and our events calendar.