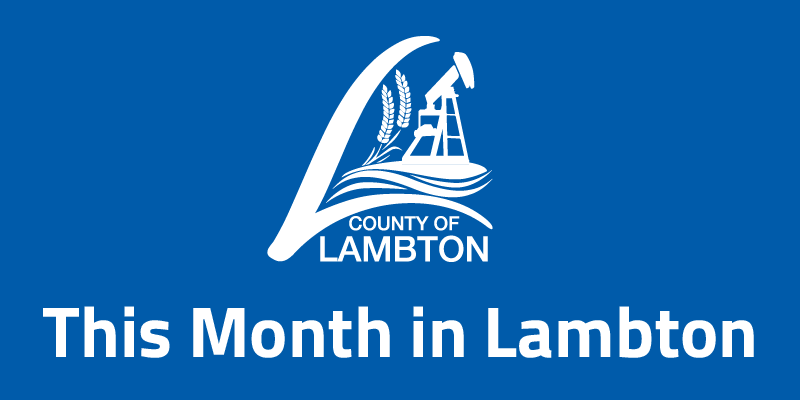 The October edition of This Month in Lambton includes the following news, service updates, programs and events:
One Book Lambton returns with 2021-2022 pick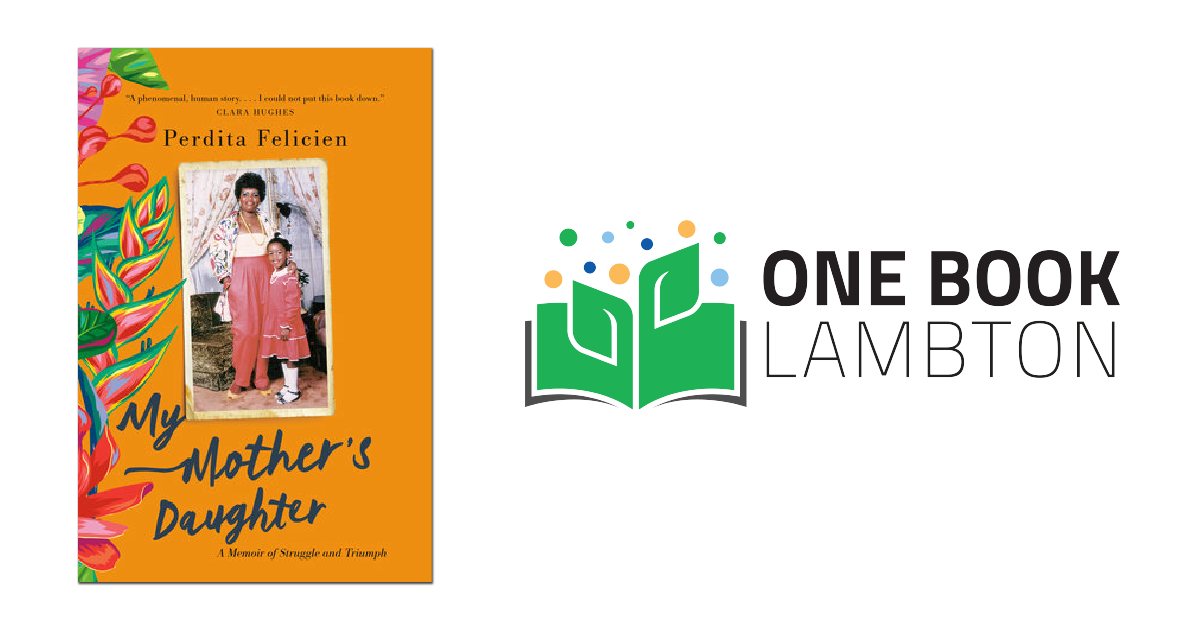 One Book Lambton, an initiative aimed to unite people around Lambton County by reading the same book, is returning for another year with a raw and affecting memoir.
In partnership with The Book Keeper, Lambton County Library is excited to announce the selection for One Book Lambton 2021-2022 is My Mother's Daughter by Perdita Felicien.
Felicien, a Toronto native, is best known for her 2003 World Championship gold in the 100m hurdles and more recently, as the host of CBC's Tokyo Today coverage of the 2020 Olympic Games. But before she carried a nation's hopes to the 2004 Olympic Games, she carried her mother Catherine's dreams.
My Mother's Daughter is a memoir about the power of a parent's love to transform their child's life. Before the fame and success, Perdita and her mother Catherine would experience racism, domestic abuse, and even homelessness, but Catherine's will would always pull them through.
My Mother's Daughter by Perdita Felicien is available to borrow by using the online catalogue at lclibrary.ca or through the Iguana Library app, or by calling or visiting a Lambton County Library location to reserve a copy. eBooks and eAudiobooks are also available to borrow through cloudLibrary, Libby or Overdrive using your Lambton County Library card.
One Book Lambton encourages residents of Lambton County to read the book this fall. Starting in January, One Book Lambton will be hosting various programs and events that explore themes of the book, culminating in an Author Talk next spring where Felicien will discuss the book and being an author.
Visit onebooklambton.ca and follow @LCLibraryca on Facebook and Twitter to stay up to date on upcoming programs and events.
Canatara Cabin fundraising update
We are pleased to announce that an anonymous donor has generously contributed $3,000 to the Canatara Cabin Restoration Project. The donation was conditional on receiving matching funds. We are thrilled to share that Ron van Horne and Scott Ferguson have committed to exceeding that donation with $5,000.
We are now looking for another community champion to meet or exceed these generous donations.
To learn more about this project and participate in the Matching Fund Campaign, visit the Canatara Cabin page of the Lambton Heritage Museum website.
HHW Collection Event – October 30
The County of Lambton and its partner Clean Harbors Canada Inc. will be holding a Household Hazardous Waste Collection event on Saturday, October 30, 2021, from 9 a.m. until 2 p.m. at the Clean Harbors Canada facility (4090 Telfer Road, St. Clair Township).
These popular events offer Lambton County residents an opportunity to dispose of household hazardous waste at no cost. Corrosive, toxic, reactive and flammable materials will be collected at these events. These items should never be placed in a regular landfill because they have the potential to injure workers and damage the environment.
Examples of these types of materials include:
Corrosive

Toxic

Reactive

Flammable

Batteries

Drain Cleaners

Oven Cleaners

Pesticides

Rat Poison

Cleaning Fluids

Pharmaceuticals

Pool Chemicals

Ammonia

Bleach

Aerosols

Gasoline

Paints

BBQ Starters

Oils

Solvents

Propane
Items NOT accepted include: PCBs, commercial, industrial, and radioactive wastes, electronics, and explosives (flares and ammunition).
Additionally, in light of the ongoing COVID-19 pandemic, event attendees are asked to follow physical distancing and safety protocols, including the following:
Package materials in disposable containers (i.e. cardboard boxes) as they will not be returned;
Place materials in the trunk or back of their vehicle to maximize distancing for event staff when collecting items; and
Remain in their vehicle at all times, as event staff will be removing materials from the vehicle.
For more information visit lambtononline.ca/hhw or call 519-845-0801.
Creative County Grant Program intake now open
Lambton's Creative County Grant Program is now accepting funding applications for cultural, heritage, and arts initiatives occurring in Lambton County in 2022.
The Creative County Grant Program invests in new and innovative projects that build cultural capacity, strengthen the creative community, define the County's unique identity and enrich the quality of life of all residents. Organizers of new or expanding initiatives are encouraged to apply online for funding to cover up to 50 per cent of project costs.
While the program is normally reserved for operational expenses, the Creative County Committee has expanded its application criteria due to ongoing public health restrictions preventing many cultural events and programs from taking place. For 2022, the committee will consider applications for minor capital purchases to support such projects as the purchase of specialized equipment, public art installations, murals, monuments, heritage markers/plaques, signage, etc. Expenses related to capital renovation or construction projects are not eligible.
Further, the committee will prioritize projects led by or in partnership with Indigenous communities that foster awareness of Indigenous heritage and culture, or support local organizations with the implementation of the Calls to Action outlined in the Truth and Reconciliation Commission's report.
Applications for the Creative County Grant Program will be accepted online only at lambtononline.ca/creativecounty. The application period closes on Monday, November 15, 2021 at 4:00 p.m. The County of Lambton has allocated a budget of $75,000 in available funding for the 2022 program year.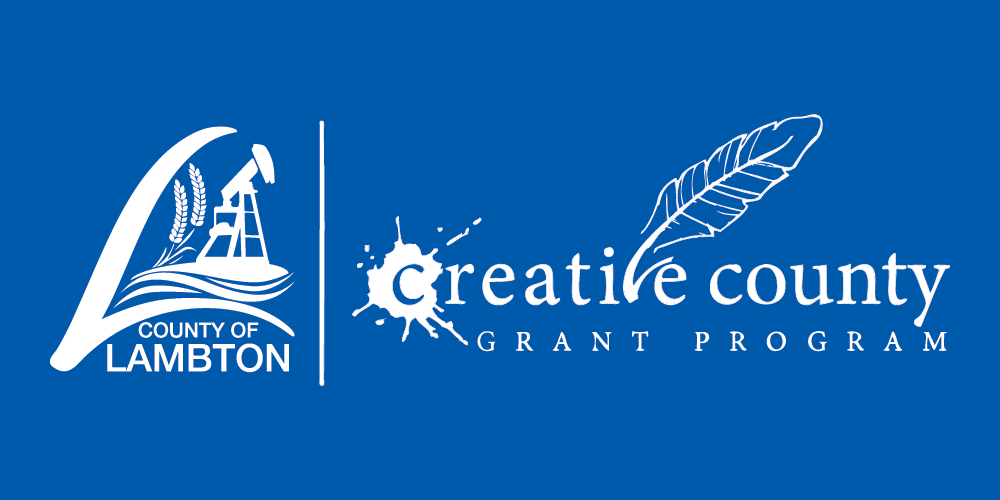 Borrow an Ontario Parks pass
Ontario Parks day-use passes are available to borrow for free with a Lambton County Library card! The seasonal day-use pass will provide unlimited entry for one vehicle plus all its passengers at any provincial park in Ontario, including Pinery Provincial Park.
The pass can be borrowed for a period of seven days and can be borrowed with other materials from the library's collection to enhance park visits. These materials may include snowshoes, pedometers, GPS units for geocaching, wildlife books, trail guides and kid's nature books.
Visit lclibrary.ca or call your local library to reserve a pass today!

North Lambton Lodge hosts Fall Fair
Its Fall Fair season in Forest and North Lambton Lodge held its own Fair for people living in the home. There were games, prizes, face painting, popcorn, slushies, and maple flavoured candy floss. Even the traditional Forest Fair lunch of turkey burgers and pie was recreated by our talented Dietary Staff for this fun event!
The Recreation team at the Lodge did an incredible job to make this event very special for everyone in attendance. We would like to extend a huge thank you to the many staff and volunteers who helped make this event possible.
Photo Gallery: North Lambton Lodge Fall Fair will appear here on the public site.
Oil Museum of Canada virtual programs
This autumn the Oil Museum of Canada is proud to present two virtual programs for group bookings.
Adult and Senior Live Sessions
Age does not limit the thirst for knowledge, new experiences, or lively conversations!
The Oil Museum of Canada, National Historic Sites has created virtual programs that offer presentations to different segments of society including adults and seniors. These Live Sessions invite a museum expert into your virtual group to present a program and provoke discussion with participants.
A Driller's Holiday Live Session
Looking for a virtual program about how the winter holidays were celebrated in the 1800s of central Lambton? The Oil Museum of Canada is proud to present "A Driller's Holiday".
We explore different holiday traditions celebrated by early settlers of the region, such as putting up a tree in the home, making candles, gift giving, and festive drinks. We also take a close look at how relatives in countries overseas working on oil fields communicated back home about the holiday traditions they encountered around the world. Extension activities and videos are available as an asynchronous program to teachers and educators to extend learning opportunities.
For more information on these programs and to complete the Live Sessions booking form, visit oilmuseum.ca.
Virtual holiday programs at Lambton Heritage Museum
Lambton Heritage Museum is offering a new virtual Live Session school program just in time for the holidays.
Based on our beloved in-person program, Virtual Holidays @ Heritage will explore festive traditions of gift-giving, food and drink, decorations, and more. Students will learn how people celebrated the holidays in Lambton long ago and make comparisons between then and now.
This program is free and is recommended for grades 1-4. It will be offered on Mondays and Tuesdays from November 15 to December 14. Book your Live Session today or contact colleen.inglis@county-lambton.on.ca for more information.
Additional virtual Live Session programs are available for booking on Mondays and Tuesdays through January 2022.
Upcoming Lambton County Archives workshops
Lambton County Archives is offering two upcoming workshops in partnership with Lambton County Library and the Oil Museum of Canada.
Military Workshop with Lambton County Library
Tuesday, November 9
12:00 p.m. – 1:00 p.m.
Do you have a family member who served in WWI or WWII? Join the Lambton County Archives with Lambton County Library as we explore Military Heritage through Library and Archives Canada databases. Discover how to search information in the WWI, WWII, and war bride databases including how these resources can help inform genealogical and local histories.
To learn more and register, visit the Lambton County Library event calendar.
Early Settlement in Enniskillen Township with the Oil Museum of Canada
Thursday, November 18
7:00 p.m. – 8:00 p.m.
Join the Lambton County Archives with the Oil Museum of Canada to learn more about early colonial settlement in Enniskillen Township. Following the survey of Enniskillen Township in the early 1830's we will be glancing through documents in the Lambton County Archives collection along with local township papers to uncover personal accounts of living in Enniskillen Township prior to the oil boom.
Register online through the Oil Museum of Canada website.
Emergency preparedness at home
Home 72-Hour Emergency Supplies kits require maintenance.
Regularly reviewing and replenishing the items in your kit can help to ensure your household is ready to be self-sufficient for up to three days following the onset of a disaster. When households are prepared to meet their own basic needs, it allows emergency responders and municipal officials to focus on the most urgent of priorities.
Make sure your kit is up-to-date with these items and that expired items are replaced:
Prescription medication, diapers, baby formula (where needed)
First-aid supplies
Changes of clothing and extra footwear
Candles and matches or lighter
Flashlight and batteries
Battery-powered radio and extra batteries
Duct tape
Non-perishable food
Bottled water
Toilet paper and other personal care supplies
Extra car and house keys
Extra cash
Copies of important family documents (birth certificates, passports and licenses).
Store these items in an easy-to-carry container such as a duffel bag or plastic storage bin.
To learn more about emergency preparedness, visit EmergenciesLambton.ca.
Looking Ahead
9:30 a.m., Nov. 3 - Lambton County Council Meeting
9 a.m. & 11 a.m., Nov. 17 - Committee A.M. & P.M.
9:30 a.m., Nov. 24 - Lambton County Council Meeting
Agendas and minutes for Committee and Council meetings are available on the online Meeting Calendar.
Open Sessions of Lambton County Council and Committee meetings are streamed live and are available for archival viewing for a period of one year by clicking on the links below. Council & Committee Agendas, Minutes & Livestreams Upcoming Meeting Livestreams
Connect with us
Like us on Facebook, follow us on Twitter, and be sure to subscribe to news alerts and our events calendar.