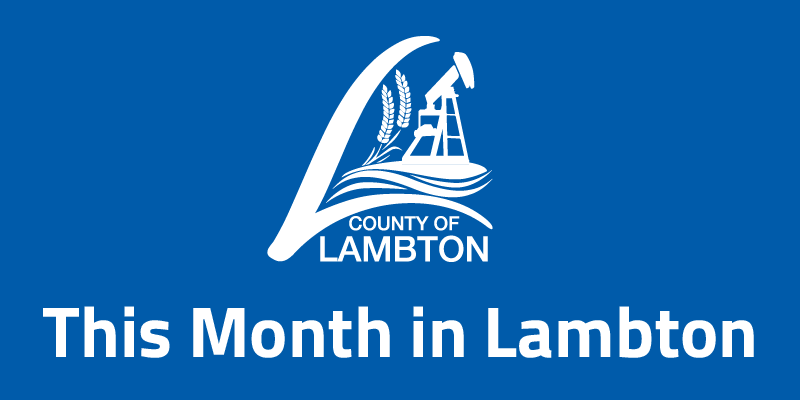 The April edition of This Month in Lambton includes the following news, service updates, programs and events:
Lakeshore Road Closure
Lakeshore Road (County Road #7) between Modeland Road and Telfer Road in the City of Sarnia is closed for reconstruction. The work is expected to last approximately four months, weather permitting.
Detours are in place using Modeland Road, Blackwell Road and Telfer Road to access Lakeshore Road east and west.
The project, awarded to Brandon Contractors, also includes a new watermain for the City of Sarnia along Lakeshore Road.
No through traffic will be permitted for the duration of the project. Local residents will be able to access their properties, but at times access will be restricted or completely closed while work is progressing adjacent their property.
Temporary traffic lights have been positioned to alleviate some traffic congestion during the closure. Motorists are advised to follow all traffic control signage and to drive in a manner that respects the health and safety of road crews. Cyclists are also expected to follow the posted detour and should avoid the construction zone.
Please visit Municipal511.ca for additional road closure information.
Emergency Child Care
On Monday April 12, 2021, the Premier of Ontario announced that, in an effort to slow the spread of the COVID-19 virus, all schools in the province will revert to Remote Learning following the April break. At this time, there is no indication of how long schools will remain closed to in-person learning.
To support health care and frontline workers, the Ministry of Education has implemented a targeted emergency child care program for school-aged children only (ages 4 -12 years), at no cost to eligible parents, until schools reopen for in-person instruction, or until emergency child care is terminated by the Ministry of Education.
A comprehensive list of individuals eligible for emergency childcare, participating child care providers, and the steps on how to apply, can be found in the information sheet and application available at lambtononline.ca/childcare.
#LambtonStrong
COVID-19 has touched every part of our lives; it's changed how we dress, how we attend school or work, how we play, and how we interact with each other. No one is immune to the changes COVID-19 has brought to our lives.
It is going to take supporting one another, through compassion and understanding, to get through this and make a difference.
We are stronger together: #LambtonStrong
In Lambton County, we are incredibly fortunate to have a strong, supportive and caring community. Lambton Public Health has been capturing the stories that best represent #LambtonStrong throughout this pandemic. Read these stories and learn more at lambtonpublichealth.ca/strong.
Do you know someone who is making a difference in our community? Submit their story on the Lambton Public Health website.
Paint Ontario Art Show and Sale Postponed
Due to the current COVID-19 pandemic public health restrictions and the ongoing closure of Lambton Heritage Museum, the Paint Ontario Art Show & Sale is being postponed until September 3 - 26, 2021. The 25th anniversary show will be a live, in-person show - not a virtual show - operating with similar COVID protocols to the successful show that took place in September 2020.
Paint Ontario is the largest show and sale of representational art in Ontario, typically featuring over 200 original paintings by some 100 artists, selected from almost 700 submissions. The show provides a unique opportunity for emerging artists to showcase their work and an unmatched opportunity for buyers to view and acquire it. This year, for the first time, sculpture will be featured and add a new dimension to the visitor art experience.
For more information please visit www.paintontario.com.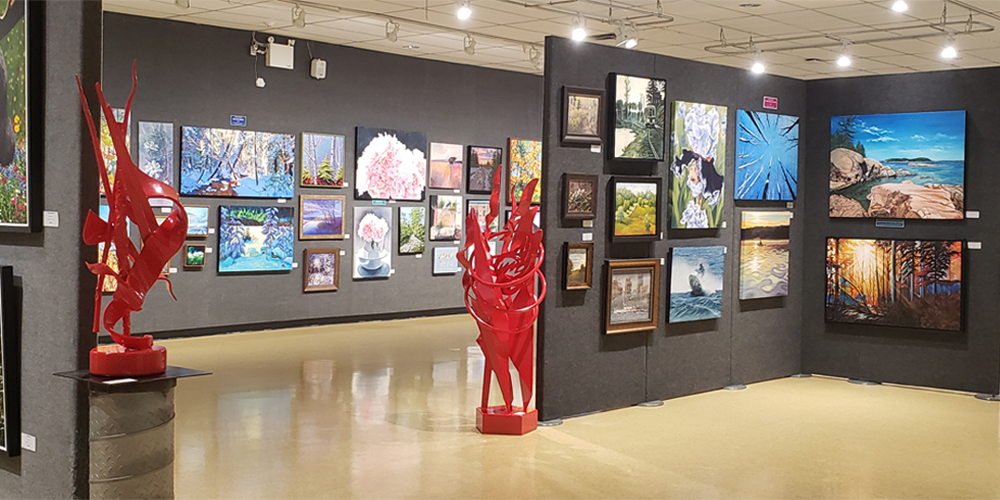 Do you know what to do when the next disaster strikes?
Making sure your household is prepared to be self-sufficient can help alleviate the demands on first responders, government agencies, and community partners in the early hours and days of an emergency.
You can help by:
As Emergency Preparedness Week approaches (May 2-8, 2021) watch for material from the County of Lambton, other levels of government, first responders, and community agencies about how you can be prepared for the onset of an emergency and what to do next.
Join a Lambton County Library Online Storytime and Bring the Joy of Reading to your Little Ones
Bring the joy of reading to your little ones from the comfort of your home with online storytimes. Enjoy weekly storytimes for babies, toddlers and families delivered directly to you by library staff.
Toddler Tales
Tuesdays and Thursdays – 10:00 – 10:30 a.m.
Experience the positive effects of reading, talking, singing, and playing — important activities for brain development in children - through stories and songs suitable for children ages 2 to 3 during this library staff-led online storytime. Join us from home every Tuesday for these 30 minute Toddler Tales.
Pajama Tales
Tuesdays – 6:30 – 7:00 p.m.
Grab your cozy pajamas and prepare your child for bed while encouraging a lifelong love of reading as a library staff member leads an online 30 minute bedtime storytime for children ages 3 to 5.
Baby Rhyme Time
Wednesdays – 10:00 – 10:30 a.m.
Learn new songs, activities and games that you can share with your baby anytime and play a key role in your child's development. This online 30 minute storytime for children ages 0 to 2 includes movement games, rhymes, songs and stories to help your baby recognize colours, shapes, letters and numbers.
Saturday Storytime
Saturdays – 10:00 – 10:30 a.m.
Explore language rich stories with your child to expand their vocabulary, phonological awareness and numeracy skills at this online 30 minute Saturday storytime. A staff member will read stories, sing songs and lead activities to build attention span and help foster a love of reading for children ages 3 to 5.

Lunch and Learns with Lambton County Library
Grab your lunch and learn with Lambton County Library. The Library is offering one hour online lunch and learn sessions to promote personal development, improve skills and expand interests. Beginning May 5, 2021 cardholders can join library staff every Monday from 12:00 – 1:00 p.m. and expand their knowledge for the following:
Introduction to Vegetable Gardening
Monday, May 5, 2021
Learn the basics on how to start growing your own vegetable garden, then reserve seeds from Lambton County Library's seed library and start planting!
Famous Canadian Women: From Past to Present
Monday, May 12, 2021
Learn about famous Canadian women, past and present, and their influence on shaping Canada.
Smartphone Photography
Monday, May 19, 2021
Learn tips and tricks on how to use the camera that is always right at your fingertips.
Green Cleaning Using Kitchen Pantry Supplies
Monday, May 26, 2021
Learn how to clean sustainably using common kitchen pantry supplies.
Household Pet Misconceptions
Monday, June 2, 2021
Learn about some of the most common household pets like betta fish, hamsters, and rabbits. We will explore the misconceptions of an "easy pet" that the pet trade has promoted and ensure your pet thrives and not just survives.
Where I Come From: Stories from the South
Monday, June 9, 2021
Learn about Southern traditions, Southern foods and Alabamian authors from Cynthia, a Branch Assistant who grew up in Alabama.
Being a Sustainable Consumer
Monday, June 16, 2021
Learn tips and tricks on how to incorporate sustainable habits into your daily life.
Expand Your Garden with the Seed Library
Lambton County Library cardholders can once again reserve vegetable and herb seeds! The Seed Library is a free, community-driven seed borrowing system that provides an opportunity for people to grow their own healthy food. Seeds can now be borrowed through Lambton County Library's contactless curbside pickup service. Visit lclibrary.ca/seedlibrary for a full list of seeds.
Take free online LinkedIn Learning courses with Lambton County Library
Lambton County Library has migrated from Lynda.com to the LinkedIn Learning platform. LinkedIn Learning provides free access to over 16,000 online courses in seven languages. With a Lambton County Library card, patrons can choose from thousands of business, creative and technology courses to learn in-demand skills from real-world industry experts. The LinkedIn Learning course library is informed by data from the world's largest professional network with over 78 percent of Fortune 500 companies using this platform to upskill their employees. To access these courses visit lclibrary.ca.
Northern Collegiate Students Present Proposed Interactive Displays to Oil Museum of Canada
Grade 12 Design and Technology students from Northern Collegiate Institute & Vocational School have concluded their recent term by completing scaled designs of interactive displays for the Oil Museum of Canada, National Historic Site.
Over a three week period, the students worked to plan and prepare scale models of the interactive displays. The process consisted of developing preliminary design sketches and concepts, working drawings and a small scale model of their proposed concept.
While the museum remains closed for a significant renovation, a significant amount of work is happening behind the scenes. The Museum is planning the full scale construction of these designs, and would like to thank the students involved for their exceptional work and contribution to the project.
The Oil Museum of Canada, National Historic Site is expected to reopen in summer 2021.
From left, Ketan Vashisht, Om Patel, Anthony Smith, Reid Robinson, Michael Atanasov, and Brett Howard.
Connect with us
Like us on Facebook, follow us on Twitter, and be sure to subscribe to news alerts and our events calendar.