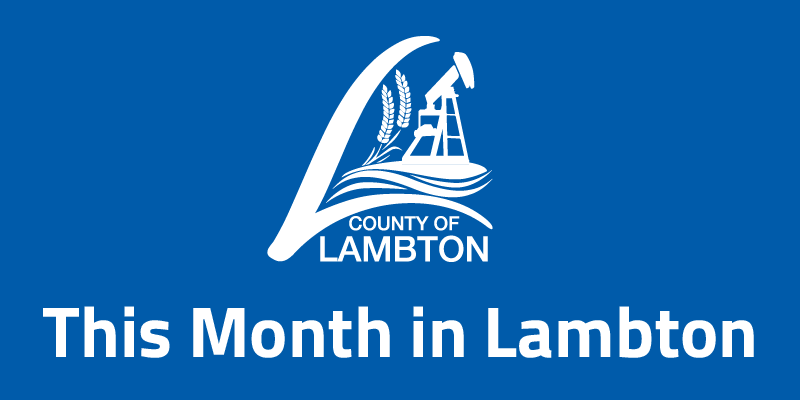 The July edition of This Month in Lambton includes the following news, service updates, programs and events:
2020 Consolidated Financial Statements
The Corporation of the County of Lambton's Consolidated Financial Statements for the year ended December 31, 2020 have been completed and audited.
Copies of the Financial Statements are available from the Finance, Facilities and Court Services Division by calling 519-845-0801, toll free 1-866-324-6912, or online at lambtononline.ca/budget.
Museums, Gallery and Archives Reopening Soon
Lambton Heritage Museum, Lambton County Archives, and the Judith & Norman Alix Art Gallery will be reopening to the public on Wednesday, August 4, 2021.
The reopening follows public health guidance and sector-specific guidelines developed by the Province. Although these spaces and interactions will look different to enable physical distancing, every effort has been made to ensure visits to these cultural facilities are a safe and enjoyable experience for all.
All visits to the museums, Gallery and Archives are by timed entry to ensure proper physical distancing, requiring patrons to book an appointment in advance. If visitors do not have an appointment, they will only be accommodated as space and time allow. Hours of operation are 11:00 a.m. - 4:00 p.m. Wednesdays, Fridays and Saturdays, and extended hours on Thursdays from 11:00 a.m. - 8:30 p.m.
The following measures will be in place at County cultural facilities:
Processes for recording each visitor's name and contact information to support effective contact tracing.
All visitors are requested to wear a face covering or non-medical mask, while inside the facilities and any outbuildings.
Visitors are asked to respect physical distancing by maintaining 2 meters distance from others at all times.
Upon booking an appointment, all visitors will be asked to self-monitor symptoms before entering any cultural facility, and must visit at another time if feeling unwell.
Lambton Heritage Museum will reopen featuring two new exhibits, Nnigiiwemin / We Are Going Home (August 4 – September 26, 2021) and The North Lambton Quilter's Guild Show (August 4 – 21, 2021). Further details on these exhibits are available in the story below. For more information or to purchase an admission ticket, call 519-243-2600 or visit www.heritagemuseum.ca.
The Judith & Norman Alix Art Gallery will reopen with two new exhibitions, An Abridged Sonic History of Global Conflict by contemporary artist Lee Henderson and Focus Finder by contemporary photo-based artist Susan Dobson - both showing from August 4, 2021 to January 30, 2022. For more information or to book your free admission ticket call 519-336-8127 or visit www.jnaag.ca.
Lambton County Archives will allow researcher access by scheduled appointment. For more information or to book a scheduled appointment call 519-845-5426 or visit www.lambtonarchives.ca.
The Oil Museum of Canada, National Historic Site, remains closed as a significant renovation is completed. The Museum will be reopening in the coming weeks with an improved facility and new exhibit. Subscribe to e-news or follow the Oil Museum of Canada on Facebook for updates regarding the reopening.
In advance of re-opening to the public, the museums, Gallery, and Archives ask patrons to familiarize themselves with all guidelines to ensure cultural facilities remain a safe place for all visitors and staff. The full list of guidelines will be available on each website.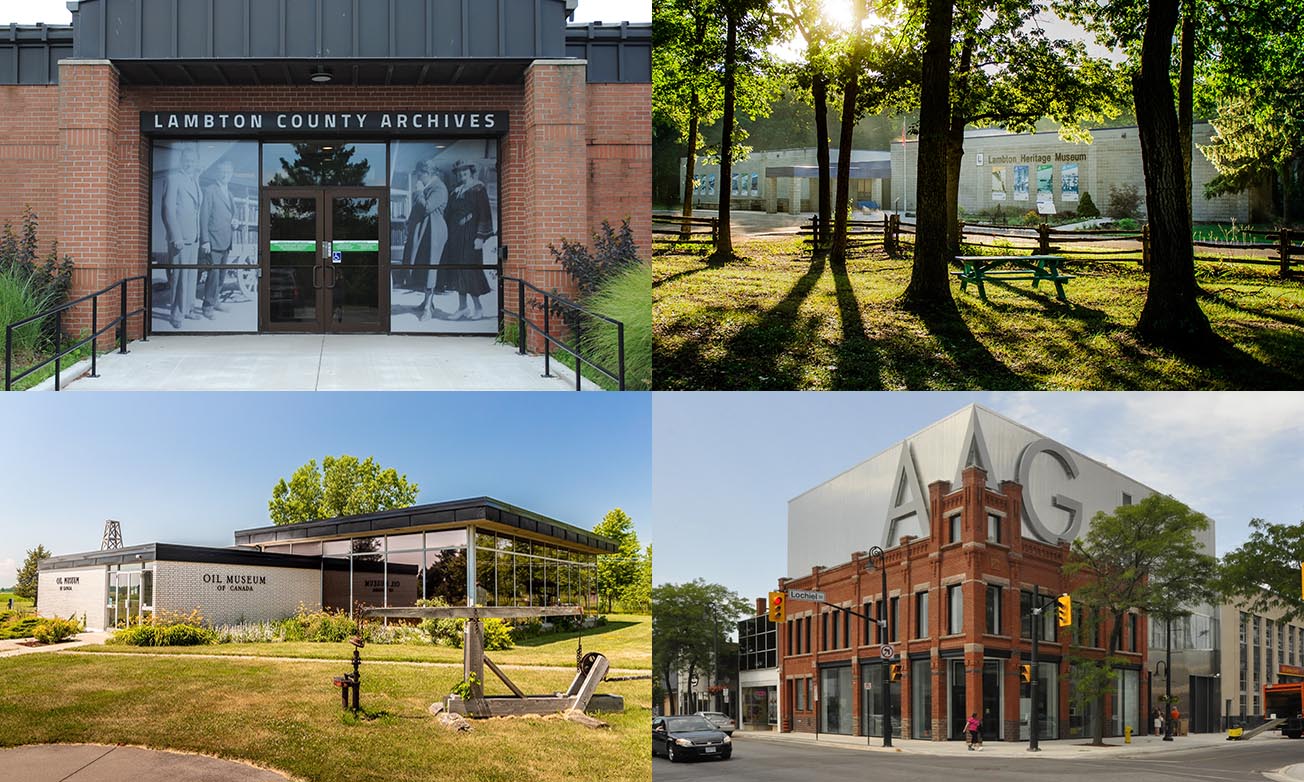 Lambton Heritage Museum Reopening with New Exhibits
Lambton Heritage Museum is pleased to announce its reopening on Wednesday, August 4 featuring a new exhibit – Nnigiiwemin / We Are Going Home – and the North Lambton Quilter's Guild Show.
Nnigiiwemin / We Are Going Home examines the relationship between colonialism and the loss of land by the Chippewas of Kettle & Stony Point First Nation. A response to the 25th anniversary of the "Ipperwash Crisis" of 1995, this exhibit introduces the concept of Chi‐Naakinigewin, or Natural Law, as a driving force for land and water protection. Using interviews, maps, moving images, soundscapes, and wampum, it illustrates the relationship between people, land, and Anishinaabeg Nationhood. Co‐curated by Summer Bressette and Monica Virtue with illustrations by Bridget George, this exhibit was originally organized as Gaawiin Ogiibagidenaawaasiiwaawan / They Did Not Let It Go by Museum London. Admission to the Museum for Indigenous visitors will be waived for the duration of the exhibition.
To learn more about this exhibit, visit the exhibit page on the Lambton Heritage Museum website.
Also opening at the Museum on August 4 is the bi-annual North Lambton Quilter's Guild Show. This show, normally only presented over a single weekend, is being extended to accommodate physical distancing and will run for two and a half weeks. Join us to explore antique quilts from the Lambton Heritage Museum collection as well as new creations from this talented Guild.
Nnigiiwemin / We Are Going Home will be open August 4 – September 26, 2021 and the North Lambton Quilter's Guild Show will be open August 4 – 21, 2021.
To book a time to visit the Museum and explore these exciting new exhibits in person, visit the Lambton Heritage Museum website.

Emergencies Lambton: Evacuations
Whether it's due to a natural disaster, chemical release, or other hazard, there may be a time when you are advised to evacuate by local authorities.
If you are ever under an 'Evacuation Advisory' keep these tips front-of-mind:
Wear long-sleeved shirts, long pants and sturdy shoes so you can be protected as much as possible.
Take your emergency supplies kit.
Take your pets with you – do not leave them behind (Most evacuation centres will try to accommodate pets, but it is best to make plans ahead of time and find other lodging for them).
Lock your home.
Collect family members or go to the place designated in your family plan as a meeting place.
Use travel routes specified by local authorities. Don't use shortcuts – certain areas may be impassable or dangerous.
Stay away from downed power lines.
If you go to an evacuation centre, sign up at the registration desk so you can be contacted or reunited with family and friends who may be looking for you.
Contact your out-of-area emergency contact to let them know what has happened, that you are okay, and how to contact you.
Leave natural gas service 'on' unless local officials advise you otherwise.
If instructed to so do, shut off water and electricity before leaving.
You can also register to receive free and customizable emergency alerts through MyCNN. Register today through EmergenciesLambton.ca or at LambtonBASES.ca.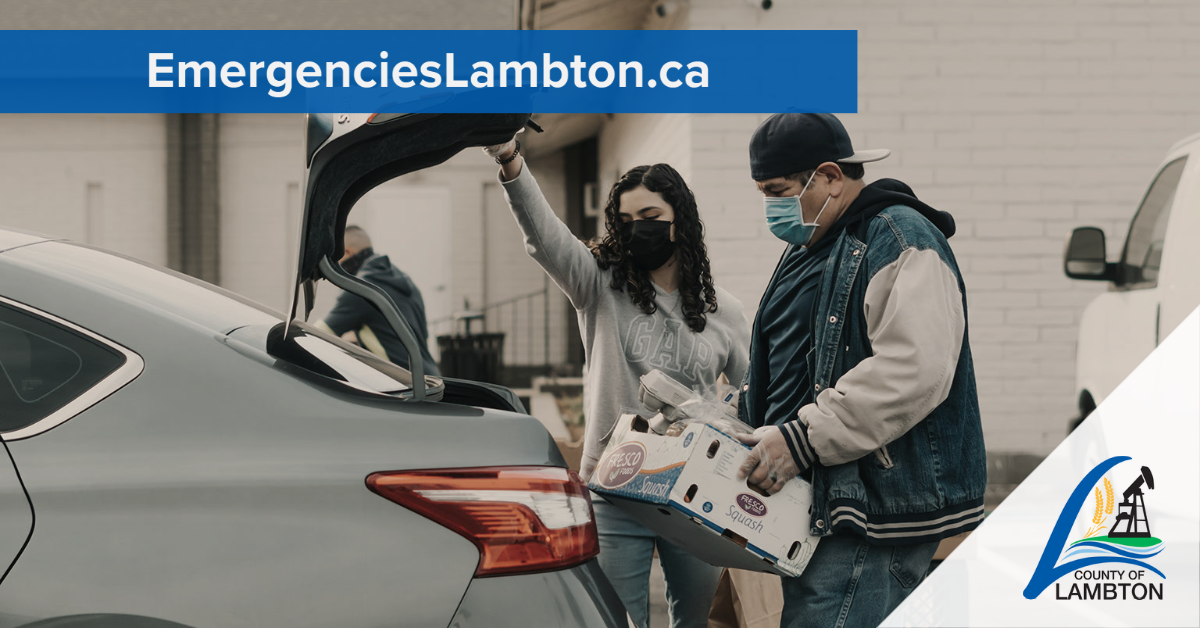 Superheroes of the Natural World with the Ausable Bayfield Conservation Authority
This summer, learn about natural heroes native to Lambton County. Lambton County Library will host the Ausable Bayfield Conversation Authority for virtual sessions throughout the summer that explore nature's heroes including Lake Huron and forests, and the benefits they both bring to Lambton County.
To register visit the program calendar at lclibrary.ca/srp.
Lake Huron
Wednesday, August 11 – 2:00 – 3:00 p.m.
Lake Huron is the second largest Great Lake and has the longest shoreline of all the Great Lakes. Did you know that the land around the Ausable River 'sheds' or directs the water back into Lake Huron? Find out more about Lake Huron and what makes it a superhero through this interactive presentation with Ausable Bayfield Conservation Authority.
Forests
Wednesday, August 18 – 2:00 – 3:00 p.m.
Forests are important for many different reasons. Did you know forests help fight climate change? Learn about different types of trees and animals that depend on them to survive. Find out more about forests and what makes them a superhero through this interactive presentation.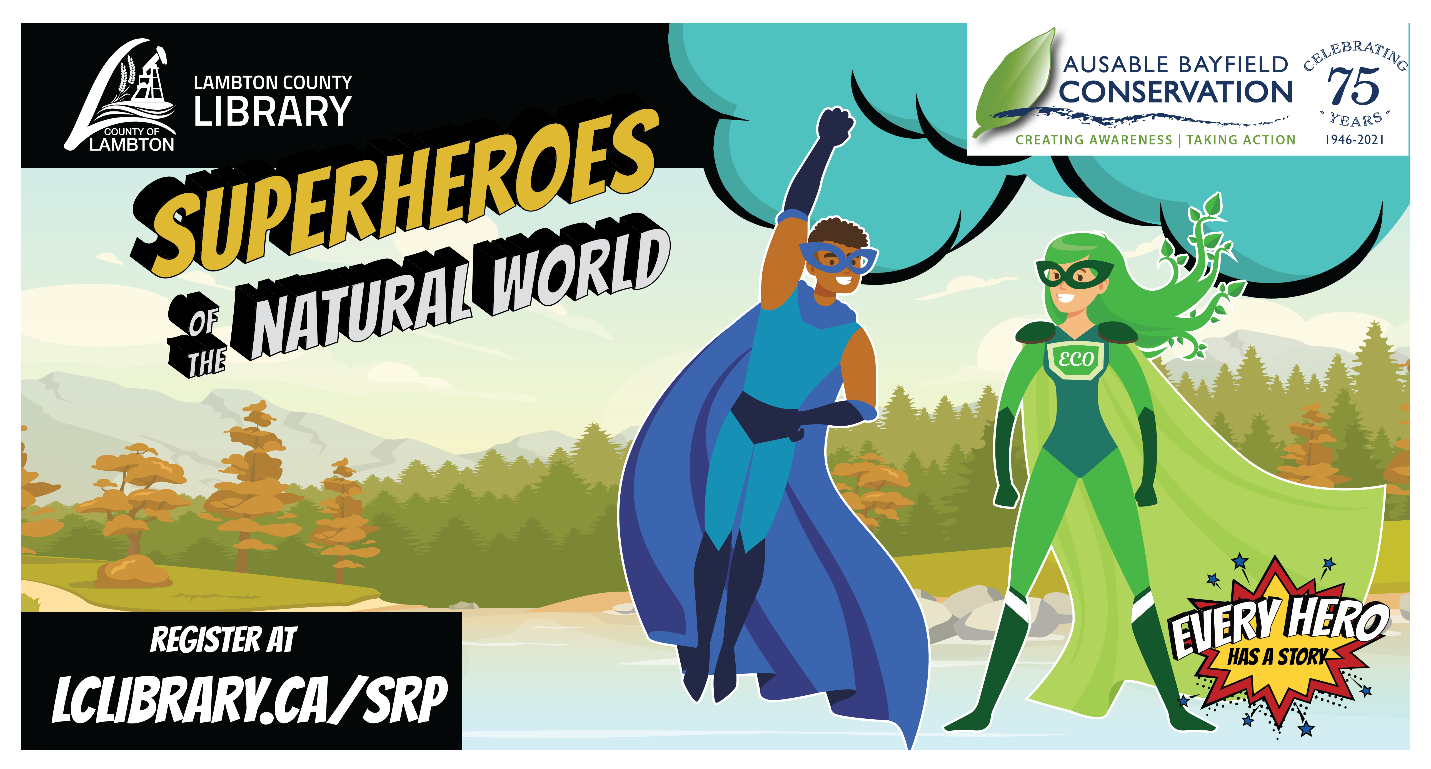 Superhero Training Camps
Put on your favourite hero outfit and join Lambton County Library for in-person superhero training camps. Kids ages 5 – 10 are invited to train to become a superhero and test their superhero skills at these five training stations:
Meet a superhero and design your own signature superhero move
Test your hero vision with a superhero scavenger hunt
Create your own superhero mask
Test your agility, balance, strength and speed in the superhero obstacle course
Take a super photo with a green screen and choose your superhero background
This in an in person, outdoor program. Registration is mandatory and limited to 25 people. All children must be accompanied by a parent or guardian. Register using the online program calendar at lclibrary.ca/srp.
Superhero Training Camp dates and locations are as follows:
Bright's Grove Library - Wednesday, July 28 – 10: 00 – 11:00 a.m.
Sarnia Library – Friday, July 30 – 10:00 – 11:00 a.m.
Mooretown Sports Complex – Wednesday, August 4 – 10:00 – 11:00 a.m.
Victoria Park, Petrolia – Friday, August 6 – 10:00 – 11:00 a.m.
Brooke – Alvinston – Inwood Community Centre – Monday, August 9 – 10:00 – 11:00 a.m.
Forest Library – Thursday, August 12 – 10:00 – 11:00 a.m.
Access Thousands of Newspapers and Magazines at Your Fingertips
Access thousands of newspapers and magazines on the device of your choice - smartphone, tablet or laptop - with PressReader.
PressReader provides complimentary access to local, national and international newspapers and popular magazines. Recently, Lambton County Library made some technological changes that will allow Lambton County Library cardholders to access PressReader from home using fewer steps.
To learn more about PressReader register for the virtual program Learning for Life – PressReader on Wednesday, August 11, 2021 from 12:00 – 12:30 p.m. Lambton County Library staff will walk you through how to access and use this app on any device. Visit lclibrary.ca or call your local library during operating hours to register.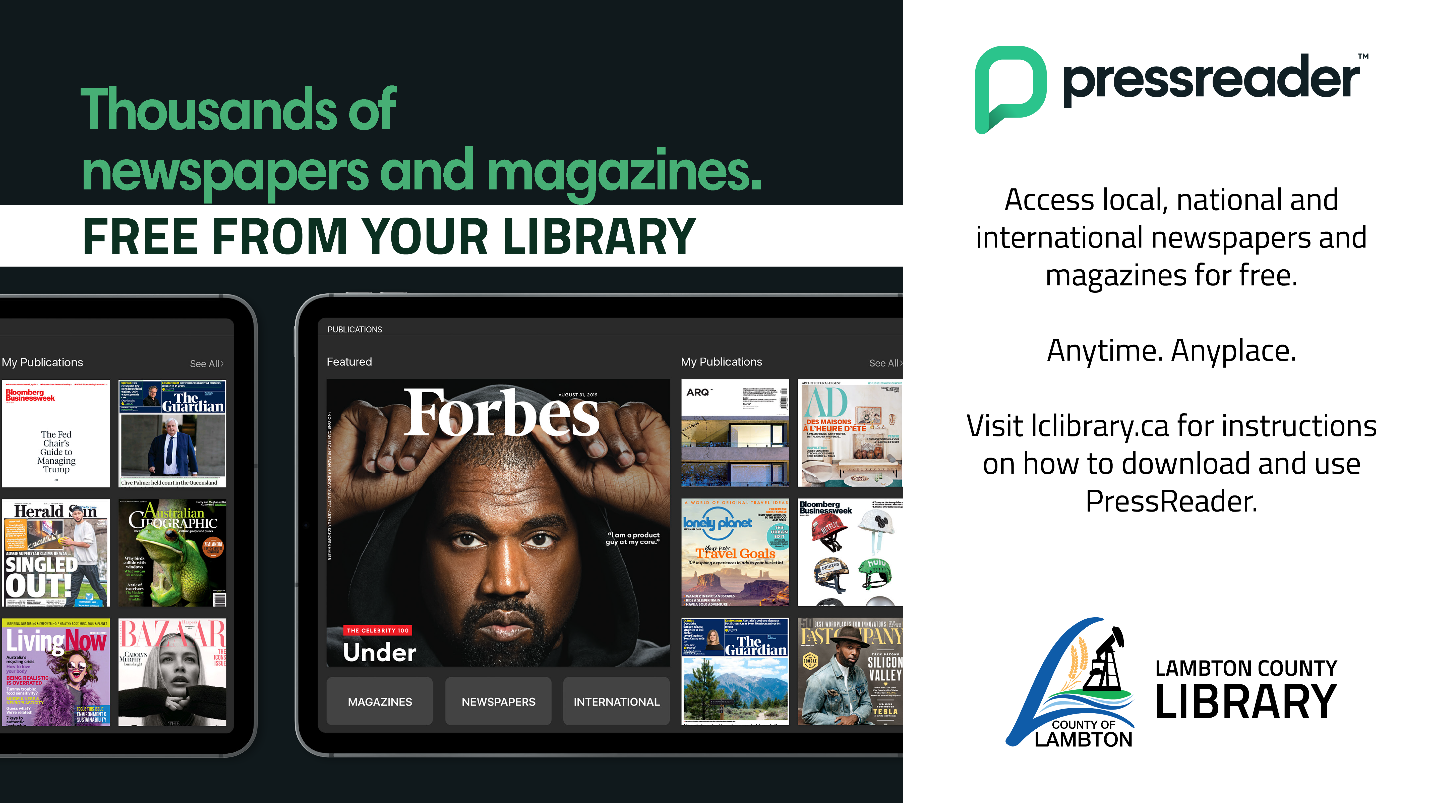 Notice to Residents and Property Owners Regarding Noxious Weeds
The main purpose of the Weed Control Act R.S.O. 1990 is to reduce the impact of noxious weeds on the industries of agriculture and horticulture. Primarily this act applies to agricultural and horticultural lands that generate income or other benefits to agriculture; this excludes lawns, gardens and private areas for personal enjoyment and leisure.
Under the Weed Control Act, R.S.O. 1990, Chapter W.5 Sections 3, 13, 16 and 23, you are required to destroy all noxious weeds on your property.
In Urban Areas
Sections 3, 13, 16, and 18 do not apply to noxious weeds or weed seeds that are far enough away from any land used for agricultural or horticultural purposes, as they do not interfere with that use.
All properties within the County of Lambton are hereby requested to be in compliance with the Weed Control Act by the 21st day of July, 2021 and throughout the season.
Learn more about the Weed Control Act at lambtononline.ca/building.
Connect with us
Like us on Facebook, follow us on Twitter, and be sure to subscribe to news alerts and our events calendar.