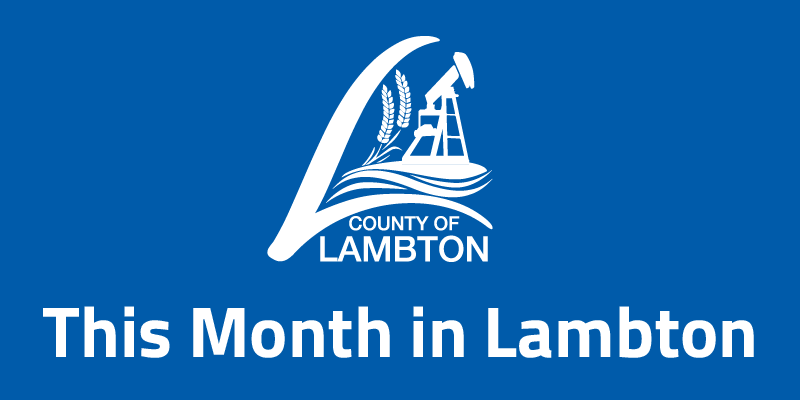 The September 2021 edition of This Month in Lambton includes the following news, service updates, programs and events:
Lambton Fall Colour & Craft Festival
Families have been coming to the Lambton Fall Colour & Craft Festival to shop and enjoy the fall canopy of the beautiful oak forest at Lambton Heritage Museum for over thirty years. It is Lambton Heritage Museum's largest fundraising event.
This year, the Lambton Fall Colour & Craft Festival will be taking place on Saturday, October 16 and Sunday, October 17. Admission is $5 for adults, seniors, and students, and children 12 and under are free when accompanied by an adult. The festival is open from 10:00 a.m. until 4:00 p.m. both days.
If you're interested in volunteering to help with this wonderful event, please reach out to the Heritage Museum at heritage.museum@county-lambton.on.ca or complete the online volunteer form.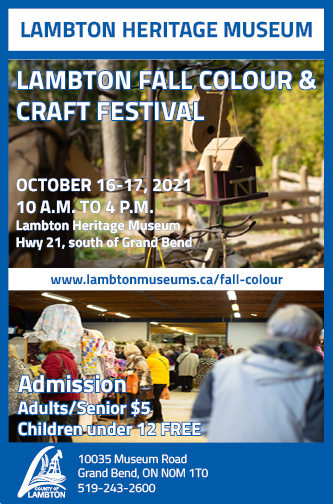 Your Actions Matter – Help stop COVID-19 this fall
Lambton Public Health is reminding everyone about the need to continue practicing basic public health measures to reduce the risk of COVID-19 transmission. Continued actions like masking, physical distancing, hand hygiene, and getting the vaccine help. As the weather shifts and more of our activities move indoors, your basic actions will matter more. Help protect yourself and others – basic actions work; your actions matter.
Residents are also reminded that the Province is still in Step 3 of Ontario's Reopening plans, meaning masks are still required in indoor public settings. Supports for businesses can be found on our website. If you have concerns about businesses not following restrictions, learn more here.
Lambton Public Health continues to monitor our changing situation and asks for your continued support. We are stronger together. #LambtonStrong
Lambton County Archives presents History of Community Concert Bands in Lambton County
Lambton County Archives, in partnership with the Lambton Concert Band, is pleased to present the exhibit History of Community Concert Bands in Lambton County.
Opening October 4, 2021 at the Sarnia Library, this exhibit explores the history of community concert bands across Lambton County. It will be on display until April 30, 2022 and is located in the Theatre Lobby on the second floor of the Library.
History of Community Concert Bands in Lambton County was made possible with the support of Creative County funding.
All 25 Lambton County Library locations now open
Continuing its efforts to resume library services as part of Step 3 of the Province's Roadmap to Reopen, Lambton County Library reopened its nine remaining sites on September 7, making all 25 library locations open to the public.
The remaining nine locations have joined the other sites in offering: curbside pickup service, in-person browsing as capacity limits allow and scheduled 45-minute appointments for computer use, wi-fi use, and academic research. The nine locations include: Arkona, Camlachie, Courtright, Inwood, Mooretown, Port Franks, Port Lambton, Shetland, and Wilkesport.
In addition, Lambton County Library has adjusted hours of operation to better align with community and operational needs. New hours of operation can be found at lclibrary.ca/hours.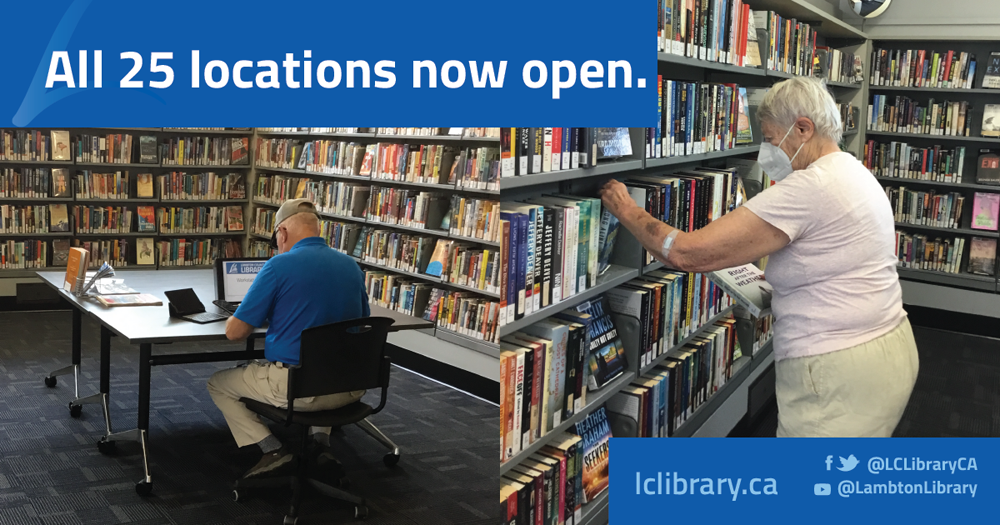 Culture Days at Lambton County Library
Celebrate Culture Days at Lambton County Library from September 22 through October 24, 2021!
Culture Days aims to foster appreciation and support of arts and culture across all areas of Canada, from rural to urban; promote interaction between creators and the public; provide hands-on experiences to increase understanding and appreciation of arts and culture; and affirm that every citizen is the guardian of the culture in their community.
A variety of free events will be hosted across Canada during Culture Days. Here are some of the events Lambton County Library will be hosting:
Lambton Remembers - Sarnia War Remembrance Project
Thursday, October 7, 12:00-1:00 p.m.
Learn about the Sarnia War Remembrance Project, a comprehensive historical record of Sarnia's contributions and sacrifices made during times of war.
ESL Conversation Group
Wednesday, September 29, 2:00-3:00 p.m.
Wednesday, October 13, 2:00-3:00 p.m.
Practice English through topical discussions and casual conversation with other English learners. All levels are welcome!
Author Talk - Jason Waddle
Wednesday, October 6, 6:30-7:30 p.m.
Jason Waddle, author of "Awake in Dreams, Sleeping Death Away" and "Falling through the Cracks" will discuss his experiences and processes as a published author and answer audience questions.
Creative Writing Workshop - Jason Waddle
Wednesday, October 13, 6:30-7:30 p.m. - Part One: Poetry and Essay Writing
Wednesday, October 20, 6:30-7:30 p.m. - Part Two: Short Story and Novel Writing
Author Jason Waddle will explore the writing process of four types of creative writing, poetry, essays, short stories and novels, in this two part workshop. Writers of all levels of experience are welcome.
To register for an event or learn more, visit the Lambton County Library event calendar.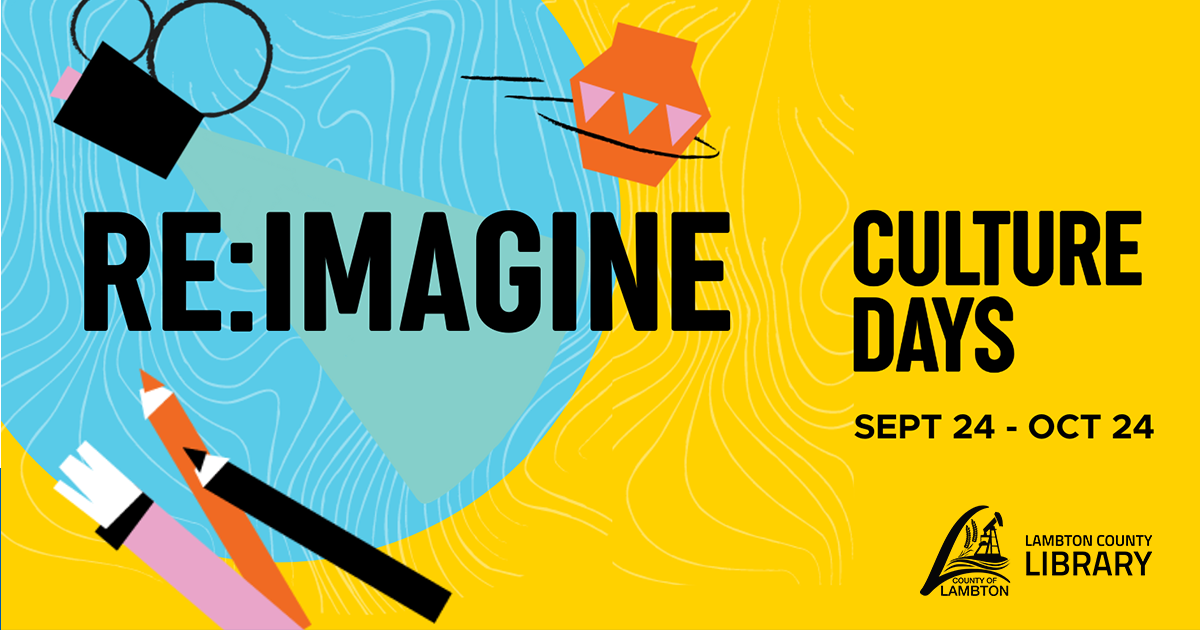 Proof of vaccination & accessing vaccine receipts
As of September 22nd, Ontario residents 12 years of age and over must provide proof of vaccination to access certain public settings and facilities (see announcement for full list).
Residents currently have access to a paper or PDF vaccine receipt that includes all relevant information to prove they are fully vaccinated. You can download your receipt through the Provincial Vaccine Portal.
Lambton Public Health has partnered with Lambton County Library to make it easier to obtain copies of your vaccine receipt. All members of the public can visit any of the 25 Lambton County Library locations to print their vaccination receipts free of charge, or receive guidance in navigating technology to access vaccination receipts.
To make an appointment, call the library you would like to visit directly during their hours of operation or call the central booking line toll free at 1-866-324-6912 (ext. 5900).
Lambton Public Health is urging anyone who is eligible but not yet been vaccinated to do so. Visit getthevaccine.ca to book an appointment or view upcoming walk-in opportunities in your community.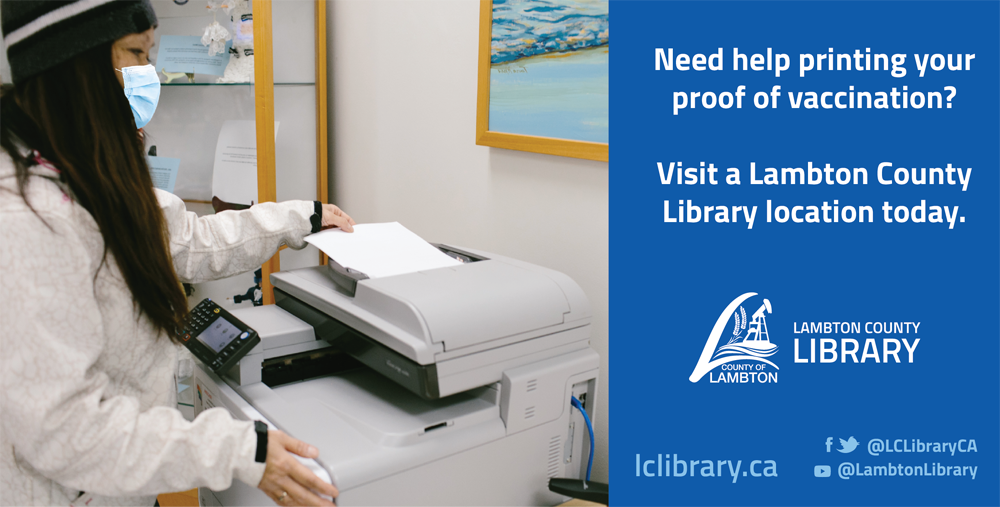 Staying aware during emergencies
Lambton County residents have a number of tools at their disposal to stay alert and informed when a disaster threatens or strikes.
MyCNN is a mass public notification tool - supported by Community Awareness/Emergency Response (CAER) Sarnia-Lambton - which will alert subscribers and publicly-listed landlines of evacuation, shelter-in-place, drinking water, missing children, and tornado advisories locally. Subscribers can choose to be alerted through the medium(s) of their choice (i.e. text, app, email, phone call).
WeatherCAN is an app developed by Environment & Climate Change Canada that provides local forecast, severe weather watches and warnings, and weather radar for the locations that matter to you.
211 Ontario can be activated by emergency officials to catalogue information and act as a public information centre during times of emergency.
To learn more about these services, as well as how to use 9-1-1 during an emergency, visit the Staying Aware page of EmergenciesLambton.ca.
Ontario expanding Seniors Dental Care program
Lambton Public Health is pleased to support the expanded Provincial Seniors Dental Care program. This program can be accessed by eligible individuals 65 years of age and over. The updated program increases the eligibility of residents within Lambton County, improving the quality of life and overall well-being for more eligible seniors.
Review the program eligibility and submit your application to receive your dental card in the mail. You can apply online through Ontario.ca/SeniorsDental or pick up an application form from Lambton Public Health (160 Exmouth Street, Point Edward, open Monday to Friday, 8:30 a.m. to 4:30 p.m.).
Please contact Lambton Public Health directly if you have questions about the program. Keep yourself smiling for years to come!
Discover your heritage with Ancestry Library Edition
Want to know more about your family's history? Ancestry Library is an excellent resource to trace your roots! Ancestry Library Edition, the world's most popular consumer online genealogy resource, provides access to billions of historical documents, millions of historical photos, plus local narratives, oral histories, indexes and other resources in over 30,000 databases that span from the 1500s to the 2000s.
While this online resource is typically available only while on-site at library locations and Lambton County Archives, it is now available for free at home until December 31, 2021. Click on the My Account button located at the top of the Lambton County Library website and use your Lambton County Library card and pin code to log in and access Ancestry Library Edition.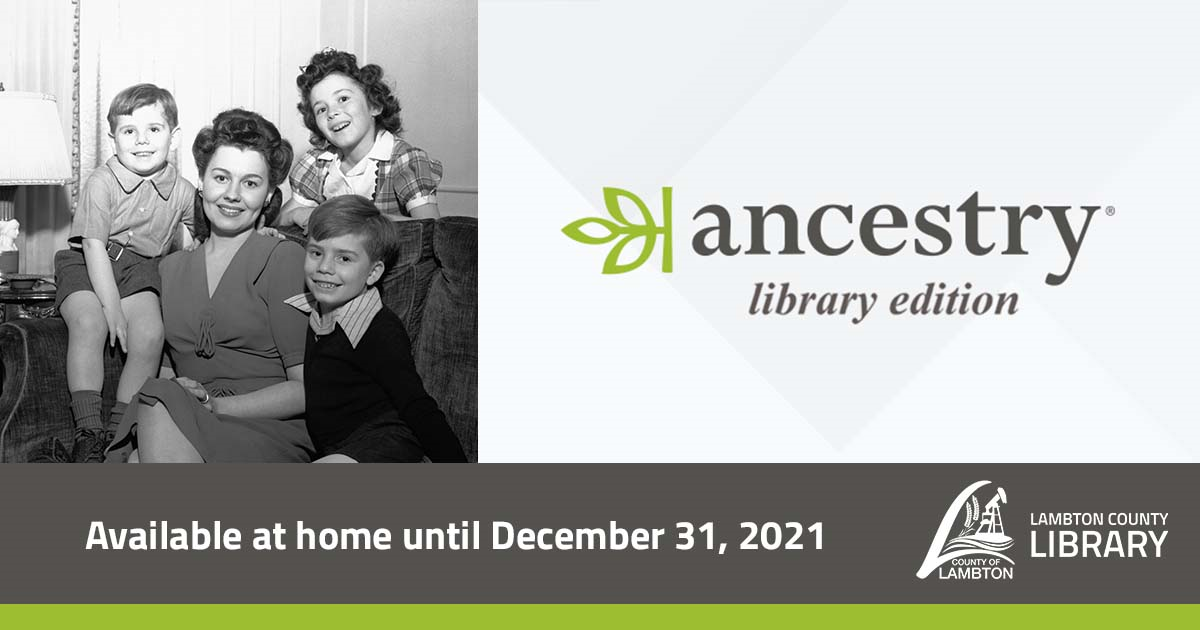 Oil Museum of Canada renovation
The Oil Museum of Canada, National Historic Site is nearing the completion of their renovation. Final touches are underway, including the addition of accessible sidewalks and landscaping. Below are concept sketches of what the finished project will look like.
Visit oilmuseum.ca or the Oil Museum of Canada Facebook page for updates and reopening announcements.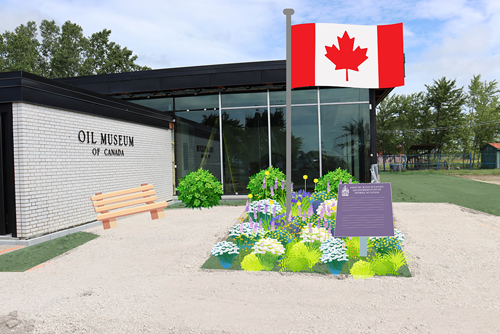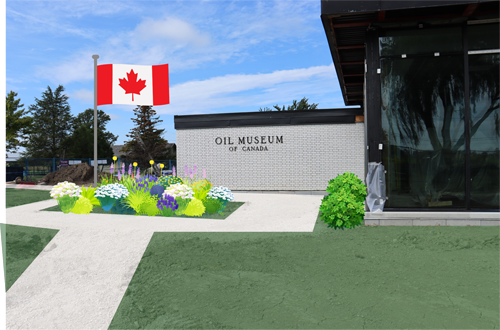 Looking Ahead
9:30 a.m., Wednesday, October 6, 2021 - Lambton County Council Meeting
9 a.m. & 11 a.m., Wednesday, October 20, 2021 - Committee A.M. & P.M.
Agendas and minutes for Committee and Council meetings are available on the online Meeting Calendar.
Open Sessions of Lambton County Council and Committee meetings are streamed live and are available for archival viewing for a period of one year by clicking on the links below. Council & Committee Agendas, Minutes & Livestreams Upcoming Meeting Livestreams
Connect with us
Like us on Facebook, follow us on Twitter, and be sure to subscribe to news alerts and our events calendar.